The walls of Vivek Kundra's office in the Old Executive Office Building are notably bare, except for two side-by-side posters taking up a huge swath of one wall, each loaded with color-coded bar charts and graphs detailing the U.S. federal IT budget. That tells a lot about the nation's new CIO: There's a lot of work ahead of him, and he's a total data junkie.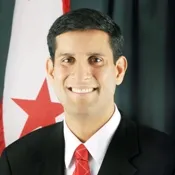 Named the federal government's top IT operations and strategy leader this month, Kundra now needs to get his head around the federal government's $71 billion in IT spending. He's been spending weekends reading through budgets and IT project proposals, and he has a 30-person team analyzing the IT spending of each government agency "line by line," he said in an interview Wednesday.
As CTO of Washington, D.C., Kundra took a similar approach, with a team of analysts tracking tech projects daily like they were watching a stock portfolio.
Kundra said citizens should measure his work by how well he connects them to government services and information. Two Web sites will be early test cases for how well he delivers on President Obama's stated goal for increased government transparency. Recovery.gov is supposed to publicize stimulus package spending, and Data.gov -- not yet live -- will do the same for all sorts of public data, similar to Washington, D.C.'s Data Catalog.
Kundra won't yet make any promises about cuts, though, even as his team combs budgets for wasteful projects. He said IT spending is needed to make the government more efficient. Yet Kundra said he'll kill IT projects that aren't making the grade, which he can do through the Office of Management and Budget, where he reports to OMB director Peter Orszag. "Spending money on technology is good, but at the same time we want to make sure we have outcomes for those investments," Kundra said.
Look for him to push the government into cloud computing in a much bigger way, an approach he hopes can help change government IT cost structures and simplify government IT infrastructure.
Kundra gave all D.C. employees access to Google Apps for online collaboration, alongside Microsoft desktop tools. He exposed select District data online and offered a prize to the developer who created the most useful mashup app for it. And Kundra thinks jobs like hosting public-facing data that isn't sensitive look ripe for the cloud in federal government, as well.
One of his first acts as CIO was to bring together 11 CIOs to plan how the government could move toward cloud computing, including using free Web tools. "Why would we invest in infrastructure and technologies if they're available for free?" he said.
The plan will likely include "private clouds," using Internet-like architectures inside government data centers to save money, break the silos and information stovepipes that plague the bureaucracy by creating common IT infrastructure, and avoid the security concerns inherent in public cloud computing. "We've got to be able to abstract the infrastructure from the applications," Kundra said.
"For example, when you look at security, it's easier to secure when you concentrate things than when you distribute [them] across the government. We can pool our resources together, and you're able to specialize in the content that needs to be there."
Kundra's relationship with agency CIOs will be one of the most important factors influencing whether such efforts get adopted. While he technically can kill IT projects that don't pass muster, he's constrained by the budgets and mandates Congress passes, the public agendas coming out of agencies, and the fact that he's two steps removed from President Obama.
He also can't hire and fire agency CIOs, who report to their agency heads as well as to him. Kundra has some strong ideas for transforming government IT practices. He'll need a lot more than data to turn them into reality.

InformationWeek has published an in-depth report detailing the views of more than two dozen industry leaders on what should be top of mind for President Obama's CTO. Download the report here (registration required).