ISS Milestone: 10 Images From 100,000 Orbits
The International Space Station, which has been continuously occupied for more than 15 years, recently celebrated its 100,000th orbit around the Earth. Here's a look back at the history of the ISS in pictures to help mark this milestone.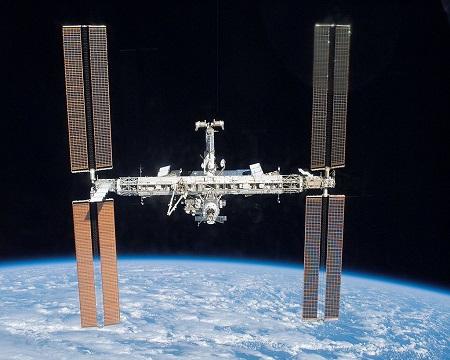 The International Space Station (ISS) completed its 100,000th orbit earlier this month. This significant moment comes after its first component, the Zarya cargo module, launched in November 1998. The ISS has been continuously occupied for more than 15 years, since its initial assembly, and after that, the arrival of Expedition 1 in November 2000.
The milestone means the ISS has now traveled more than 2.6 billion miles, nearly the distance from Earth to Neptune or 10 round trips from Mars to Earth.
Orbiting the Earth at a height of 250 miles, the ISS is the result of intense collaboration between the space agencies of the US, Russia, Europe, Japan, and Canada, bringing together international crews, many launch vehicles, communications networks, and globally distributed facilities for launch, operations, training, engineering, and development -- to say nothing of the international scientific research community.
The largest space station ever constructed, the ISS continues to be assembled in orbit. It has been visited by astronauts from 15 countries -- and counting.
In addition to serving as a microgravity and space-environment research laboratory, where crew members conduct experiments in animal, plant, and human biology; physics; astronomy; meteorology; and other fields, ISS is suited for the testing of spacecraft systems and equipment required for missions to the Moon and Mars.
[Read how several space agencies, including NASA, are planning Mars missions.]
The ISS is actually visible to the naked eye as a slow-moving, bright white dot -- due to reflected sunlight bouncing off the station. It can be seen in the hours, after sunset and before sunrise, when the station remains sunlit, but the ground and sky are dark.
NASA even provides a finder, "Spot the Station," which gives space fans a list of upcoming space station sighting opportunities for their location. So, while most of us won't get all the way up there, we can still keep tabs on the talented and brave men and women circling high above, expanding our knowledge of the universe.
To help mark this milestone in the history of ISS, InformationWeek presents 10 images of the ISS that give you the best view of the station's mission from here on Earth.
(All images courtesy of NASA)
Help Wanted. InformationWeek's hosted, searchable job board can help you find your next gig. Start your search today.
Nathan Eddy is a freelance writer for InformationWeek. He has written for Popular Mechanics, Sales & Marketing Management Magazine, FierceMarkets, and CRN, among others. In 2012 he made his first documentary film, The Absent Column. He currently lives in Berlin. View Full Bio
We welcome your comments on this topic on our social media channels, or
[contact us directly]
with questions about the site.