10 Years On Mars: What Spirit & Opportunity Discovered
NASA's twin rovers have spent a decade on the red planet, using their scientific instruments and engineering cameras to explore rocks and soil.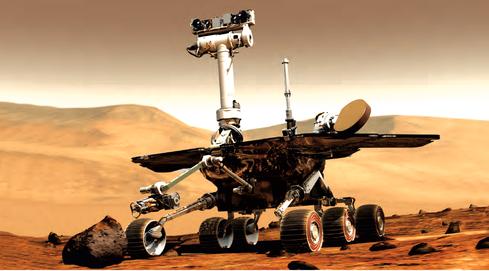 A decade ago, a desert-like planet received two visitors that would later make important scientific discoveries and inspire a new generation of exploration rovers. This month marks the 10-year anniversary of Spirit and Opportunity, which landed on Mars in January 2004.
Spirit arrived at the Red Planet on January 3, 2004, carrying six science instruments, along with engineering cameras. Opportunity, Spirit's twin, landed on Mars on January 24, 2004, with the same payload of instruments.
It was originally planned to be a very short mission, and it's still going strong today. "We shouldn't be here. The rovers weren't supposed to last more than three months," Mars Exploration Rover (MER) driver Ashley Stroupe said during the mission's anniversary event at NASA's Jet Propulsion Laboratory (JPL) on January 16.
While Opportunity continues to explore Mars, Spirit's mission ended in March 2010 after it ceased to communicate with Earth. Opportunity has beamed back 187,000 raw images of the planet so far, and Spirit produced 128,000 raw images during its time on Mars. Each rover is equipped with a Pancam, a high-resolution color stereo pair of CCD cameras used to photograph the surface and sky of Mars, and a Microscopic Imager, which combines a microscope and a CCD camera to capture data on the small-scale features of Martian rocks and soils. The rovers also have advanced communication capabilities to communicate with orbiting probes and directly with Earth.
Years of Mars exploration has paved the way for a new and improved generation of rovers. "Since the landings of Spirit and Opportunity, we have maintained an active continuous presence on Mars. Now we begin the second decade of that exploration," John Callas, project manager of the MER project, said during the January 16 event.
Compared to its predecessors, Curiosity -- which successfully landed on Mars on August 6, 2012 -- has 10 science instruments, in addition to engineering cameras and sample-collection tools. Curiosity is twice as long and five times as heavy as Spirit and Opportunity. Many of the design elements were inherited from the twin rovers, but Curiosity is the only one with the ability to gather samples of rocks and soil, process them, and distribute them to test chambers onboard.
NASA plans to continue its quest for signs of past life on the red planet with the next Mars rover due to launch in 2020. That rover is expected to look a lot like Curiosity, but it will carry new science instruments that can acquire data quickly and that minimize power consumption. NASA is also looking to equip the rover with technology that has low operational complexity and doesn't require intervention from an operator.
As Opportunity nears its 10-year mark on Mars, take a look at the highlights from its mission, along with some discoveries made by Spirit.
We welcome your comments on this topic on our social media channels, or
[contact us directly]
with questions about the site.