Location intelligence (LI) will be one of the key enabling technologies for business innovation in coming years, but it's not quite as simple as mashing up corporate data with Internet-based mapping tools.
LI applies information about location or geography to inform actions or responses to opportunities. By combining geographic- and location-related data with other business data, organizations can gain critical insights, make better decisions and optimize important processes and applications. Location intelligence offers organizations opportunities to streamline their business processes and customer relationships to improve business performance and results.
A significant number of organizations are already using the technology; a just-released study by Ventana Research found that 28 percent of the 332 qualified organizations participating in the (October 2007) benchmark study are operating at the highest "Innovative" level out of four levels of maturity in using LI. However, an equal percentage are at the lowest "Tactical" level of maturity and have yet to realize the value of applying LI technology to their processes.
The research revealed strong interest in LI; more than three-fifths (61 percent) of participants said LI is very important in helping to improve business processes and performance, and even more (65 percent) said it is very important for improving interactions with their customers and suppliers.
Awareness of LI has been stirred by the recent advent of consumer-oriented map viewers from Google, Microsoft and others. More than half (57 percent) of research participants are using Google's tools, a higher percentage than that for long-time, business-oriented geographic information system (GIS) software providers. However, while these simple, free technologies can provide the basic functions of LI, the research revealed that they can't deliver all aspects of functionality, accessibility, integration and deployment approaches required to realize the full range of potential business benefits from LI.
This article, which is an executive summary of Ventana's 98-page report, provides an overview of research results related to LI functionality, applications, data sources and deployment priorities. In addition, it provides eight recommendations from Ventana Research on what to consider when researching the potential for LI in your organization, how to prioritize applications and what approaches you might take to location intelligence deployments.
Functions, Apps and Sources
Basic LI capabilities — mapping and identifying locations and sites — are undeniably useful and certain to spread; only about 40 percent of organizations use these capabilities today. Beyond mapping, the integration of location information into business applications will enable many organizations to use LI to innovate. For example, Ventana Research forecasts that LI applications will proliferate in call centers, e-commerce activities, field service and sales organizations. And it will be used for a variety of functions, with leading examples including refining demographic and market analysis, understanding the distribution and use of assets, and supporting mobile professionals.
The variety of data sources demands that technology providers and users accommodate various interfaces. These will include not just LI software vendors, such as ESRI and Pitney Bowes MapInfo, but also business intelligence (BI) systems, relational databases and new applications such as Google's Keyhole Markup Language. Participants also articulated a need to support mobile devices and e-mail applications. These integration challenges may lead enterprises to turn to newer technologies including location-based services, Web services and service-oriented architecture.
A related technological challenge will be to update this array of information frequently; nearly one-third (29 percent) of organizations reported needing LI updates more often than once a hour.
Customers: The Top Priority
Despite strong evidence that many business people understand the value of location intelligence, respondents also indicated that not everyone in their organization shares this understanding. Making a business case for adopting LI is likely to require educational efforts and communication of compelling business benefits. Articulating benefits such as faster response to customers (noted above) and improved accuracy of information and quality of analysis can be persuasive.
Barriers to LI adoption are related to simple ignorance, not negative perceptions. Once the information gap is filled, the reception may be smoother. More than three-fourths (78 percent) of participants expressed willingness to use mapping viewers for business purposes, and nearly as many (73 percent) said they would consider open-source LI software as a technology option. Here again, however, matching the technologies to business purposes is a concern. Less than one-third (31 percent) said they are confident or very confident that consumer mapping technology can satisfy business requirements.
What to do Next
Bringing location intelligence capabilities to management and to operational decision-makers can help organizations improve performance. Based on its research and market knowledge, Ventana Research offers IT executives, managers and practitioners evaluating or implementing location intelligence software eight recommendations:
1. Assess organizational maturity and identify ways to improve. Location intelligence maturity ranges from organizations that have done sophisticated deployments and are at the "Innovative" (highest) level (28 percent) to those at the "Tactical" (lowest) level (28 percent) that have been relying on consumer LI technologies, such as Google, and do not recognize the importance of integrating LI with business processes. Organizations at the "Advanced" (20 percent) and "Strategic" (24 percent) intermediate levels are looking to apply more sophisticated software and capabilities across the organization. Determine where you can apply improvements in terms of your people, processes, information and technology to gain benefits from location intelligence software.
2. Focus on benefits to make the business case. The most often-cited barrier to establishing a business case for LI was lack of awareness (36 percent), followed by two other barriers that may result from it: lack of resources (16 percent) and no budget (15 percent). Proponents of adoption must educate decision makers by emphasizing drivers for the business case, particularly accelerating the speed of response to customers and increasing the accuracy of information.
3. Make customer experience and customer satisfaction a focus for LI. Asked about the most important benefits of LI, a majority (61 percent) said improving customer service is very important; responding to customer requests faster (49percent) was third-most important. Ventana Research believes this emphasis is shared by many organizations. To prepare for the use of location intelligence in this role, examine the many ways in which your organization encounters customers. Marketing, field service, sales and contact centers all will find location intelligence useful to their missions.
4. Support access to appropriate data sources. To gain full value from location intelligence software, it must be integrated it with a variety of data sources. Deployments typically require data from enterprise applications, data warehouses and other major systems, but sources also extend to information that individual business users develop in spreadsheets, flat files and reports. Your organization should explore ways to streamline the use of local business data and seek out LI software that can be integrated with a variety of sources.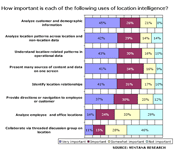 How important are each of the following uses of location intelligence?
(click image for larger view)
5. Understand what your business users really need.
Organizations should determine early the purposes for which their users need LI. Most organizations say their needs go beyond basic mapping. When it came to specific business undertakings, the research spotted analyzing customer and demographic information, analyzing location patterns, understanding location-related patterns in operational data, and identifying location relationships as top priorities that can be pursued by anyone in the organization, from management to front-line operational workers, to interpret and evaluate business performance.
Make sure you fully understand what your users need from LI so you can determine what types of applications and data sources are required. Do not assume that one dedicated application will meet all needs; perhaps several simple capabilities, integrated with current or new applications, may serve better.
6. Support deployments where they make sense. How you approach the deployment of location intelligence will vary based on the details of your organization and its level of maturity. The research found that nearly half (48 percent) of organizations that have not yet deployed LI plan to do so in the next year in one of three ways: centrally or enterprisewide (38 percent), to specific lines of business (33 percent) or departmentally (17 percent). By group, participants said that marketing, sales and field service will account for 45 percent of planned growth. Mobile workers (23 percent), line-of-business owners (21 percent) and executives (20 percent) will lead the growth in deployments in 2008, but organizations must analyze user roles and requirements to determine the right type of deployment.
7. Realize that consumer-oriented map viewers are not sufficient for business use. Map viewers that are freely available on the Internet have brought location mapping to millions of households. Participants named Google as the most often used location intelligence software, so it is no surprise that 78 percent said they would consider using it for business purposes, but be cautious. Just displaying information on a view of a map is only the start of what location intelligence can offer to business. To help your organization improve processes and performance, look into technologies that meet specific needs.
8. Plan to support growing demand for location intelligence. In every category of enterprise application surveyed, participants said their use of LI would almost double, but organizations need to prioritize where to provide location intelligence in key business activities and processes and, in many cases, which new technologies to integrate. This analysis should extend to delivery options, such as Web services, SOA and message infrastructure, and to mobile device platforms. Location intelligence is poised to become a powerful component of the information on which corporations base decisions. Applied wisely, it can provide a competitive advantage.
This article is an executive summary of "Location Intelligence: Geographic Context Spurs Innovation," which was sponsored by MetaCarta and Pitney Bowes MapInfo. The full 98-page report, which is available at the Ventana Research site, includes an entire chapter of LI maturity levels, analysis techniques and maturity by company size and industry sector.