DARPA Robotics Challenge Gears Up For Finale
The latest highlights from DARPA's years-long robotics competition show us just how creative we can be. Here's what you need to know in advance of the grand finale in June.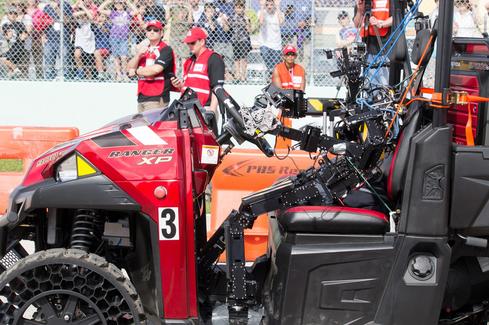 The Robotics Challenge is among the supercool high-tech projects hosted by the Defense Advanced Research Projects Agency (DARPA).
An ongoing competition that began in October 2012, the DARPA Robotics Challenge (DRC) has its grand finale in June. Disaster response is the theme of the competition.
Each DRC team -- typically composed of engineers from top universities and technology companies -- built a robot to compete in a variety of advanced challenges that simulate responses to man-made or natural disasters. The teams are competing for significant prizes, including a grand prize of $2 million. DARPA has also announced that it expects to award $1 million to the second-place winner and $500,000 to the third-place team. With a reported budget of $95 million, the DRC is perhaps one of the most significant initiatives DARPA has recently undertaken.
The competition was inspired by the 2011 nuclear disaster in Fukushima, Japan, which came in the wake of major earthquakes and tsunamis. The nuclear meltdown highlighted the urgent need for remotely operated robots that can go into disaster areas and otherwise perform under difficult conditions to mitigate damage and save lives.
"The state of the art is not capable of having robots do work on their own in these dangerous environments," said Dr. Gill Pratt, DARPA's defense sciences program manager, in a 2014 press statement. By crowdsourcing this problem to top engineers in academia and the private sector via the DRC, DARPA hopes to eventually rectify this issue.
When the finals are held June 5-6 in Pomona, Calif., 25 DRC teams will showcase their contenders. The DRC finals coincide with the DRC Expo, featuring the latest developments in robotics, unmanned aerial systems, and disaster response technologies.
Whether you're an armchair tech enthusiast or a diehard robotics geek, there's a lot of good stuff to know about the upcoming DRC finals. You'll get the highlights on the following pages. Once you've reviewed the best that the DARPA Robotics Challenge has to offer, visit the comments section below and tell us what you think the future holds for robotics.
Joe Stanganelli is founder and principal of Beacon Hill Law, a Boston-based general practice law firm. His expertise on legal topics has been sought for several major publications, including US News and World Report and Personal Real Estate Investor Magazine. Joe is also ... View Full Bio
We welcome your comments on this topic on our social media channels, or
[contact us directly]
with questions about the site.