Government iPad Activations Up 5%
State and federal customers are ramping up iPad use, says enterprise mobile software firm Good Technology.
Government and public sector enterprises turned on 5% more iPads between April and June, despite recording only a 1% increase overall in mobile device activations, according to Good Technology.
"We continue to see Android climb, but government is focused on iOS," said Chris Roberts, VP of public sector at Good Technology.
Good's quarterly Mobility Index Report is not a survey but a statistical abstract of activity from customers of its enterprise platform for managing mobile devices and apps. The report doesn't cover BlackBerry devices, which have their own management platform, or Windows tablets, which are managed more like laptops. Windows Phone activations show up in the report, but at just 1% of total device activations. The index covers all industries, but the result for public sector customers was one of the standouts, Roberts said.
[Secure your mobile devices. California Nears Smartphone Kill Switch.]
"Much like e-government seemed revolutionary, now we're moving to mobile government -- the last mile," Roberts said. Federal agencies have "moved farther and faster with mobility," partly on the strength of more consistent guidelines for how mobile devices should be deployed, compared with state and local government, he said.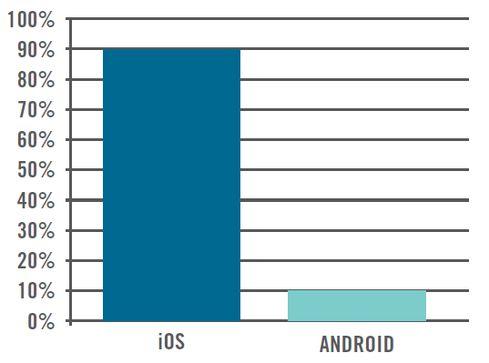 The iPad numbers reflect an increased interest in using tablets for government functions. Android tablets still suffer from a long-term perception that they are less secure, although that may start to change as more organizations "are moving forward and not suffering the catastrophic results everyone predicted," he said. Over time, attention should start to shift to "the specs of the device, as opposed to the logo on it," he said.
Across all industries, Good reported that Android device activations jumped significantly quarter over quarter, increasing 5% to 32% of total activations, while iOS activations decreased 5% and recorded 67% of total activations. For enterprise app (as opposed to device) activations, iOS had 88%, down 4% from the prior quarter, while Android had 12%, according to Good.
InformationWeek's new Must Reads is a compendium of our best recent coverage of the Internet of Things. Find out the way in which an aging workforce will drive progress on the Internet of Things, why the IoT isn't as scary as some folks seem to think, how connected machines will change the supply chain, and more. (Free registration required.)
David F. Carr oversees InformationWeek's coverage of government and healthcare IT. He previously led coverage of social business and education technologies and continues to contribute in those areas. He is the editor of Social Collaboration for Dummies (Wiley, Oct. 2013) and ... View Full Bio
We welcome your comments on this topic on our social media channels, or
[contact us directly]
with questions about the site.