Open Government Data: Companies Cash In
Start-ups and established firms harvest government data for consumer and business applications, creating an economic stimulus.
The growing availability of open data -- freely accessible, machine-readable information -- produced by governments and institutions is triggering a new wave of economic stimulus. By one estimate, open data has the potential to unlock between $3.2 trillion and $5.4 trillion in additional economic value annually across a variety of industries, according to a McKinsey Global Institute report released in October.
But who is actually creating that value and how?
One new window into the emerging world of data entrepreneurs opened this week with the launch of a new website, www.OpenData500.com. The website, created by the Governance Lab (GovLab) at New York University, is believed to be the most comprehensive catalog available of US-based firms currently making apps that rely at least in part on government data.
In addition to publishing a list of 500 open data companies, GovLab also published profiles of 50 companies creating value from open government data. The companies range from startups such as BillGuard, which analyzes publicly available billing dispute data to detect financial fraud, to more established firms such as iTriage, which helps consumers answer common medical questions and is now owned by Aetna.
[Are government plans to free up federal data on the right track? Read Obama's Open Data Plan: Much Work Ahead ]
The companies were identified as part of a larger study conducted by the GovLab and funded by the John S. and James L. Knight Foundation. The project aimed to identify, describe, and analyze companies that are actively using open government data to support their businesses. But GovLab is also attempting to promote ways that entrepreneurs are using freely-available government data to launch commercial and nonprofit ventures, do research, make data-driven decisions, and solve complex problems.
"Our working list of companies reflects the fact that open government data is a key business resource for new and existing companies around the country being used in a variety of ways and across many sectors," said Joel Gurin, senior advisor at the GovLab and director of the Open Data 500 study. Gurin is also the author of the new book Open Data Now, to be published in January 2014.
The most important finding in the study is the fact that "companies can build successful businesses from completely free, open data, by adding value through their analysis, user interface, or in other ways," Gurin told InformationWeek in an email.
GovLab also discovered that a diverse group of companies is capitalizing on government data. "We're finding companies working in all kinds of sectors -- including finance, health, the environment, education, and energy, as well as companies whose business is managing data and making it more useful." He noted that the firms ranged from startups to companies with thousands of employees and that the companies are using a variety of business models such as generating revenues from advertising or from the sales of services.
The potential of creating entire industries around freely-available government data, coincidentally, was highlighted Tuesday by White House deputy CTO Nick Sinai, during a forum on the value of open data sponsored by the New America Foundation.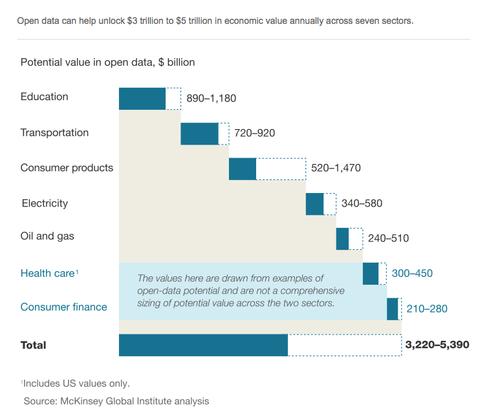 Sinai, and McKinsey Global Institute's Michael Chui and Diane Farrell, touched on the findings of McKinsey's most recent report on open data. In particular, Chui noted the economic power that pricing transparency is giving to consumers and businesses to make smarter decisions in what he described as the age of "liquid information." While those decisions aren't yet reflected in traditional GDP figures, the savings resulting from timelier and better informed decisions are nonetheless adding economic value to the US.
Beth Simone Noveck, the GovLab's founder and director, and a former White House executive, said that open data represents a broader opportunity to tap growing reservoirs of public data to improve people's lives.
"With the huge advances in data science that we're seeing today, national, state, and local governments have an opportunity to release data that can immediately be put to use for business, research, and job creation," she said in a statement accompanying the launch of the Open Data 500 list. Novek served as US deputy chief technology officer and led President Obama's Open Government Initiative prior to starting the GovLab.
According to Gurin, the open data study also revealed a wide range experiences in using open government data. Some companies reported that government datasets are relatively easy to access, while others found government datasets were "hard to use or have data quality problems," Gurin told InformationWeek.
"We suspected that we'd find this, and we see it in a positive light," he said, explaining that GovLab expects to share insights from the study with federal agencies, to "help make government open data an even more useful resource."
GovLab aldo found that companies are "combining different open datasets, or combining public and private datasets, using a kind of mashup approach to building new businesses. We're seeing companies starting to use sophisticated data analytics," he said.
Gurin said in-depth, vetted profiles of 500 or more US-based open-data companies will be available in early 2014.
He also told InformationWeek, "We're looking to replicate this study in other parts of the world -- we already have an agreement to do a version in the UK, partnering with the Open Data Institute in London, and we have interest from about a dozen other countries."
Wyatt Kash is Editor of InformationWeek Government. He has been covering government IT and technology trends since 2004.
These five higher education CIOs are driving critical changes in an industry ripe for digital disruption. Also in the Chiefs Of The Year issue of InformationWeek: Stop bragging about your Agile processes and make them better. (Free registration required.)
We welcome your comments on this topic on our social media channels, or
[contact us directly]
with questions about the site.