Tech Leaders Slam Donald Trump In Open Letter
Nearly 150 tech leaders, researchers, founders, and VCs posted an open letter characterizing presidential candidate Donald Trump as a "disaster for innovation."
Donald Trump's presidential candidacy appears to be facing opposition among some in the tech community, as 145 tech leaders, entrepreneurs, researchers and venture capitalists issue an open letter calling him a "disaster for innovation."
The group, which includes Apple cofounder Steve Wozniak, internet luminary and pioneer Vint Cerf, Box cofounder Aaron Levie, and Sun Microsystems cofounder and VC Vinod Khosla, outlined its concerns in a letter posted on Medium, part of which says:
We believe in an inclusive country that fosters opportunity, creativity and a level playing field. Donald Trump does not. He campaigns on anger, bigotry, fear of new ideas and new people, and a fundamental belief that America is weak and in decline. We have listened to Donald Trump over the past year and we have concluded: Trump would be a disaster for innovation. His vision stands against the open exchange of ideas, free movement of people, and productive engagement with the outside world that is critical to our economy  --  and that provide the foundation for innovation and growth.
The letter details three areas of concern for the group, including Trump's views on diversity, his position on open communication on the internet, and his lack of a detailed tech agenda.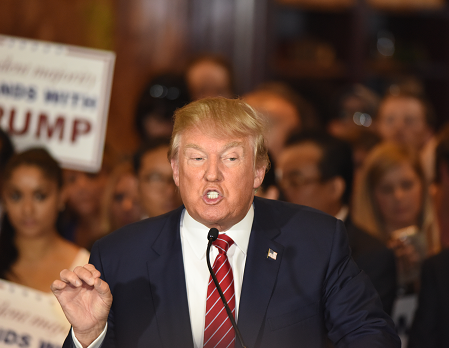 The group supports progressive immigration policies, and notes that 40% of the Fortune 500 companies have been founded by immigrants or their children. But the letter-signers fear Trump could potentially hamper innovation because he "traffics in ethnic and racial stereotypes, repeatedly insults women, and is openly hostile to immigration. He has promised a wall, mass deportations, and profiling."
On the controversial issue of H-1B visas, which allow temporary workers to enter the country for jobs that are difficult to fill with the existing pool of American workers, Trump, as noted in a Washington Post report, has flip-flopped on the issue.
Tech companies argue that the current H-1B program is inadequate and needs an increase in the number of temporary visas allowed so that the industry's available jobs can be filled with skilled workers. However, US tech workers and organizations question whether H-1B visas are being used to create a form of cheap labor.
Trump has also raised concern over the free and open exchange of ideas, particularly through his various proposals of "shutting down" portions of the internet as a means to bolster security. But the group says that this strategy demonstrates Trump's "poor judgment and ignorance about how technology works."
The group is also wary of Trump because of the important role government plays in technology, especially regarding its investments in both infrastructure (as in buying computers and servers) and scientific research. The letter characterizes Trump as having "few policies beyond erratic and contradictory pronouncements."
Additionally, the groups wrote that Trump "risks distorting markets, reducing exports, and slowing job creation."
[See The Brexit Effect: 8 Ways Tech Will Feel the Pain.]
While the letter notes that those who signed the document are representing themselves and not the companies or organizations they work for, some notable names were missing, such as Apple CEO Tim Cook.
However, while Cook has not come out publically against Trump with a statement, he did throw his money and support to House Speaker Paul Ryan and a joint fundraising committee aimed at helping to elect other House Republicans via a private breakfast event in June, according to a Politico report.
The group wrapped up its letter with this statement:
We stand against Donald Trump's divisive candidacy and want a candidate who embraces the ideals that built America's technology industry: freedom of expression, openness to newcomers, equality of opportunity, public investments in research and infrastructure, and respect for the rule of law. We embrace an optimistic vision for a more inclusive country, where American innovation continues to fuel opportunity, prosperity and leadership.
Trump's campaign was not immediately available for comment.
Dawn Kawamoto is an Associate Editor for Dark Reading, where she covers cybersecurity news and trends. She is an award-winning journalist who has written and edited technology, management, leadership, career, finance, and innovation stories for such publications as CNET's ... View Full Bio
We welcome your comments on this topic on our social media channels, or
[contact us directly]
with questions about the site.