VW To Pay $14.7 Billion In Emissions-Cheating Software Settlement
Volkswagen agrees to dole out up to $14.7 billion to settle allegations that it knowingly sold customers vehicles that were equipped with software to cheat on emissions tests.
Volkswagen has agreed to pay up to $14.7 billion to settle allegations that it sold cars with faulty emissions systems that had special software algorithms that would cheat on emissions tests in the US, according to an announcement Tuesday by the Federal Trade Commission.
The massive settlement applies to two related settlements, one with the FTC and the other with the US Department of Justice and the State of California. It calls for the automaker to spend up to $10 billion to compensate US car owners and offer to buy back the vehicles or terminate leases on nearly 500,000 2.0-liter diesel vehicles sold between 2009-2015. In addition, the automaker will fork over $4.7 billion to invest in green vehicle technology and mitigate the pollution from these cars.
The affected vehicles include the Volkswagen TDI diesel models of Jettas, Passats, Golfs and Beetles, as well as its TDI Audi A3.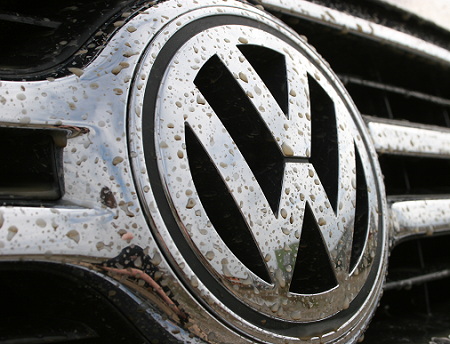 The problem with the Volkswagen cars first came to light, when the International Council on Clean Transportation contracted West Virginia University to perform on-road emissions testing. The study centered on off-cycle emissions performance and fuel economy under typical US driving conditions. Volkswagen's diesel light-duty vehicles were among those tested, according to an announcement by the university. During the on-road testing, however, university researchers raised questions about the emission levels with Volkswagen's vehicles.
After the analysis by the university, the Environmental Protection Agency, and the California Air Resources Board (CARB) discovered the defective emissions device software. The two agencies found the device used a "sophisticated software algorithm" on some of its vehicles to determine when the car was having an official emissions test and kick on its full emissions controls during of the test.
But once the test was over, the software would reduce the effectiveness of its pollution emission control devices during normal driving conditions to the point that the vehicles would spew out up to 40 times more than the allowed standard nitrogen oxides, or NOx, emissions, according to both a statement from the EPA and an announcement from CARB.
Volkswagen admitted to installing the software in all of its 2.0-liter diesel cars between 2009 and 2015, according to CARB.
[See 8 Epic Software Fails: From Volkswagen to the IRS.]
"By duping the regulators, Volkswagen turned nearly half a million American drivers into unwitting accomplices in an unprecedented assault on our atmosphere," Deputy Attorney General Sally Yates was quoted as saying in the FTC statement. "This partial settlement marks a significant first step towards holding Volkswagen accountable for what was a breach of its legal duties and a breach of the public's trust. And while this announcement is an important step forward, let me be clear, it is by no means the last. We will continue to follow the facts wherever they go."
The settlements, however, do not address the pending claims for civil penalties or any claims concerning 3.0-liter diesel vehicles. It also does not address any potential criminal liability.
Under the settlement, Volkswagen must reach a recall rate of at least 85% of the affected 2.0 liter vehicles, or pay additional sums to a mitigation trust fund.
Of the $4.7 billion portion of the settlement that will be invested in green vehicle technology, $2 billion will be applied to zero emissions technology investments.
Dawn Kawamoto is an Associate Editor for Dark Reading, where she covers cybersecurity news and trends. She is an award-winning journalist who has written and edited technology, management, leadership, career, finance, and innovation stories for such publications as CNET's ... View Full Bio
We welcome your comments on this topic on our social media channels, or
[contact us directly]
with questions about the site.