Cloud, Analytics Improve Breast Cancer Screening Education
MammaCare training company teams with CapGemini on cloud system that gets examination expertise into the hands of doctors and nurses who perform manual breast exams.
Hands can be just as good as expensive mammograms at discovering tiny cancerous lesions in breasts. But to be effective, these hands must be well trained.
Delivering that training efficiently and cost-effectively is the mission of MammaCare, a company determined "to provide breast examination proficiency for every clinician who examines women and for every woman who performs a self-exam." MammaCare developed the quality standard for physical examination of the breast with the support of the National Cancer Institute, the National Science Foundation, and many scientists around the globe.
"Young women have less cancer… than women in their 60s, but in young women it's more deadly and far less findable by X-ray," says Mark Goldstein, PhD, MammaCare cofounder and chairman, in an interview. "In the case of a young woman, a lesion can double every three months or four months. For a woman in her 60s, it can take 10 times longer than that."
"New data suggests hands are just as accurate as X-rays," he adds.
[What's the right role for genomics? Read Genomics Startup Learns From 23andme's Troubles.]
Canadian researchers followed 89,000 women since 1980, and discovered 22% of women whose breast cancers were discovered by mammograms were overdiagnosed. As a result, these patients received unnecessary treatments -- causing emotional, physical, and financial tolls and costing the healthcare system unneeded money. Each year, more than 232,000 American women are diagnosed with breast cancer, and more than 39,600 women in the US alone were expected to die of the disease last year. That number is decreasing due to earlier detection from screenings, treatment advances, and increased awareness, according to non-profit BreastCancer.org.
In the ongoing battle to reduce deaths and find lesions early, MammaCare developed a learning platform within its lab, says Goldstein.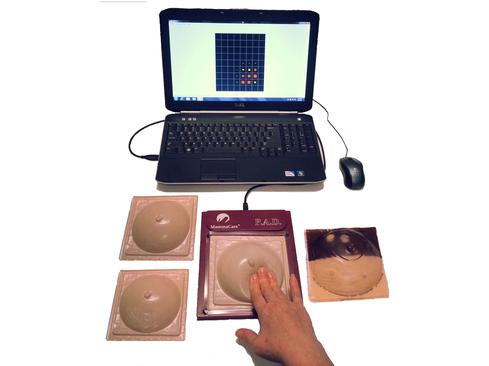 "We promised the National Science Foundation we were going to get it in all the hands that examined women," he says. "But how were we going to get it everywhere? It's useless unless it gets out to the people who are doing the work."
MammaCare needed a partner that could deliver educational materials via the cloud to meet an ever-changing size of users at universities, government institutions, and healthcare providers, says Goldstein. In addition, MammaCare
wanted to give users access to analytics in attractive dashboards, he adds.
The organization approached CapGemini's Strategic Technologies and Applications Team (STAT), which used its Amazon Web Services powered Capgemini Orchestration Management PLatform End to End -- or COMPLETE -- system to power MammaCare's solution. Because COMPLETE is elastic and cloud-based, MammaCare needs no internal IT to run its educational software and analytics services, and it can reach clients anywhere in the world, as long as they can connect to the Internet.
In fact, a client in Japan recently bought two systems, and the US Department of Veterans Affairs uses the solution to train its physicians and nurses throughout the country, he says. "CapGemini gives us the ability to have all of this data for each nurse, each trainer, each student uploaded to Amazon Web to come back to us so we can monitor the progress," he says. "We could literally train thousands upon thousands of hands that will exam millions of women and be confident we can see the results. [Students] sign in online to the cloud-based learning system. They register and enter into the program, then take a step-by-step online course on breast examinations. They get the knowledgeware and the performance data all combined into a profile for each one of the students. They don't graduate through the course, delivered over a two-week period, until the technology allows them to. Their skills are all observable and validated."
To date, MammaCare has data from six colleges of nursing and two medical centers, including partners such as the University of San Francisco, the University of South Florida, the University of New Mexico, and the University of Vermont, says Goldstein.
One of the biggest challenges facing CapGemini was understanding the insight MammaCare's customers needed, says Dorman Bazzell, emerging technologies and advanced solutions practice leader at the consulting firm, in an interview. MammaCare provided Bazzell's team with a working copy of the system and educated CapGemini on how clinicians and students work, he says.
"We've put in place a methodology and data extraction capability that very easily allows them to upload the information. Once they've put this into their laptops, we grab that information and put it into the Amazon system," he says. "From a visualization perspective, Mark and his team had a lot of Excel spreadsheets. They can still use their Excel spreadsheets if they want." In the future, CapGemini plans to improve the analytics capability to collect more data in better ways and to give users the ability to gain additional insights, he adds.
Although CapGemini did not charge for its work on this project and plans to continue investing both its skill and technologies for the foreseeable future, MammaCare hopes the solution becomes commercially successful so both partners profit, Goldstein says.
"Getting set up, we needed help. Ultimately, it should drive revenue," he says. "It's a really important project for NFS. These are real scientists who recognize its importance. With their support and CapGemini's support, it'll be a real benefit for the women of America and even the women of the world."
Download Healthcare IT In The Obamacare Era, the InformationWeek Healthcare digital issue on changes driven by regulation. Modern technology created the opportunity to restructure the healthcare industry around accountable care organizations, but ACOs also put new demands on IT.
Alison Diana is an experienced technology, business and broadband editor and reporter. She has covered topics from artificial intelligence and smart homes to satellites and fiber optic cable, diversity and bullying in the workplace to measuring ROI and customer experience. An ... View Full Bio
We welcome your comments on this topic on our social media channels, or
[contact us directly]
with questions about the site.