EHR Must Fit Into Doctor-Patient Relationship
Electronic health records need a design overhaul so doctors can understand them at a glance -- and keep their focus on the patient.
As trite as it sounds, I went into medicine because I like science, and I like helping people. Twenty years after starting this adventure, I still come away at the end of most days satisfied and fulfilled about the things I do. Most humans feel good when they lift, help, or encourage others. I get opportunities to do this everyday. I find a lot of pleasure in helping to relieve suffering, getting to know people, and helping them find solutions to enjoy their lives.
Over the years much has changed in medicine. New technology, medications, and evidence have improved some of the things we do. We can treat things we once could not. We have stopped treating things we thought we could. We try to be more consistent from institution to institution so that patients everywhere can benefit from the latest evidence.
[Not in love with your electronic health record system? Read Doctors & EHR: Can This Shotgun Marriage Be Saved?]
One of the most significant changes of late has not been a new scientific discovery or treatment breakthrough, but the introduction of electronic health records (EHRs), which have globally affected all healthcare providers and patients. Digitization of records brings the potential of better coordination, decreased duplication, and big data. While some successes have occurred, some expectations have yet to be met, and some new challenges have been introduced. Specifically, technology has not changed the fact that care is still provided by people interacting with people.
True, some of the interactions are different. Communication now occurs with phones, texts, and email, not just office or hospital visits. Yet, although patients have more access to information -- they have often read articles, discussed conditions on Facebook, and even come up with treatment plans -- they still need to communicate with someone who will listen and understand their concerns. Often all of the reading and chatting with friends won't relieve your concern that the pain you have isn't the same cancer your dad had. This is the power of interacting with another human who can listen and understand and apply appropriate skills and tests to allay concerns or provide empathy and support when fears are realized.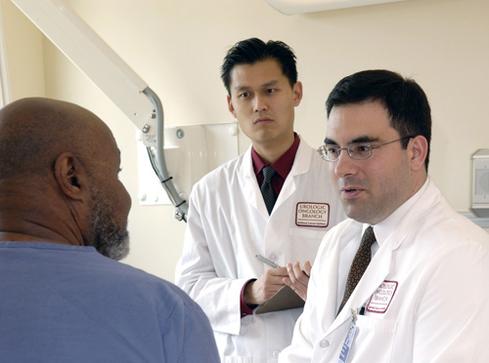 Ultimately, patients are responsible for their own health, but a good doctor-patient relationship, where there is mutual respect and trust, can increase a provider's impact and a patient's compliance. Effective doctors are more likely to be empathetic and caring. Effective doctors are knowledgeable, but also know how to use colleagues and resources to make up for gaps in knowledge and judgment.
Yet all of the skills, resources, and knowledge in the world won't make up for an inability to make patients feel valued, validated, and understood. With all of the tools that EHRs have to help doctors provide more structured and consistent care, their presence in the examination room can feel like having an extra friend along on a date with your significant other. I admit I struggle to balance the invasiveness of the tool with interacting with patients.
Time spent looking for information and documenting information in the EHR means time not spent in meaningful communication, and the presence of the EHR can detract from connecting with patients. For the patient it can be like trying to have a conversation with your teenage daughter while she is texting her friends. She might be in the room, but she really isn't present.
While there are probably some best practices when using EHR, I believe that EHR design can also play a role in minimizing disruption to the visit. Using the right devices, working with well-designed interfaces, and having better tools to document can go a long way to reduce the interference of an EHR. It is really time to focus on usability.
The first and most important change we need is to lose the computer and replace it with a tablet. Carrying a computer around is a bad idea. One day black-and-white pictures of doctors carrying computers around will be in museums next to pictures of girls painting radium paint onto watches.
The next significant change needs to be a revamp of the interfaces. This might seem a little superficial, but an EHR needs to look nice and function well. The layout of information can make or break usability. Presentation, as my wife, a chef, says, is everything. Believe me, when she can make two-day-old leftover goulash look like a gourmet meal, she knows what she is talking about.
More specifically, EHRs need a good summary page. A summary is a scrollable one-page dashboard that contains all pertinent patient information -- a problem list with a chronology of events affecting the problem, medications, habits, past surgeries and health problems, family history, social history, notes to self about important issues, and, for me, a pediatrician, the parents' and siblings' names and phone numbers. If this information
is scattered in different places it will be overlooked or missed, and doctors will spend too much time looking at the chart rather than listening and developing relationships. Likewise, an interface cluttered with too many buttons or tabs will make it hard and frustrating to find things. Intuitive design is an art, and we need some artists in the field.
The summary page needs to be viewed at the same time the encounter is being built to minimize jumping back and forth between pages. A left-scrollable summary panel and a right encounter panel could easily accomplish this.
The summary page also needs to limit the presence of non-important clinical data such as ICD-9 codes and timestamps. Let them live in the background. They have no use for providers.
A quick view of a well-maintained problem list can allow providers to briefly review the issues without spending a lot of time looking through the chart (and ignoring the patient). Problem lists are the ultimate summary and chronology of a patient's health issues. EHRs currently are all over the place on problem-list design. Many only allow archaic ICD-9 terminology. Most don't allow clarifying information or addition of events that have occurred on a problem.
Electronic systems can be so powerful here, yet most fall short of being useful and don't even function as well as paper. Part of the problem is we are trying to duplicate paper workflows in an electronic environment. Working as we do in hospital notes, updating each problem with new information at each encounter (rather than hiding it in encounter notes) is a much better workflow and way to find data.
Another area that needs attention is the documentation process. First, let me say that I believe we are being held back from better approaches by having to write complete notes with each visit. This satisfies insurance companies but detracts from better attention to the problems, as I mentioned above. But since we have to write notes, the process needs some help.
For those who like to type in front of patients, this function should be preserved, but beware that it is hard for patients to feel listened to when you are typing in front of them. Additional ways of entering data should include drag-and-drop of SH, FH, common phrases, etc. The ability to touch each section of the encounter and dictate a sound clip for a transcriptionist or insert voice-to-text would also help slower typists. Finally, handwriting recognition, while not the fastest, can be used to pull in phrases or write notes to self that can be expounded on later. The patient, not the documentation, should be the focus of the visit.
Finally, templates need to be smart. Copying text from one note to another or from an all-text template propagates errors and often states things that either aren't true or were not done, or leaves out things that were done. A note should reflect what was done as closely as possible. Templates can have structured elements to serve as ticklers to provide consistency, but should also allow variation to be documented. This is a large subject, but there are many ways new technology could be implemented to improve templates.
I am a believer in the ability of EHRs to help us provide more consistent care. But the patient, not the data or the documentation, should be the focus. The EHR is a tool. The tool shouldn't prevent us from doing the job. More attention to details, usability, and use practices can help make the products excel.
Apply now for the 2015 InformationWeek Elite 100, which recognizes the most innovative users of technology to advance a company's business goals. Winners will be recognized at the InformationWeek Conference, April 27-28, 2015, at the Mandalay Bay in Las Vegas. Application period ends Jan. 9, 2015.
David M. Denton is a board-certified pediatrician and member of the American Academy of Pediatrics. He is a partner of the Pocatello Children's Clinic in Pocatello, Idaho, and is affiliated with Portneuf Medical Center where he currently serves as the medical staff ... View Full Bio
We welcome your comments on this topic on our social media channels, or
[contact us directly]
with questions about the site.