Medical Software Brings Intuitive Interface To Health Records
With a 3D anatomical model on the iPad, Modernizing Medicine taps the power of touch to simplify electronic health records and medical coding.
Modernizing Medicine wants to put in doctors' hands a digital health record that really is better than paper -- not just for billing or collecting government incentives but also for providing care.
By maximizing the iPad's visual and adaptive user interface, Modernizing Medicine's Electronic Medical Assistant (EMA) software aims to simplify medical coding and speed note taking. Instead having to type in notes and fill in forms, EMA gives users 3D anatomical models to record the diagnosis of a rash, or a tumor, or a broken bone, or a cataract, using pinch-and-zoom gestures to zero in on the affected region of the body and then picking from context-sensitive lists of afflictions and treatments that are personalized to the physician. On the strength of that approach, Modernizing Medicine claims to have captured 20% of the electronic health records (EHR) market for dermatologists and is branching out into plastic surgery, cosmetic surgery, ophthalmology, orthopedics, and otolaryngology.
[Do you have what it takes to support tablets? Read As Doctors Embrace Tablets, Management Headaches Grow.]
Among other things, the anatomical modeling approach means that EMA users had little to fear from ICD-10, the new medical coding scheme that was supposed to become mandatory on Oct. 1, 2014, -- until Congress decided to delay it another year. (Previously, ICD-10 was supposed to go into effect in 2013.)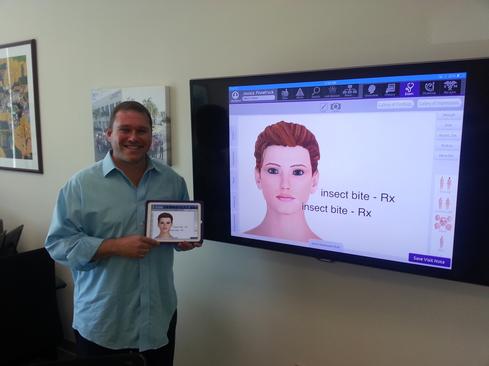 While proponents say ICD-10 is a more precise coding system that will pay off in better data analysis, leading to more efficient and higher quality care, physicians worry its complexity will make it difficult for them to record data correctly and that coding errors could prevent them from getting paid. One source of that complexity is the level of anatomical detail required in medical records -- not just "broken leg" but right leg or left leg, upper leg or lower leg. With EMA software, you touch the affected region of the body on the 3D model, and the software looks up the underlying code. Under ICD-10, a patient visit must also be coded differently for an initial visit or a "subsequent encounter" (follow-up visit), and the software is smart enough to default to subsequent encounter after the first time a given problem is recorded for a patient.
I visited Modernizing Medicine's offices in Boca Raton, Fla., on the day the U.S. Senate was scheduled to vote on the bill including the ICD-10 date change -- a politically unstoppable measure that also prevented Medicare from cutting reimbursement for doctors. So even though the Centers for Medicare and Medicaid services had pledged no further delay to the implementation of the new coding system, CMS wouldn't be getting the last word.
"We were ready, but the industry wasn't," CEO Daniel Cane said. EMA was specifically designed to support ICD-10, although it can continue to generate the less detailed ICD-9 codes that are the current standard for medical billing and data tracking in the US.
Doctors are certainly justified in not wanting to have to memorize even a fraction of the 68,000 codes in ICD-10, but the right way to deal with those codes is to treat them as codes only the computer should have to understand, Cane said. Just as an e-commerce website may need an elaborate system of SKU numbers to track its inventory, but presents a simplified catalog and search function to customers, healthcare software developers need to translate between data tracking codes and concepts that humans can understand.
Under ICD-10, "insect bite" translates into about 120 codes, he said. To demo EMA, he gave a patient bug bites all over her body, plus a chicken bite resulting in a break in the skin (there's an ICD-10 code for that, too) and showed how the software could spit out the corresponding code, all properly sequenced for claims processing.
Joseph J. Zaladonis, Jr., a dermatologist in Bethlehem, Pa., posted a review of the software specifically praising the training he and his staff received and how it helped them secure federal Meaningful Use incentive dollars. "The staff actually prefers charting in EMA compared to paper," he wrote. When I got him on the phone, he said the software wasn't quite good enough to make him love electronic medical records -- he is not crazy about computers in general -- but he appreciates that the software is specific to his specialty and that the company has been responsive to his requests for improvements. The software does accurately code claims based on the data input on the iPad, he confirmed.
He said his staff likes to use it, explaining that during an examination he typically has an assistant recording data on the iPad while he talks to the patient. "I will not pick up the iPad until the conclusion of the visit, to review what the staff put in and fine tune it. Or, if I did a procedure, I'll put in what I did."
Understanding the importance of the user interface was one of the things Cane learned at his previous company, Blackboard, which he co-founded in the late 1990s. Blackboard became one of the leading e-learning and education technology companies. Cane left in 2009 after moving back to Florida, where he had grown up. While he was between ventures, his wife told him he needed to take time to get a thorough physical, which in turn led to a referral for a skin check. That was how he met his co-founder, dermatologist Michael Sherling.
Even though Sherling was in the same practice as the referring internist, Cane noticed the physicians didn't share records electronically, and he decided to give the doctor a hard time about it. "I was like, how could it be this way? Here was this very sharp MD/MBA, and he was telling me there was no technology that wouldn't slow him down or get in the way," Cane said.
Cane took that as a challenge. He envisioned something a doctor could hold in his hands in much the same way as a paper chart, with software that would be driven by touch rather than a keyboard. The earliest prototypes ran on convertible Windows laptop/tablets, but after the April 2010 release of the iPad, a native iOS application became the primary way doctors access
the cloud-based software. There is also a browser-based version, meant primarily for office staff or doctors to use in a pinch, when the iPad isn't available.
The visual approach is something doctors didn't know they wanted until they saw it, Cane said. They tended to ask first for an electronic equivalent of their paper charts, which is what many other EHRs give them.
Unlike other EHR software products that were developed as extensions to hospital billing or practice management systems, Modernizing Medicine's EMA is EHR-only. "We're a bit of a unicorn in that respect," Cane said. Yet by deciding to integrate with practice management systems rather than duplicating their work, "we turned hundreds of potential competitors into partners," he said. For example, Athenahealth and CareCloud win customers more for their ability to help customers with claims processing and collections than for their EHR software, and they can accommodate EMA as an alternate front end for recording data from a patient visit. "As long as I don't compete with them, they will send me business," Cane said.
Similarly, his approach to the hospital market is not to compete with enterprise EHRs like Epic but to position EMA as an alternate front end that specialists can use to capture data from patient visits and feed it into the enterprise EHR.
Meanwhile, the reason physicians choose EMA is that it's tailored to their specialties. Sherling, the firm's chief medical officer, says most EHRs are too generic, like word processors that can be used to type any message rather than being customized to how a physician practices medicine. "All these word processor EHRs are designed with a lowest-common-denominator, one-size-fits-all methodology," he said. Doctors are not all the same, "but we're being treated like a commodity," he added.
"Doctors themselves -- we just want to treat the patient," not futz with technology, Sherling said. The goal of EMA is "almost to take the doctor's brain and put it into the software itself."
In addition to hiring doctors in the specialties it targets to help with software design, Modernizing Medicine uses adaptive learning technologies Cane brought with him from the educational software industry. In this case, the software is learning how the doctor practices so it can make intelligent recommendations. "We use predictive analytics to speed things up and save them time," Cane said. That means the drugs a doctor prescribes most frequently for any given condition appear at the top of the list in the e-prescribing module. Ditto for lab orders, or ordering the instruments and anesthetics that should be on hand for surgery. Most everything is a drop-down list. Although physicians always have the option of typing in a note, the goal is to anticipate their every move.
"Doctors not only can't type, but if you give them virtual keyboard, they really can't type," Cane said. "Instead, you need to think of something that's like the order-entry system for a fast food restaurant." Since medicine is more complicated than flipping burgers, the menus must continually change to present the most relevant choices for a specific clinical setting. "The system understands the domain, because the physicians taught it to them," he said.
Medical claims coding is simplified because EMA captures structured data rather than unstructured notes. Some other EHR systems are trying the opposite approach where natural language processing is used to extract structured data from free-form physician notes and generate ICD-9 or ICD-10 codes on that basis. Cane said it's much easier to translate structured into unstructured data than the other way around. For example, EMA will automatically generate a short narrative based on the data the physician (or his assistants) recorded -- the same information in paragraph form about the patient's complaint and the treatment administered. That's easier for doctors to scan than a database report, and it also gives them the opportunity to add any further notes that might be relevant -- by typing or using medical speech recognition software -- where their observations do not fit in any pre-defined database field.
The next frontier for Modernizing Medicine is analytics -- ultimately, Cane said it will be more about analytics than EHR. Already, EMA taps data gathered from all users to help doctors with their decision making. If a doctor doesn't know what to prescribe for a given condition, he can see what his peers from across the EMA customer base prescribe under similar circumstances.
Even more bleeding edge is a forthcoming "Ask Watson" service produced in partnership with IBM, which will come to market as an add-on or upgrade (details to be announced in the coming months). In the prototype Cane
showed me, which the company developed for a demo at a recent dermatology conference, clicking on the Ask Watson button brought up a natural language query interface where the user can type or dictate a question like, "How should psoriasis treatment be different for an HIV-positive patient" and get answers based on research from the Journal of the American Medical Association.
"The idea here was: what if we could bring together the best of structured and unstructured data? So we partnered with JAMA, which is a massive source of unstructured data," Cane said. The demo was based on a 100-article sample of articles on a handful of diseases, including psoriasis and melanoma, but it produced impressive results just the same. The details of how the service would be priced to compensate Modernizing Medicine, IBM, and content providers such as JAMA are still being worked out, but the payoff in terms of evidence-based medicine is clear, allowing a doctor to "find the evidence, and then go forward with your order."
Having raised about $40 million in venture funding, Modernizing Medicine now employs about 175 people, mostly based at its headquarters in an office park at Florida Atlantic University. Cane was recently appointed to FAU's board of trustees by Gov. Rick Scott.
In addition to software developers, Modernizing Medicine relies on medical artists and 3D modelers to refine the anatomical model at the core of EMA. The standard visualizations are a male and a female, both Barbie-and-Ken sexless in the standard display (genitalia only displayed if clinically relevant). Similarly, the hair on their heads can be displayed or hidden to allow a doctor to tag a region on the skull and record a wound or a suspicious mole or the location of a surgical procedure. Since the models are generic, there always has to be a way for physicians to document the way the real patient is different -- because of a deformity or an amputation, for example -- just as the physician has to be able to document areas of the body he wasn't able to examine because, for example, the patient refused to remove a toupee or underwear.
Cane's original model for dermatologists was a 2D rendering that defined 60 regions, and in his naiveté he thought that would be plenty. With every iteration, though, doctors asked for more detail. The second iteration defined hundreds of regions of the body; the current one is closing in on 70,000 locations. Dermatologists wanted to be able to zoom in and specify exactly where they detected a lesion -- not just "upper lip" but the indentation under the nose. Most of that specificity is for clinical purposes, with payoff for insurance claims coding as a secondary benefit, Cane said.
Addressing new specialties has meant exploring the inside of the eye, the shapes of the bones, and the layout of muscles. When we toured the office, tables were strewn with full color printouts of the gastrointestinal tract and a model of a child's anatomy, a relatively recent addition that includes details like the growth plates between growing bones and the plates of the skull. One artist we spoke with was settling in for a day devoted to rendering just ligaments.
"There's always more work to be done," Cane said.
Download Healthcare IT in the Obamacare Era, the InformationWeek Healthcare digital issue on the impact of new laws and regulations. Modern technology created the opportunity to restructure the healthcare industry around accountable care organizations, but IT priorities are also being driven by the shift.
David F. Carr oversees InformationWeek's coverage of government and healthcare IT. He previously led coverage of social business and education technologies and continues to contribute in those areas. He is the editor of Social Collaboration for Dummies (Wiley, Oct. 2013) and ... View Full Bio
We welcome your comments on this topic on our social media channels, or
[contact us directly]
with questions about the site.