Healthcare Collaboration Across 3 Generations
Patients may see 50 different hospital employees during treatment. Don't let different collaboration styles among your multigenerational staff hinder patient care.
Today's healthcare workforce is made up of employees from at least three different generations: Baby Boomers, Gen X, and Millennials (also known as Gen Y). Each generation tends to have its own characteristics about work, traits that include their regard for authority, work ethic, and expectations. Since different generations rarely share the same views, it is not surprising that multigenerational workgroups often struggle to solve a particular challenge and may even experience conflicts.
Not only does this present a management dilemma -- for nurse leaders and the organization as a whole -- but if these challenges are not resolved, they can lead to negative outcomes such as diminished quality of care, patient safety, and patient satisfaction concerns.
How can healthcare organizations overcome the challenges inherent in multigenerational workgroups? This article will present recommended strategies for implementing an effective approach -- as well as technology -- to improve collaboration among multigenerational employees. It is a significant opportunity: Improved collaboration leads to more engaged employees, increased productivity, and improved communication, all of which improve the quality of care.
From one caregiver to many
Remember the days when one doctor was qualified to treat a patient for nearly all of his or her ailments? Those days are long gone. With the advent of specialized care, the need to know so much more about medicine and science, and the explosion of healthcare technology, it is simply impossible for one doctor or nurse to "know it all."
[Will we soon be talking about managing androids? See 10 More Robots That Could Change Healthcare.]
Consider the numbers. Today, during the course of a typical hospital stay, a patient may interact with 50 different employees, including physicians, nurses, and technicians. And when healthcare professionals are not communicating effectively, patient safety is at risk (see Chapter 33 of the Agency for Healthcare Research and Quality's Patient Safety and Quality: An Evidence-Based Handbook for Nurses).
As the model evolves, the emphasis has shifted toward creating effective teams and encouraging collaboration among those team members to provide the best possible patient care. This new dynamic requires employees to develop new ways of thinking and acting, and the added complexity of working with different generations presents a new wrinkle. Yet, if healthcare organizations can overcome these challenges and effectively manage their multigenerational employees and groups, they stand to gain a new and sustainable competitive advantage.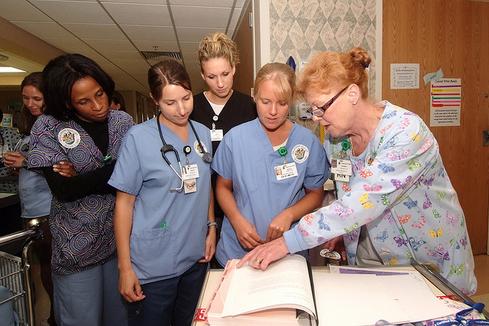 A closer look at the three generations
The three generations in healthcare today are Baby Boomers, Gen X, and Millennials.
Baby Boomers (born 1946-1964): Baby Boomers represent the largest group of employees in the healthcare workforce today, with a high percentage in leadership positions. Baby Boomers typically define themselves by their work and, as a result, tend to be very competitive and even workaholics. Introduced to technology as adults, they are either technology averse or have adapted, but they are not necessarily evangelical about technology. Baby Boomers value loyalty, personal sacrifice, and quality work.


Gen X (born 1963-1980): The number of Gen X employees in healthcare is significantly smaller than Baby Boomers. During the 1990s, healthcare in general and nursing in particular had a problem attracting Gen X employees, because they did not perceive the same career growth and entrepreneurial opportunities as available in other careers. However, many Gen X members have now entered nursing as a second career. They have grown up with technology and are technology-competent. Gen X values independence and will make whatever adjustments are necessary to ensure their personal needs are met.


Millennial (born 1980-2000): Millennials were raised in a world where their parents were a big influence on their lives and offered constant attention. Millennials are also "technology natives" as computers, cellphones, and instant communication have always been a part of their lives, and most profess an interest in working in groups as opposed to individually. They are enthusiastic and eager to participate. Millennials have an expectation that they will be treated fairly and supported through mentorship.
Despite vast differences in demographics, values, and views, all generations must be able to work together in a way that not only avoids conflict, but also delivers superior results related to productivity, efficiency, and patient care.
One way to accomplish this goal is to evaluate each generation's attributes as strengths and weaknesses and look to use them to offset another generation's traits. For example, Baby Boomers are very loyal, work hard, and want to feel victorious. Millennials grew up under the constant care and attention of their parents, so they may appreciate direction. Try pairing these employees, where Baby Boomers serve as effective mentors while passing on vital information before they retire and exit the workforce.
The "Three Es" to implementing the right solution
Another idea is to use a systematic approach that combines technology, communication, and collaboration. This strategy should also carefully
weigh each generation's work style and preferences to create a "win-win" outcome -- one that addresses individual needs while delivering an effective solution for the entire organization.
One proven framework is the "3 Es of Multigenerational Collaboration," where each "E" represents a style of implementing technology and management best practices that is:
Easy to use -- critical for Baby Boomers
Efficient -- a best fit for Gen X employees
Engaging -- in a way Millenials will expect and appreciate
One example of the 3 Es is a business-focused social media application that promotes communication, collaboration, and productivity. Collaboration technology represents a significant opportunity. According to recent research from McKinsey, social technologies can help companies raise the productivity of knowledge workers by 20%-25%.
Now healthcare organizations can provide an application that is intuitive and familiar -- even for Baby Boomers -- to help engage employees and enable them to share best practices, resolve staffing challenges, or address day-to-day issues themselves.
For example, rather than trying to track down all employees or posting a paper message on a bulletin board, a manager could upload a policy change in the application, see which employees read it, remind other employees, and even audit who took the appropriate action.
Other examples include:
Communicate a sudden need for additional employees to take shifts due to a natural disaster, flu epidemic, or other extraordinary event.
Share information gained from bed huddle meetings to a larger group.
Foster collaboration between inexperienced and experienced nurses to build highly effective teams that increase patient safety and quality care.
Provide means to communicate better why certain shifts are important for nurses to select during self-scheduling because they impact staffing the most (e.g., special event).
Improved collaboration, improved results
Today, it's crucial to manage healthcare employees, both to maintain the organization's competitive edge and to deliver the highest levels of patient care possible. Today's most innovative healthcare organizations are discovering that collaboration technology can bring out the best in all generations to encourage information sharing, engage employees, and make teams more effective. As a result, they are better able to bridge the generational gap and deliver the results that matter most.
Has meeting regulatory requirements gone from high priority to the only priority for healthcare IT? Read Health IT Priorities: No Breathing Room, an InformationWeek Healthcare digital issue.
Susan M. Reese has more than 35 years of clinical, managerial, and administrative experience in multi-facility, community hospital, and integrated delivery networks. Her credentials include MBA, RN, and CPHIMS. Susan brings expertise in clinical and financial operations ... View Full Bio
We welcome your comments on this topic on our social media channels, or
[contact us directly]
with questions about the site.