4 Healthcare IT Lessons From Dreamforce 2014
Healthcare providers, medical device manufacturers, and data analytics firms explore innovative ways to engage patients.
You'd be hard-pressed to find a healthcare organization today that is not experiencing some level of digital disruption. Patients are more tech-savvy than ever. They're looking for healthcare organizations to provide services that are as simple to use as online shopping sites. Meanwhile, healthcare organizations are facing competition from startups that are shaking up the status quo. And there's a movement afoot to shift the entire healthcare system from one that is focused on acute care to one that is marked by a continuity of personalized care.
These and other topics were discussed in a series of healthcare-related sessions Monday and Tuesday during Salesforce's Dreamforce 2014 conference in San Francisco. Healthcare providers, medical device manufacturers, data analytics firms, and research analysts shared their perspectives and real-world experiences at the forefront of an industry in flux. Taken separately, their efforts reflect the piecemeal pace at which the healthcare industry is being transformed. Looked at collectively, these four highlights represent innovative efforts that give us a glimpse of where healthcare IT is headed in the near future.
1. Big Bang disruption is headed your way.
This is a model of industry transformation put forth by Accenture analyst Brian Kalis. He explained the concept like so: New players enter a market with products or services that are simultaneously better, cheaper, and more customized than those offered by incumbent companies.
[Are hospitals obsolete? Read Who Will Be The Netflix Of Healthcare?]
The Big Bang disruption model is driven by key technologies that Kalis said offer rapid improvements in price and platforms: mobility, cloud, analytics, genomics, and imaging. These technologies are empowering consumers in unprecedented ways, and healthcare is failing to meet the expectations of its consumers, according to Kalis: "Healthcare consumers expect seamless retail-like experiences but are currently underserved by the health industry. Big Bang disruptors are emerging to meet unmet needs."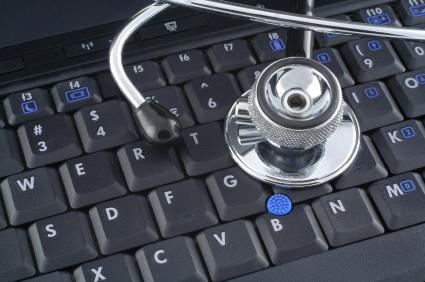 Kalis cited Oscar Health as an example of a Big Bang disruptor. The New York City-based health insurance service has signed up 17,000 members in its first year, primarily by putting the user experience first, according to Kalis. Oscar links with existing insurance providers, and its key differentiator is in the user interface it's created that makes customer interactions as seamless as possible.
So what can incumbents do to avoid being usurped by Big Bang disruptors in healthcare? Kalis recommends that healthcare IT leaders build new systems from the ground up with a modern technology stack that incorporates mobile, social, analytics, and the cloud, and focus first on the customer experience above all else.
2. Build a health relationship platform.
Multiple healthcare and life science executives repeated this refrain, emphasizing the need to find and treat patients before they reach
the point of hospitalization. In the US, "We have a healthcare system designed to put people in hospital beds," said AG Breitenstein, co-founder and chief product officer of Optum Analytics. "We need to get away from focusing on the point of care to focusing on the point of need." Translation: Creating a system designed to keep patients out of hospital beds by using analytics to identify at-risk populations and help them manage their conditions at home long before they reach an acute stage.
This is what Raboud UMC in The Netherlands has developed, in collaboration with Philips, to manage care for patients with COPD. According to Lucien Engelen, director of Raboud UMC's Reshape Center, a patient who is first diagnosed with COPD is sent home with a remote monitoring kit that includes a tablet and a smart patch connected to the patient's chest. For the next week, the smart patch monitors the patient 24/7. The data is sent into the doctor's office, and is also presented in a way that the patient can understand and share with family or caregivers. The system uses Philips Healthsuite data cloud, with Salesforce used to execute the charts and digital displays for the patient and physicians.
3. Assume you can do it.
NxStage, a company that manufactures devices to enable patients in renal failure to perform hemodialysis at home, wanted to make it easier for patients to re-order the needles, catheters, and other supplies that are crucial to their care. Using Salesforce Service Cloud, Twilio, and the Force.com platform, the company automated the process by which patients get supplies in the home, according to Duane Dumont, VP of IT.
Patients can sign up to receive reorder reminders via email, text, or an automated phone call. Every day, a query goes out to the NxStage system to find which ones, among all active patients who have opted in for text messaging, need to be notified that day that it's time to reorder. "From that, we want to exclude anybody that's already provided [his or her] inventories to us," said Duncan Stuart, business applications analyst, who developed the system for NxStage. The system generates a unique ID for each patient and determines who still needs to be notified. An automated SMS links back to the company's inventory portal, enabling the patient to enter order details directly via the notification message without having to log in or remember passwords.
"We haven't hired a customer service rep in four years, said Dumont. "We've tripled the number of patients that each rep can handle." The company generated 55,000 SMS text messages in Q3 2014 alone. Most importantly, said Dumont, the success of the system has "changed the conversation in our organization." He added, "It used to be the business would ask 'Can we do this?' and IT would say 'I don't know.' We assume we can do it now. That really creates a partnership within the organization."
4. Build communities for your patients.
This is what Medtronic decided to do for patients who have had one of its medical devices implanted. The company created the Bakken Invitation, now in its second year, in honor of company co-founder Earl Bakken, who is also a patient of Medtronic.
According to Victor Ohno, director of global digital strategy for Medtronic, the program is meant to encourage those who are living with medical
technology and doing philanthropic works in their communities to share their stories. It is run through the Medtronic Foundation, a nonprofit formed in 1978 to expand access to healthcare for people with chronic diseases in underserved communities. The Bakken Invitation program selects 10 people annually who are awarded $20,000 each for their philanthropic organizations.
"In the first year it was a very manual application process managed by spreadsheets," said Ohno. "We got [more than] 100 applications and over 300 nominations. We had to sort through all that stuff manually. And we got a chance to tell 10 really strong stories."
For its second year, the company's leadership wanted to take the program global, according to Ohno, who knew the manual spreadsheet system wouldn't scale. The organization worked with Salesforce consultant Magnet 360 to build a system that enables people to share their stories.
"When someone shares a story we give $10 to Project Hope," said Ohno. The system tracks every story told and updates a counter on the site's homepage. "We use Salesforce forms for people to submit their story, it goes into queue where we review it, approve it, and publish it onto our site with one click."
The published stories get posted on a worldwide map. "Instead of telling 10 stories, we could tell hundreds of stories and leverage that content on our social networks. Medtronic has over 200 social media accounts. It's a great vehicle for content generation, and -- for sure, in the social media world -- content is everything."
The application itself is three pages, and each application is submitted to a review committee via Salesforce, where applicants are scored and winners are selected. The 2014 winners will be announced in November.
What's your favorite?
Each of these examples represents steps taken to improve patient experiences and, ultimately, patient outcomes. While most of these examples are provided by organizations that Accenture's Kalis would consider incumbents, they indicate that there's a growing awareness of the need to create an integrated patient-care experience that combines a plethora of disparate players. Meanwhile, new players are cropping up, such as Google Telemedicine, that aim to connect patients and physicians in entirely new ways.
So, what do you want to see from your healthcare experience? What do you think the digital disruption of healthcare will mean to you as a patient? What about in your role as an IT leader? Share your thoughts in the comments section below.
The owners of electronic health records aren't necessarily the patients. How much control should they have? Get the new Who Owns Patient Data? issue of InformationWeek Healthcare today.
Susan Nunziata leads the site's content team and contributors to guide topics, direct strategies, and pursue new ideas, all in the interest of sharing practicable insights with our community.Nunziata was most recently Director of Editorial for EnterpriseEfficiency.com, a UBM ... View Full Bio
We welcome your comments on this topic on our social media channels, or
[contact us directly]
with questions about the site.