Startup Aims To Unlock Family Medical History
Sharing healthcare data among family members, with less concern for privacy, could result in better healthcare, says Zibdy Health.
Startups don't always get to finish what they start, even if they have great ideas. Zibdy Health is a case in point. I don't know whether it will grow into its grand ambitions or muddle along as a moderately interesting medication-management app maker. What captured my imagination in talking with CEO Hirdey Bhathal was the idea that electronic health records shared among family members would be more valuable than health records surrounded by layers of privacy protection.
"My mother's medical history should be linked to her kids' data, and it's not," he said in an interview. Bhathal estimated that if his mother wanted to create a medical will, allowing her children to inherit access to her health data after she dies, drawing up and filing the required legal paperwork would cost $10,000 to $15,000.
I had been corresponding with him for months, since he initially wrote me about a column, Why Doctors Hate EHR Software, saying he wanted to enlighten me about some of the other shortcomings of electronic health records. "There is an enormous amount of good data wasted or destroyed in the name of privacy," he wrote me in one of those emails.
Why does it matter that the medical records of family members are not linked? Because even at the dawn of the era of genomics -- the big data approach to genetic screening based on a complete genetic analysis -- family history may be a better predictor of health and health problems.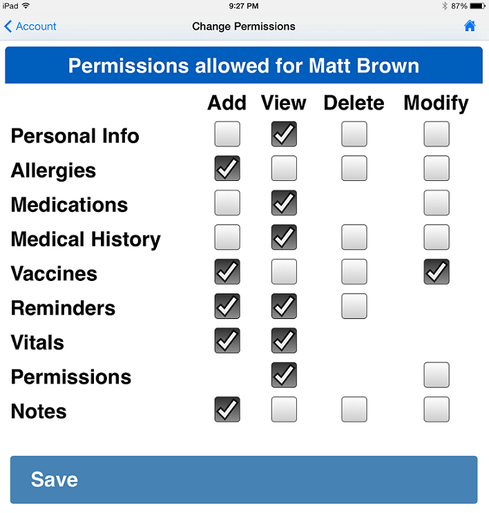 Bhathal directed me to journalist and author Kira Peikoff's article for The New York Times, in which she wrote about getting inconsistent results after ordering genomics screening reports from three different companies selling directly to consumers. The tests didn't just disagree slightly: one told her she faced the highest risk for a disorder that another classified as her lowest risk. One of the services producing wildly divergent results in her test was 23andme, a consumer service that offers an online analytics report based on a home test kit that you mail in. In November, the US Food and Drug Administration ordered 23andme to stop promoting its genomics test as a health assessment (the company continues to market the test as a means of discovering more about your ancestry, as it seeks formal approval of its consumer health app).
Another resource Bhathal pointed me to was a video interview with Dr. Francis Collins, director of the National Institutes of Health and previously one of the leaders of the Human Genome Project, extolling the value of gathering a good family health history. Since scientists managed to decode that first reference genome, the ability to do a complete genetic analysis for an individual has become almost routine, opening up exciting possibilities for applications such as cancer treatment. Collins doesn't discount any of that, but he does say that the low-tech approach of finding out whether cancer runs in the family is still valuable. Dr. Chris Eng of the Cleveland Clinic's Genomic Medicine Institute makes the contrast more explicit, saying that so far "personal genome scanning misses almost all high-risk cases," making family medical history a better predictor than genomics alone.
Yet the traditional way of gathering a family health history is to quiz the patient on it. Confession: when the doctor asks me what my grandparents died of, I'm often vague on the details. I can share more details about my parents' health (and lack thereof), but at even at that level I probably get some of it wrong. A doctor who could get easy access to my family's health records, or a summary of them, could probably do a better job of keeping me healthy.
For example, doctors typically approach finding out which drug will work best to treat a patient's hypertension (high blood pressure) through a process of trial and error. Genomics screening may eventually provide a way of identifying the best drug matches for an individual's genetic makeup, but meanwhile there's an easier way, Bhathal suggested. "If they know what worked for your mother and father, that's a pretty good place to start."
There are some online tools that can help you gather that information, such as My Family Health Portrait from the US Surgeon General's office.
Why don't we share electronic heath records among family members? Well, asking for a consolidated medical record that would include data on other family members is a lot to ask for, given that creating a consolidated medical record for an individual is still a stretch for the healthcare industry. Health information exchange (HIE) exists as community-based infrastructure in a few regions of the country and as middleware technology that hospitals implement to connect with affiliated providers and other partners, but the degree to which the data is truly integrated and consolidated and reconciled is still limited.
The HIPAA healthcare privacy law would be another reason. The law erects barriers to sharing private health information, barriers that we generally see as a good thing when they protect our privacy. HIPAA includes some exceptions for sharing private data with family members, which is intended to ensure the law doesn't interfere with family caregivers getting the information they need to support someone who is ill. In those cases, the data can be shared, unless the patient specifically objects. Still, healthcare providers have been instilled with such fear of the law that their knee-jerk reaction is sometimes to say, "I can't share that with you," whether the law would allow the information to be shared or not. Imagine the paperwork required to authorize routine, ongoing sharing of electronic medical records -- even assuming the technological capabilities required to do so.
There is a loophole, however. "Your healthcare provider cannot share data with anyone, but you can share it with whoever you want to," Bhathal said. You can get a printout of your records and hand them to someone else. You can violate your privacy rights however you want, so long as you don't make the hospital do it for you.
Educated as a geneticist himself, with a PhD from the University of California San Diego (UCSD), Bhathal has spent a career working in the pharmaceutical and medical technology industries. He started Zibdy with support from Dr. Irwin Kaufman from Rady Children's Hospital in San Diego and Dr. Sanjay Gupta from UCSD.
Bhathal got interested in the conflict between healthcare privacy and healthcare data sharing while trying to help a former college roommate who was dying with cancer. He discovered there was no easy way to record what
was happening to his friend, and what was working or not working between different treatments, other than on paper. "We can do this in so many areas of life -- share information very easily, share all our professional stuff through LinkedIn, but there is no way you can share health information," he said.
Zibdy hasn't solved this problem, or at best has barely begun to do so. Whatever Bhathal's bigger ambitions, he is starting with a medication-management app, offered on the web and on mobile devices. It is, however, a medication-management app that allows data to be shared among family members. That's a good start, he said, because a lot of healthcare data can be extrapolated from knowing which medications someone is taking -- and which ones that individual is allergic to.
"We know it's not perfect, but we're not going for perfection. If this will allow you to have a better conversation with your doctor, then that's a success," Bhathal said.
He says he has been talking with Scripps Memorial Hospital Encinitas, a local hospital in the San Diego area, about the possibility of integrating the app when patients are given their discharge instructions. If it helps patients take their medicine on schedule, that could be a way of driving down readmissions, about 30% of which the hospital attributes to medication adherence issues, Bhathal said. "We have the best healthcare system in world, but when you leave the hospital, you're on your own," he said. Yet that's starting to change, with Medicare starting to penalize hospitals for readmissions within 30 days and private payers moving in the same direction.
Meanwhile, Zibdy's most automated way of getting data into the app involves scanning barcodes on pill bottles.
The software is set up so you can tweak your sharing and privacy settings something like the way you do on a social network, except in this case you might be specifying that it's OK to share information about your asthma, but not your sexually transmitted disease. The Zibdy app puts a "Private" button next to each medication on the list, trying to make including/excluding data as simple as like/unlike on a social network. You can share whatever you want with friends, healthcare professionals, and/or family members.
Once you've set up these relationships, those people get notified whenever an update is posted to your account, in much the same way that you get alerted to job changes by your LinkedIn contacts, Bhathal said.
In the context of a medication-management app designed to help patients adhere to a doctor's orders on what drugs to take on what schedule, tying in the social network of family and caregivers is helpful because it provides more opportunities for reminders. If a patient fails to take his or her meds on schedule and fails to respond to automated reminders, a family member can be alerted to deliver a reminder in person.
That aspect of integrating family into a medication-management app is not original to Zibdy, having already been tapped by apps such as MediSafe. The idea is to not let a patient die just because his smartphone battery did, instead engaging a "secondary reinforcement system of loved ones" to make sure the message always gets through. Based on an internal analysis, MediSafe figures it may have prevented 4,600 emergency room visits after sending out alerts to family members after users of the app failed to comply with a prescribed drug regimen.
"We know because we have the data -- after a family member engaged, people recorded, 'yes, I took my drugs,' " MediSafe CEO Omri Shoor said. The Israeli company was founded by Shoor and his brother, inspired by their father's near-fatal insulin overdose caused in part by miscommunication within the family about whether the medicine had already been administered. Engaging family and other caregivers is essential because they are often the ones tracking medications, particularly for very ill patients.
Shoor wasn't familiar with Zibdy but said support for family and caregiver networks has been built into several competing apps. "It's good to see the road we've paved is being used by others as well," he said. The barcode scanner method Zibdy uses to import data is one MediSafe tried and discarded because "we found people simply didn't use it." He has higher hopes for smart pillbox containers that could record medications dispensed as an aid to dosage tracking. MediSafe's APIs are capable of connecting to any electronic health records system to obtain prescription data, but the company is still working on putting together a pilot project using that approach.
Integration with medical records software, or with health information exchanges that consolidate that data, would also be useful to Zibdy, particularly if Bhathal is serious about creating a family medical record, not just a family drug record. We talked about it, but he had nothing definite he to tell me about his plans in that regard. We also didn't get far into discussing business models, other than that the app will be free to consumers. Suffice it to say there's plenty of money in the pharmaceutical industry and the emerging accountable care business models to make very valuable both the data Zibdy gathers from users and Zibdy's role in boosting medication adherence.
As evidence that others are rethinking the balance between healthcare privacy and data sharing, Bhathal pointed me to a Bloomberg interview with Larry Ellison. Google CEO Larry Page recently expressed a similar sentiment at a recent TED conference in Vancouver. "Wouldn't it be amazing if everyone's medical records were available anonymously to research doctors?" Page said (quoted on Wired). "We'd save 100,000 lives this year. We're not really thinking about the tremendous good which can come from people sharing information with the right people in the right ways."
Rather than trying to rewrite health privacy law, Bhathal wants to work around it, with a web-based app that will start out simple and get better, in the same way that Google and LinkedIn grew. "We're looking at building a system for the masses," he said. "There has never been a healthcare system that is used globally in the same way," no electronic health records equivalent to Google and LinkedIn.
At a minimum, you have to give him credit for thinking big. "When we came up with this idea, we realized it was very high risk; nobody was going to do it," unless he and his cofounders were crazy enough to try it themselves.
Download Healthcare IT in the Obamacare Era, the InformationWeek Healthcare digital issue on the impact of new laws and regulations. Modern technology created the opportunity to restructure the healthcare industry around accountable care organizations, but IT priorities are also being driven by the shift.
David F. Carr oversees InformationWeek's coverage of government and healthcare IT. He previously led coverage of social business and education technologies and continues to contribute in those areas. He is the editor of Social Collaboration for Dummies (Wiley, Oct. 2013) and ... View Full Bio
We welcome your comments on this topic on our social media channels, or
[contact us directly]
with questions about the site.