As medical marijuana legislation heads to voters in several states this fall, legislators are relying on technologists to prevent their dreams of success from going up in smoke.
There is some cause for concern, despite medical marijuana's newly polished public image and the growing crop of solutions targeted specifically at the $2.34-billion market. RFID, sensors, and other technologies lauded as the antidote to black market sales to illicit users haven't always met with success. But implementation, time constraints, and limited budgets, not technology, appear to blame.
Ganja trailblazer Colorado encountered delays in its seed-to-sale marijuana inventory tracking system when it ran out of the RFID tags needed for every plant, brownie, and other pot-laced product available at growers, distributors, or retailers. The state passed out more than 2 million tags by the end of 2013, reported Denver's ABC affiliate. The state plans to pass out another 1.6 million tags, which sell for 25 cents apiece.
Unlike Colorado and Washington, most states are focused solely on medical uses of marijuana, not both medical and recreational use. They plan to roll out sophisticated machine-to-machine systems similar to those already in place at many of the nation's retailers and farmers to ensure marijuana remains solely in authorized hands. Several developers have written solutions specifically for the marijuana industry; others have adapted existing restaurant or retail systems for pot businesses. These systems have a track record, so to speak. They already monitor billions of dollars of other inventory. Why not a different kind of product too?
In Colorado's case, the state tracks and monitors all legally grown and sold cannabis via the Marijuana Inventory Tracking System (MITS). The solution houses data from the RFID tags including the grower or retailer license number, product serial number, and secure ID chip. To reduce theft, MITS can create transport manifests so retailers and regulators know if a shipment gets lost in transit. State law mandates up to six marijuana plants per patient.
Colorado also requires pot growers to use 24x7 video surveillance and keep footage for several weeks. Clinic, for example, installed up to 60 cameras at each grow facility, 16 cameras at each store, and keeps up to 16 terabytes of images on a series of $50,000 servers, reported Slate. Pure Medical Dispensary runs 48 cameras and developed its own sophisticated digital inventory system that won't integrate with the State's less advanced system.
Although still a work in progress, Colorado's system could assuage some fears about abuse or theft of the cannabis as it moves from field to pharmacy.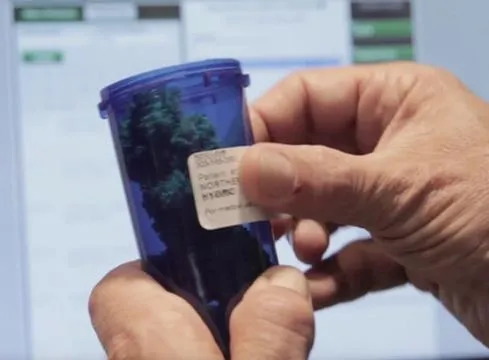 Growers are also turning to technology to improve their businesses. Like other agricultural endeavors, they rely on weather, soil conditions, and feed to enhance their crops; they must cope with employee, regulatory, and transportation concerns. Products such as The Grow Assistant, TriqSoft, and GrowTracker help pot farmers meet state laws, track plants, and manage harvests. Other applications including GramTracker, Agrisoft Seed to Sale, and MMJ Menu address point of sale, retail or dispensary management, inventory control, patient management, and state reporting. Since usage relates to healthcare, software dealing with their records has to be HIPAA compliant.
The pressure's on in places like Florida, New York, and Washington, D.C., to allow medical marijuana. Technologies like RFID, sensors, and cloud-based video surveillance systems can ensure pot's potential as a healing substance doesn't end up as a pipe dream.