How Startup Innovation Can Help Enterprises Face COVID-19
Disruptive ideas can give organizations ways to maintain operations in a time of quarantines and social distancing.
Enterprises working through the confusion stirred by outbreaks of COVID-19 may find some solace in technology and strategies born from the startup scene. The following slideshow presents a sliver of the resources developed by startups that enterprises might benefit from during this trying time.
The struggle to maintain some semblance of normalcy can extend to every part of an organization and the evolving nature of the pandemic makes it hard to find a clear path to follow.
Some enterprises may already be on a path to operating more remotely and virtually, thanks to digital transformation strategies frequently inspired by startup innovations. There are startups that can help enterprises find remote workers with in-demand technical expertise or even offer online curriculum to advance their technical skillsets. Current events might necessitate the acceleration of these moves and further exploration of such resources.
Many teams and departments have turned to remote communications resources such as Zoom for teleconferencing as more people are directed to work from home, but what about support for other needs?
Going remote
It is no secret that remote working was already gaining momentum before recent events. Many enterprises tend to require most of their staff to operate from company offices but remote work, even outside of quarantines, is seeing increased adoption according to GitLab, developer of an application that accelerates the DevOps life cycle. Earlier this month, GitLab issued a report on a survey of some 3,000 professionals in roles with digital output who work remotely or have the option to work remotely. According to the report, more than one quarter of respondents worked for all-remote organizations. Furthermore, 52% of respondents indicated they were less likely to travel and believed they were more productive as remote workers.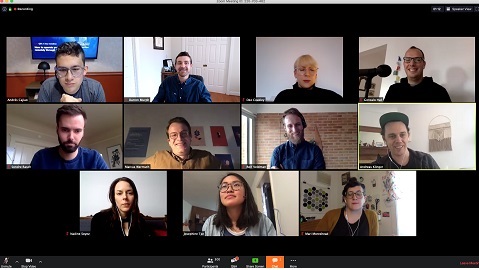 Darren Murph, head of remote for GitLab, says the report was created to help leaders understand remote workers. The rolling lockdowns, quarantines, and self-isolation in response to the spread of COVID-19 has heightened the need to advance on remote working. "It used to be an elitist perk," he says. "What is happening now in our society just accelerated that to the mainstream by at least 10 years."
Murph says the report can help leaders understand why remote workers tend to express great loyalty towards a company that offers such employment options. "There's this notion that all remote workers are Instagram famous, digital nomads who just want to work from a beach in Bali," Murph says. "Data shows most remote workers are everyday folks. They just want freedom, autonomy, and flexibility they cannot get in a collocated role."
Improvements and increased availability of remote working tools let more professionals tackle tasks that might have been a challenge a few years prior, he says. "Working remotely in 2007 was a challenge. You had to want it. It was painful. Now the infrastructure is just there." High bandwidth solutions are more readily available, and platforms can accommodate video calls with hundreds of participants, Murph says. "That would have been impossible to imagine just five years ago."
The flipside to such progress is when companies assume remote does not work because they do not invest in it, he says. "It makes sense to build a remote infrastructure and implement remote practices even if you don't intend to hire remote workers right away," Murph says. "Everyone can now see, you better start planning for a time when people are going to reject your job offers because you don't offer that flexibility."
The roster of startups that follows offers a variety of other resources enterprises may find useful as they regroup and reorient their operations.
1. Topcoder
Founded in 2001, Boston's Topcoder is an online community of developers and designers who can be scouted by organizations. "It's about the concept that you shouldn't have to worry about where somebody is located to get access to their talent," says Michael Morris, CEO. This open talent network offers on-demand ability to connect with professionals regardless of where they were located. Morris and his co-founders have backgrounds as software developers who wanted to solve problems of hiring and staffing in traditional environments. Topcoder runs challenges for community members to attain rankings for their skillsets that organizations can review when searching for new prospects. "We can use that data to identify who are the best people in our community," Morris says.
2. Alkymi
Alkymi, founded in 2017, is New York-based provider of a "data inbox" for the enterprise. The solution frees up data to make life easier in organizations, says CEO Harald Collet. "We help business analysts automate tasks in their workflows." That includes automating data extraction and processing. Collet says the idea for Alkymi came from a problem he saw in the enterprise where operational data collected from customers and business partners sat in file folders and inboxes. "It was typically full financial data that was needed inside the enterprise." Analysts might be asked to open emails and extract and curate data using their own judgement to feed into a business process. Alkymi uses machine learning to automate this task, which can help onboard clients or deal with claims, he says.
3. Apprentice
Apprentice in Jersey City, NJ, founded in 2014, developed an intelligent platform for big pharma, offering predictive resource management, augmented reality tours, and training, says CEO Angelo Stracquatanio. Though pharmaceutical companies have halted travel and other activities that may put staff at risk, he says, drug manufacturing must continue. "In the middle of this pandemic, making sure drugs get to patients that need them is incredibly critical," Stracquatanio says. Apprentice built its platform with augmented reality and AI, he says, to help manufacturing teams collaborate with remote colleagues, experts, and vendors. The resources are also integrated with manufacturing data to see the process in one place. "It's not just videoconferencing or telepresence," Stracquatanio says.
4. Coursera
Learning platform Coursera, based in Mountain View, California and founded in 2012, draws from more than 200 universities and companies that create courses. "A bulk of the content is in business, technology and data," says Leah Belsky, chief enterprise officer and senior vice president. There are other humanities available as well. The enterprise side of Coursera has more than 2,500 companies that consume the content. "A vast majority of the companies that come to us are faced with a growing need to drive digital transformation," Belsky says. "The want to upskill and reskill their talent." Since the spread of COVID-19, she has seen an acceleration of chief human resources officers looking for ways to support workforces that are now remote. "They see it is an opportunity to retain employees that otherwise might disappear and move to other companies during this time," she says.
5. Dialpad
With the spread of COVID-19, business continuity takes center stage with communications playing a central role, says Craig Walker, CEO of San Francisco's cloud-based business phone system Dialpad, founded in 2011. Walker and his co-founders previously worked on Google Voice where they came to a realization. "The epiphany we had was that every business is ultimately going to move to the cloud for their email," he says. The benefits of not having to use a VPN while being able to access resources from anywhere were too great, Walker says. Making the functionality of traditional phone systems available alongside the rest of a productivity suite through a mobile phone, laptop, or table, he says, was the next step. "We believed work was going to change to a much more fluid and remote-centric environment," Walker says. "Networks would continue to improve, and CIOs and large enterprises would end up trusting voice over IP to provide their phone systems."
6. Thought Industries
Boston's Thought Industries, founded in 2014, is an online business learning platform used by organizations to help train their B2B clients. CEO Barry Kelly says this can include software developers or manufactures who want to prep their customers in their use of a product or service. "We build learning experiences online and virtually," he says. The cancellation or postponement of events in response to the outbreak has meant changing delivery methods for education, Kelly says. "The first phase for these organizations is to try and move to a virtual format." As the situation continues to evolve, he says some companies may see this as part of a blended approach to learning in the long-term.
7. Databook
Palo Alto's Databook offers an enterprise customer intelligence, sales performance and productivity services. Founded in 2017, Databook's core services include assessing intent where management teams make investments into the business, says CEO Anand Shah. "We're looking at investor relations presentations, earnings calls transcripts, blogs, and other verifiable sources," he says. Other services include real-time analytics on financial performance and assessments of the markets. The intent behind Databook, Shah says, is to provide enterprise sales teams with insights for a deeper understanding of their customers. This can arm the entire team, he says, with perspectives drawn from their top sellers. "When we think about the scalability of sales programs or training programs," Shah says, "any C-suite executive is looking to get the broadest based impact on their business with an IT initiative."
For more on technology and the Coronavirus:
Cloud Security Planning in the Time of Social Distancing
Pitfalls to Avoid in the COVID-19 Rush to Work from Home
Coronavirus: 8 Tech Tips for Working from Home
Joao-Pierre S. Ruth has spent his career immersed in business and technology journalism first covering local industries in New Jersey, later as the New York editor for Xconomy delving into the city's tech startup community, and then as a freelancer for such outlets as ... View Full Bio
We welcome your comments on this topic on our social media channels, or
[contact us directly]
with questions about the site.