The GDPR (General Data Protection Regulation) compliance deadline is looming. Cambridge Analytica's misuse of Facebook user data has focused more attention on data privacy than ever. The Equifax data breach still stings, and new data breaches are disclosed every day at companies such as Best Buy, Delta Air Lines, and Sears.
In this environment of increased scrutiny of data privacy and security, more enterprise companies are paying attention to what they need to do to protect what is becoming their greatest asset -- their data. That's according to Informatica CEO Anil Chakravarthy, who recently spoke with InformationWeek in an interview about a number of topics, including data trends for 2018, data privacy, and artificial intelligence.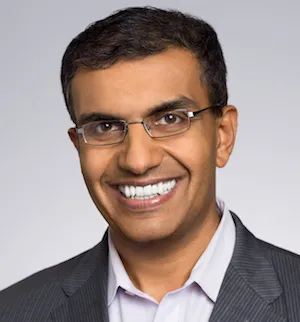 Chakravarthy has served as CEO for about 2 years now, and we last spoke with him not long after he took the top job at the 25-year-old software company known for data management, data integration, master data management, data security, and more. Over the past few years Informatica has been transitioning its software to the cloud and its business model to one of recurring and subscription revenues (rather than the license revenues in the software business). Here's what Chakravarthy had to say about Informatica's business, GDPR compliance efforts in the enterprise, data privacy, AI, and other 2018 data trends.
So What's Hot Now?
Chakravarthy told me that he's seen a surge in Informatica's data catalog business, most certainly driven by the May 25 GDPR compliance deadline. Data catalog is the biggest area of growth for Informatica right now.
"Companies are struggling to understand what data they have where, who is accessing it, what is sensitive," Chakravarthy told me. GDPR applies to any company that has data about any EU citizens, so it's certainly been on the radar of European companies. It gives citizens ownership over their data, including the right to be forgotten. Failure to comply with the regulation comes with stiff fines, including up to 4% of revenue.
Chakravarthy said that companies started to make plans for GDPR last year, and in the last six months they've been taking action to get to compliance.
"It's an ongoing process," he said. "Different companies are at different stages, and everybody is starting with data catalog."
Facebook and Cambridge Analytica
For those who hadn't been paying attention to the GDPR deadline, the recent Facebook disclosure of a giant data leak, now estimated to have exposed the data of 87 million users, may be focusing the attention of organizations to the topic of data privacy. No CEO or CIO wants his or her company to become the next Facebook.
"The whole Facebook story definitely has raised awareness of data privacy," Chakravarthy told me. "Data is so critical right now and if data is not managed properly, is not governed properly, the impact is very significant."
AI and Data Quality
Artificial intelligence and related technologies are undoubtedly among the hot new areas that many enterprises may be looking to develop in the future, and Chakravarthy said that marketing applications are indeed an area where organizations are seeing a lot of promise for AI. For instance, companies that sell to consumers may use algorithms to determine what the next best action is for individual customers, whether it's an email, a 10% discount, a 15% discount, or something else.
"Companies have to be selective about what offer they make," he said. "Marketing campaigns can be expensive, and they lose effectiveness quickly."
But the success of AI applied to marketing and other tasks is really dependent on the quality of the data. Chakravarthy noted that it was a massive data quality problem that contributed to the prime mortgage crisis of a decade ago, and that led to financial firms investing in better data governance and quality to get the best picture of the data. For AI to succeed, data quality is essential.
"If you have garbage in, you have garbage out," Chakravarthy said.
Big Trends in Data for 2018
Chakravarthy said that he believes the remainder of 2018 will bring continued emphasis on data governance, data privacy, and data security, particularly with all the attention going to GDPR, the Facebook data leaks, and continuing news of data breaches.
"It all goes together," he said. "These things go hand in hand."