The U.S. federal government's
USAspending.gov
Web site is a travesty, almost a parody of a government-transparency site. The site looks fine, but it significantly fails U.S. government accessibility requirements and its use of graphics has only gotten worse -- far worse -- since
I wrote about execution issues a month ago
. Further, it's old-school, a mockery of Gov 2.0 principles of interactivity and responsiveness and community.
Sloppy, Incorrect Graphics
I went back to the site intending to finish a blog article on USAspending.gov's companion IT Dashboard, but once again the "Federal Spending FY 2009 YTD" chart caught and held my eye. Graphics are supposed to be attractive, literally: to catch your attention and convey information quickly and clearly. Infographics are also supposed to be correct. The graphic that appears on the site today -- the main page is marked having been "last updated on August 26, 2009" -- is attractive, but otherwise it is a horror. Here it is: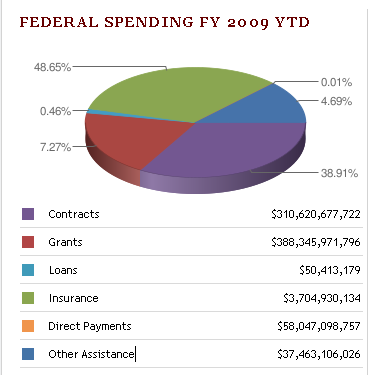 Just like the graphic I wrote about on July 31, the sizes of pie segments are not in proportion to the percentage-label figures. The Green and Purple segments are approximately equally sized even though the green segment should be 25% larger than the purple segment. The Red segment, representing about 20% the value of the Purple segment -- 7.27% versus 38.91% -- is rendered as about half the size of the latter segment.
USAspending.gov produces its charts dynamically using the Google Chart API. I tested the API with variants of the USAspending.gov chart request. I spent way too much time on this problem, but I figured out what was going wrong. While the chart-label text passed to the Google API is in the form of percentages, the values passed are actual values. The API documentation is clear: "Data sets are floating point numbers from zero (0.0) to one hundred (100.0), separated by commas (,). Values less than zero are truncated, and considered missing values. Values above 100 are truncated to 100. Truncation happens before any scaling or axis labeling." USAspending.gov passes values to Google that are out of range. Google truncates them, just as the documentation explains. The workaround? Use of a clearly documented API parameter, chds, to specify chart data scaling. Here's the government's chart done right:
(To whom do I send my consulting bill?)
This misproportioning is pervasive at USAspending.gov; there's another example on this template driven page. USAspending.gov's producers should have noted the error and had it corrected. But the misproportioning is not the only USAspending.gov issue. The colors in the main-page pie chart, pasted up top, don't match the colors and values in the table immediately below the chart!
Grants -- red -- has value $388,345,971,796, the largest of 6 values in the legend-table, representing 48.65% of the total of table value, coincidentally the slice rendered in green in the pie. In the legend-table, however, green is for Insurance, whose $3,704,930,134 value is 0.46% of the table total, represented by the blue slice of the pie. You get the idea. Some sloppy worker produced the pie chart and legend-table separately and didn't check that they matched.
USAspending.gov quality assurance work (if any) is poor, and site production is clearly mismanaged.
Violation of Accessibility Requirements
Section 508 compliance is a long-standing U.S. federal government requirement for information-systems accessibility to persons with disabilities. It is part of the federal Rehabilitation Act of 1973 as amended in 1998. I have done a lot of work with Web-dissemination of government statistics so I know that, among other things, Section 508 requires:

Tables used as a matrix for data or other information must provide a means to associate data cells with the column and row headers. Data tables with more than one row must associate data cells with column/row headers through the use of scoping or header and id attributes.
USAspending.gov
totally and unapologetically ignores this requirement systematically throughout the site, including on template based pages. Just view source on any page of the
USAspending.gov
site that contains a data table to see the lack of required table-cell annotations. I'll send you to
a section of the access-board.gov
"Guide to the Section 508 Standards for Electronic and Information Technology" for more information on the requirement.
Gov 2.0 Failure
Lastly, I characterize USAspending.gov as a failure so far as interactivity and responsiveness and community are concerned. Why? 1) I have received no acknowledgment, much less response, to an inquiry I posted using the site's feedback form. 2) My attempt to subscribe to the USA Spending public discussion forum's e-mail list has not been acted on by list owner. 3) There has been no response to feedback I posted to the project Wiki. 4) Federal CIO Vivek Kundra's blog on the site does not allow comments nor provide contact information.
Oh, and as for annotations that would help plug a valuable data-dissemination site (were it well executed) into the world of Linked Data and the Semantic Web? Nonexistent.
It appears that the folks behind USAspending.gov, from Federal CIO Vivek Kundra on down, still subscribe to the old "throw it out there and then ignore it" approach to business. I hope that approach -- and the site's production and quality procedures -- will change very soon.
---
Update
September 2, 2009, 4:43 pm
I received a response to the message with a link to my blog article that I sent using USAspending.gov's feedback form: "Thanks for bringing it to my attention - we will be fixing these areas soon."
September 9, 2009, 2:44 pm
I've posted a follow-on article, Questions and Answers about USAspending.gov.The U.S. federal government's USAspending.gov Web site is a travesty, almost a parody of a government-transparency site. The site looks fine, but it significantly fails accessibility requirements. Its use of graphics has only gotten worse -- far worse -- since I wrote about execution issues a month ago. Further, it's old-school, a mockery of Gov 2.0 principles of interactivity and responsiveness and community.