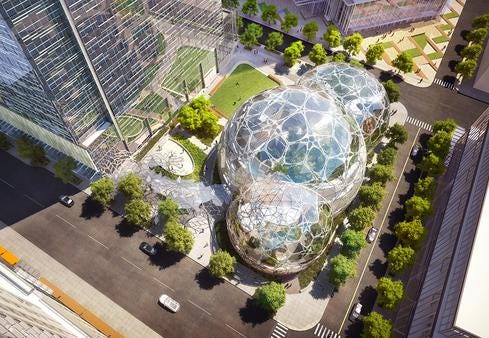 Apple's Spaceship, Amazon's Bubble: 10 Hip Tech Headquarters
(Click image for larger view and slideshow.)
Amazon Web Services (AWS), the massive cloud computing service subsidiary of online retail giant Amazon, plans to open a massive data center in India by 2016 to meet customer demand and expand its market lead.
Launched in 2006, AWS offers an infrastructure platform in the cloud comprised of a broad set of compute, storage, database, analytics, application, and deployment services. Next year, the India data center will join a number of facilities, including ones in the US, Australia, Brazil, China, Germany, Ireland, Japan, and Singapore.
In a June 30 statement, AWS senior vice president Andy Jassy wrote that the company already has several thousand customers in India, and that many of them have requested a more centrally located data center to help with their cloud computing needs.
"Several of these customers, along with many prospective new customers, have asked us to locate infrastructure in India so they can enjoy even lower latency to their end users in India and satisfy any data sovereignty requirements they may have," Jassy wrote. "We're excited to share that Indian customers will be able to use the world's leading cloud computing platform (AWS) in India in 2016 -- and we believe India will be one of AWS's largest regions over the long term."
While AWS is focused on customers in its latest announcement, the company is also eyeing growth even beyond its already substantial market lead.
A May report from IT research firm Gartner revealed AWS is outstripping its infrastructure-as-a-service (IaaS) competitors with at least five times the capacity of the 14 largest competing services combined.
The Gartner report also found that IaaS spending is expected to increase by about 32% from 2014 to 2015. This means that AWS and its competitors are eyeing a market worth $16.5 billion -- one sure reason Amazon decided to expand its presence in a growing market.
[Check out what you need to know about the end of Windows Server 2003 support.]
AWS customers in India such as Hike, PayTM, ZEDO, Freshdesk, Inmobi, Capillary Technologies, HackerEarth, and numerous others, have already adopted AWS to build their businesses. The company noted that Tata Motors, an automotive manufacturing company headquartered in Mumbai, is already using AWS to power its customer portals and also the telematics systems that let fleet owners monitor all the vehicles in their fleet on a real-time basis.
AWS is not the only company that is using its money to expand data center operations overseas. Microsoft and several partners are in the middle of a large undersea cable deployment to help connect Redmond services to Europe and Asia in order to better facilitate the flow of data.
However, for now, Gartner estimates that there are three major players in the IaaS and public cloud market: AWS -- the leader -- along with Microsoft Azure and Google Compute Engine.