The agricultural industry abounds with data, which can be gathered through employees, sensors, and other sources, both public and private. Analyzing that data and turning it into useful information require data science, IT talent, and IT infrastructure.
Agralogics was formed in 2013 to help people in the agricultural industry organize and analyze data relevant to food production and distribution. Through its cloud-based platform, the company aims to help clients understand and share information about the food they grow and sell.
To gather data derived from soil, weather, aerial imagery, and other sources and make it available through its cloud service, Agralogics turned to Built.io Flow, a cloud-based integration platform.
[How can you keep your data safe? Read 10 Hot Security Technologies Enterprises Need Now.]
Integration -- connecting computing services to one another -- used to mean bringing in expensive consultants, investing in custom programming, and dealing with long timelines. But among more modern services with REST APIs, integration may require only a few lines of code. With Flow, it may only be a matter of dragging icons and filling in form fields, work which can often be done without a developer.
Flow functions as glue, or middleware, to help connect different services and databases to each other. For example, it can be used to dispatch an SMS message when another event, like the addition of a Salesforce opportunity, occurs.
In a phone interview with InformationWeek, Sanjay Dayal, CTO and cofounder of Agralogics, said he considered a variety of enterprise integration platforms from companies like MuleSoft, Tibco, and WSO2. Those offerings, he said, would have required more configuration, coding, and maintenance than Built.io Flow.
"The whole point was I didn't want to have a very heavy infrastructure," said Dayal. "This is something for which we needed lighter touchpoints."
Agralogics functions as an ERP service for the food ecosystem, Dayal said, noting the food industry tends to adopt new technology slowly. Built.io Flow proved appealing because it could connect customers' antiquated systems with AWS, the infrastructure that Agralogics relies upon.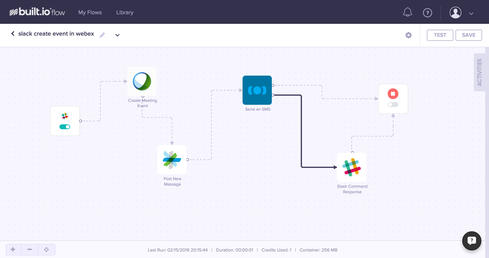 For example, Dayal said, one Agralogics customer manages water delivery for an entire county. The customer's system consists of a SQL Server database running on a machine maintained by a part-time third-party. "So the idea of deploying something onto their system was not very feasible," he said.
Instead, Agralogics used Built.io Flow and had the customer open a networking port. "We put an agent on their side and accomplished this integration where we were connected in real-time, parsing water orders in a few weeks," Dayal said. "If we had built the whole infrastructure, it would have taken months."
Dayal said his company has been using Flow internally, but is looking at it to support APIs for its customers.