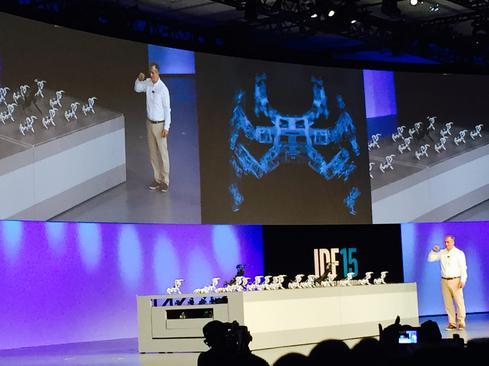 Intel Developer Forum: Spiders, Flying Sharks, And Drones
(Click image for larger view and slideshow.)
In a move aimed at speeding implementation of enterprise clouds, Intel is leading a $100 million investment in one of the few remaining OpenStack brain trusts, consulting firm Mirantis. Goldman Sachs participated in the investment as well.
At the same time, Mirantis filed a Form D with the US Securities and Exchange Commission indicating it plans to use $75 million as an exempt offering of equities and named chairman and president, Alex Freedland, and directors James Dvorkin, Dharmesh Thakker, and Elise Huang as persons "related" to the filing.
In all likelihood, the venture capital will be used to help the company attract and keep top talent as it tries to rapidly expand in what may now be the burgeoning OpenStack market.
Mirantis is nearly a lone survivor among a cluster of early OpenStack companies. Nebula announced on its website April 1 that it was closing its doors. Another firm, Piston, after a turnover in management, moved from supplying its own implementation of OpenStack to providing a more general-purpose cloud operating system.
However, Mirantis, which has grown to 750 employees, hit the consulting sweet spot in the market.
OpenStack was initially considered -- some say still is -- a complex work in progress. By the time an enterprise IT staff becomes acquainted with one phase of its software, it's likely to have moved on to the next. Mirantis is one of the top three contributors to the open source project and claims to always be on top of the code.
In an interview, Freedland said Mirantis will expand by another 200 to 250 employees over the next 12 months as a result of the funding. He said Intel approached Mirantis, expressing an interest "in making OpenStack more enterprise friendly" in order to see the enterprise build-out of private clouds occur more rapidly.
"We said, 'Here's what needs to happen,'" recalled Freedland. He said Intel Capital, the chip maker's venture capital arm, was in the process of "partnering with an emerging ecosystem leader" when it approached Mirantis. It has previously done so with Red Hat as a leader in Linux, VMware as a leader in enterprise virtualization, and Cloudera as a leader in Hadoop development.
"They pick a category leader, then invest," Freedland noted.
Freedland expects the Intel-led investment to strengthen Mirantis' credibility as an OpenStack implementer. Intel contributed "the lion's share" of the "collaborative part of the agreement," where Intel and Mirantis will work together to optimize OpenStack performance on Intel x86 chips. Intel already owns a large share of the public-cloud server market. Its investment with Mirantis offers confidence that it will also participate in a large share of the private-cloud server market as well.
Intel will provide integration labs with thousands of compute nodes, storage fabrics, and network switches for the further development and testing of OpenStack software, Freedland said.
Mirantis has been notable for the Fuel implementation tools it's brought to an OpenStack project and the amount of training that it offers novices to the system. Part of the Mirantis approach is to train its customers to operate their own OpenStack clouds rather than have Mirantis consultants hanging around after implementation performing the task.
Partly because of that, Mirantis has been behind the implementation of many early enterprise OpenStack clouds, including ones at Gap, Comcast, and PayPal.
Mirantis also founded the Murano Project, a catalogue of third-party services that can be automatically deployed to an OpenStack cloud. It also offers Managed OpenStack OnDemand, an online service.
[Want to learn more about how Intel is partnering with a container company? See CoreOS Adds Intel Container Security To Rocket.]
Mirantis was co-founded as a consulting firm called ClearLogic Software in 1999 by Boris Renski, who is now the chief marketing officer, and Freedland, before the creation of the OpenStack project.
The firm may be positioning itself for an IPO in 2016, according to some reports.
On July 6, IDC, in its Worldwide Quarterly Cloud IT Infrastructure Tracker, predicted that total cloud IT infrastructure spending (server, storage, and Ethernet switch) will grow by 26.4% in 2015 to reach $33.4 billion.
That amount accounts for one-third of all IT infrastructure spending, up from 28.1% in 2014. Private cloud IT infrastructure spending, the category most likely to apply to OpenStack implementations, will grow by 16.8% year over year to $11.7 billion, while public cloud IT infrastructure spending will grow by 32.2% in 2015 to $21.7 billion.
In comparison, spending on non-cloud IT infrastructure will remain flat at $67 billion, according to IDC.