At just over three hours long, Microsoft's opening keynote address at its Worldwide Partner Conference (WPC) touched on almost all aspects of the company's businesses. One message, however, stood above the rest: If you're a Microsoft partner who isn't selling the cloud, it's time to get moving.
"We're well into [a mobile-first, cloud-first world], not at the beginning," COO Kevin Turner told thousands of WPC attendees.
Microsoft Executive VP Scott Guthrie provided a slew of stats to attest to Microsoft's cloud progress. He said over 57% of the Fortune 500 companies use Microsoft Azure, which now stores over 30 trillion objects, supports more than 300,000 active websites, and processes over 3 million requests per second. Azure Active Directory now has more than 300 million users. They generate over 13 billion authentication requests per week.
[Do you really want the dryer talking to the grill behind your back? Read Internet Of Household Things: Convince Me.]
Turner made clear that Windows, Office, and other long-running products remain important. He even defended Microsoft's controversial device efforts, though he indicated the Surface line is less a Microsoft cornerstone than an attempt to inspire OEMs. But he also emphasized that all of these products ultimately feed the Microsoft cloud, which makes it the platform on which most of the company's other platforms sit.
This cloud focus poses a challenge for Microsoft because the company must convince not only customers that Azure and Office 365 are worthwhile, but also its partners, many of whose businesses are rooted more in traditional on-premises products than in cloud services.
Guthrie said that among major cloud players, only Microsoft, Google, and Amazon have the capacity for true hyperscale offerings. He claimed Microsoft's cloud stands out even within this elite group because Azure offers so much hybrid flexibility, enabling customers to keep certain resources and data on-premises while moving others to the cloud and its superior economies of scale. Guthrie said Microsoft now operates 17 Azure server regions, each of which clusters together more than a dozen football-size datacenters. He said Amazon offers only half as many server regions, and that Google offers only one-fifth as many. Guthrie claimed Microsoft's model should lead to lower costs as its scale grows larger.
To persuade cloud-leery partners to get onboard, Microsoft announced several programs and initiatives. Its Cloud Solution Provider Program, for example, helps partners to package their own products and services alongside Office 365. The program allows partners to directly manage customers' cloud subscriptions, and to combine both Microsoft's services and their own add-on offerings into a single monthly bill. The program will roll out over the next year with Office 365 and Windows Intune, and then expand to include Azure, Dynamics CRM Online, and other Microsoft cloud offerings.
Microsoft also announced that it will integrate its Dynamics CRM Online and Azure services into the Microsoft Open Licensing Program, providing partners more flexibility to package products for different classes of customers. Microsoft also announced Azure Certified, a new logo certification program that lets partners sell application services on Azure. Other new resources for partners include Azure Machine Learning University, an online instructional guide with which partners can become acquainted with Microsoft's machine-learning technologies.
Despite some new programs, the keynote sometimes felt like a tour of all the company's moves from the last year -- which makes sense, given that WPC is Microsoft's chance to get all its partners on the same page. Some execs focused on Delve and other upcoming machine-learning tools that could make Office 365 more collaborative and personalized. Others emphasized Microsoft's blossoming cross-platform strategy, with particular attention to Office for iPad and the company's Enterprise Mobility Suite. Others still focused on Office 365 business intelligence tools that not only offer intuitive natural-language queries, but also integration with services from major third-parties, and traditional Microsoft rivals, that include Salesforce and Oracle.
Turner said Microsoft is finding new ways to evaluate its progress. He noted that Windows' PC market share used to be a strong indication of Microsoft's success, but that in the mobile-first, cloud-first world, the company has to focus on more device types. He said Windows still holds over 90% of the PC market but only 14% of the larger connected devices marketplace.
Referring not only to smartphones and tablets, but also the Internet of Things, Turner said Microsoft must expand the number of devices on which its products are avalable. He referred not only to a growing number of Windows smartphones, but also to Microsoft products that run other platforms, such as iOS and Android. He tied the effort to Microsoft's cloud platforms, which switch the emphasis from standalone applications installed on single devices, to cohesive experiences that translate from one device to the next.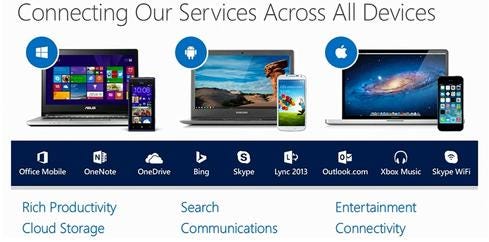 Turner said Microsoft needs to adopt a "challenger mindset," a phrase new CEO Satya Nadella has repeatedly used during his brief tenure. "We have to redefine how we think about the market," Turner remarked.
In discussing the new device landscape, Turner briefly alluded to the next version of Windows, which was previewed even more fleetingly earlier this year. He promised the OS will deliver game-changing enterprise functionality when it is finally released. Though he did not outright acknowledge Windows 8.1's divisive reputation, he stressed that Microsoft is listening to feedback from partners and customers.
WPC will continue in Washington, D.C. until July 17. Nadella is scheduled to deliver an address on Wednesday. Last week, he distanced himself from predecessor Steve Ballmer's "devices and services" mantra. Instead, Nadella described his strategy as "platforms and productivity," both themes that were frequently repeated on Monday.
IBM, Microsoft, Oracle, and SAP are fighting to become your in-memory technology provider. Do you really need the speed? Get the digital In-Memory Databases issue of InformationWeek today.