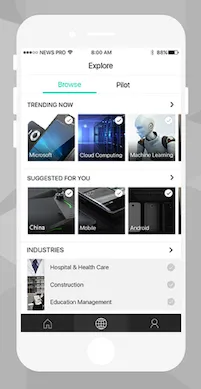 10 Cool Microsoft Garage Projects You Didn't Know About
(Click image for larger view and slideshow.)
Microsoft shares were lower in after-hours trading on Thursday, April 21, after the company's third-quarter net income showed a decline of 25% to $4.99 billion. Revenue declined by 6% year-over-year for the quarter to $21.78 billion.
Earnings and revenue missed analyst expectations. However, the software giant said growth of its cloud business remained strong, and there was still plenty of potential to grow revenues with the most recent release of the new enterprise version of Office 365, the cloud-based version of the company's client productivity suite.
Microsoft CEO Satya Nadella told analysts during a post-earnings announcement conference call that the company is very focused on Office 365.
"We're making Office 365 more than a world-class productivity and communications service," he said. "It's becoming a growing platform for developers ... We continue to make advances in our developer platform by expanding Microsoft Graph APIs and opening Skype to developers."
Nadella also spoke about the momentum of the most recent enterprise release of the SaaS version of the Office productivity suite.
"How do we make sure that we have endpoints everywhere and good usage," he said. "We have 70 million monthly active users Office. We feel very good about that. The next place we are focused is new scenarios, and E5 is an element of that."
E5 refers to Microsoft's Office 365 Enterprise E5, the company's new corporate plan for Office 365 that increased both the capabilities and the price of the enterprise version. New capabilities included more features for Skype for Business, analytics, and security.
Learn to integrate the cloud into legacy systems and new initiatives. Attend the Cloud Connect Track at Interop Las Vegas, May 2-6. Register now!
"The total addressable market is huge, and we remain very excited about it," Nadella told analysts. "I would continue to see E5 have an impact throughout the year," he said.
CFO Amy Hood said that the company's tax rate was higher than expected and contributed to the company's lower than expected net income. While most geographies performed as expected, Latin America, the Middle East, and Africa turned in weaker than expected performance.
As with so many other traditional software vendors transitioning to the cloud, Microsoft is seeing a continued decline in what it calls "transactional" sales -- people buying the software for their PC. At the same time, sales of its cloud-based services -- the ones that follow an "annuity" revenue model -- continue to grow at a rapid rate.
Here's how Microsoft broke out the rest of its results in its earnings statement, according to its reporting units.
Productivity and Business Processes
Microsoft reported that Office commercial products and cloud services revenue grew by 7%, driven by Office 365 revenue growth of 63% in constant currency -- the exchange rate that eliminates the effects of exchange rate fluctuations. Office consumer products and cloud services grew by 6% in constant currency, with Office 365 consumer subscribers increasing to 22.2 million in number.
Intelligent Cloud
Microsoft said that its Intelligent Cloud segment, which includes its lineup of Azure public cloud services, posted a revenue increase of 3% to $6.1 billion. Operating income for the segment declined by 14%, to $2.19 billion. Here's how the company broke that down even further.
Server products and cloud services revenue increased 5% in constant currency, driven by double-digit growth on the cloud subscription side. Azure experienced revenue growth of 120% in constant currency. Microsoft said usage of Azure compute and Azure SQL database more than doubled year-over-year.
Also in this segment, enterprise mobility customers more than doubled year-over-year to more than 27,000, and installed base grew four times year-over-year, the company said.
Other Personal Computing
Microsoft did not escape the effects of the PC sales decline experienced across so many tech vendors. The company reported that Windows OEM revenue declined by 2% year-over year. Windows OEM revenue has declined year-over-year for the last several sequential quarters. Still, the company said, this quarter's result outperformed the overall PC market.
Microsoft's tablet device, Surface, experienced a revenue increase of 61% in constant currency, driven by Surface Pro 4 and Surface Book.
However, Phone revenue declined by 46% in constant currency.
Xbox live monthly active users grew 26% year-over-year to 46 million.
Search advertising revenue (excluding traffic acquisition costs) grew 18% in constant currency, benefiting from Windows 10 use, Microsoft said.