Over 1,200 devices, servers, and interfaces are being monitored to help keep InteropNet up and running.
Last night I found myself at the San Francisco Airport waiting for my flight home after another intense prep session for InteropNet. For those of you not familiar with it, its origins come from interoperability testing of different manufacturers' networking gear. Today, the InteropNet provides network connectivity for attendees and exhibitors at the Interop Las Vegas conference.
This is the sixth year ScienceLogic has been invited to be part of the InteropNet. It was quite a challenge to get a complete network for 15,000 users built and tested in just over a week. Once all the hardware was cabled and configured, ScienceLogic implemented monitoring of every single device, server, and interface on that network in three, 16-hour days.
This year, we saw over 1,200 monitored entities in our inventory. That's quite a bit of infrastructure put into place behind the scenes to ensure connectivity.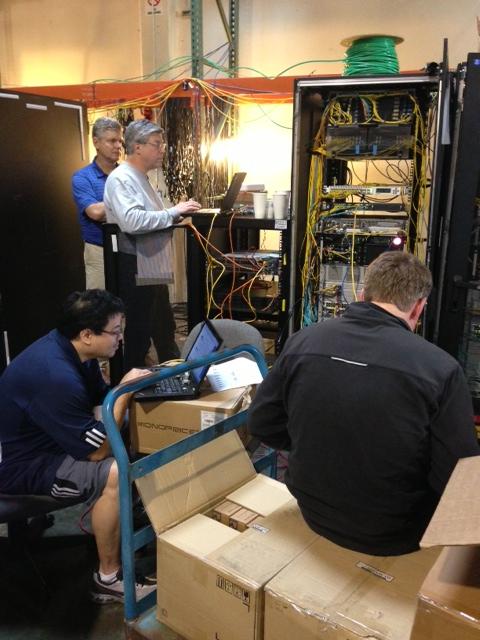 When the show kicks off on March 31, it will all be worth it. We'll have complete monitoring for three floors of the Mandalay Bay Convention Center as well as a hybrid cloud that spans three data centers. This is all wrapped into one system with event management and automation.
You can see the work we do at the InteropNet NOC on the show floor. We'll create eye-popping dashboards for our big-screen displays at the NOC. In addition to our traditional systems, virtualization, and network monitoring, we'll also highlight capabilities around flow-based network traffic monitoring and device configuration management.
ScienceLogic is proud of our long association with InteropNet, especially after winning Best of Interop in 2013. But we aren't the only vendor pushing packets. This year's InteropNet includes HP, Avaya, VMware, Cisco, Ruckus and a slew of other hardware and software vendors, such Open Gear, Server Technology, cPackets, Netscout, Fluke, Endace, Thousand Eyes and Cormant.
We hope to see you in Las Vegas!
Explore troubleshooting techniques on a live production network in the workshop Network Troubleshooting Techniques Using the InteropNet. Top-rated Interop instructor Mike Pennacchi will walk through instrumentation, problem isolation, and more. Register now and use the code SMBLOG for $200 off the current price of Total Access and Conference Passes.
John is the Director of Data Visualization at ScienceLogic, a provider of next-generation IT monitoring. He has held positions at CA, NetQoS, and InfoVista in product management, business development, and engineering consulting. He has more than 20 years of experience in the ... View Full Bio
We welcome your comments on this topic on our social media channels, or
[contact us directly]
with questions about the site.