InteropNet Switches On The Power
InteropNet has been fully tested at the hot stage and is ready to roll for Las Vegas.
The 2014 InteropNet hot stage process has been wrapped up at the staging facility in Brisbane, CA. It's amazing to see 20-plus cabinets go from being totally empty to fully utilized in such a short time.
It's also just as amazing to know that now that it's up and running, the InteropNet is going to be put into crates, shipped to the show site, reassembled and put into operation in time to support the show. This is a testament to the hard work and dedication of the volunteers and providers.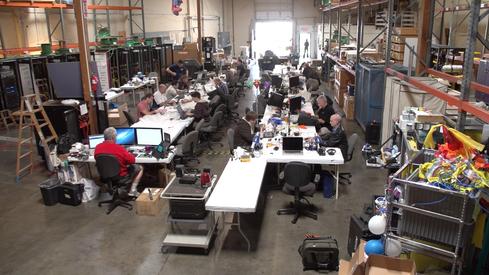 Creative minds from multiple vendors design and build InteropNet from scratch every year. Because the InteropNet is not staged in an actual data center, a number of challenges have to be overcome.
First is delivering enough power to the cabinets as 3-Phase power is not an effective option on a trade show floor. Second is closely monitoring the temperature, because where there is power there is heat. Hot spots are a challenge for anybody operating a high-density computing environment.
Server Technology joined the building process early to ensure that all the providers have both reliable and adequate amounts of power available for their devices. We work closely with the other infrastructure vendors such as Opengear and Cormant to ensure that our products are fully integrated to take advantage of requirements like power and environmental monitoring and remote rebooting of devices.
We monitor power and temperature usage and alarms very closely within this environment, right down to the outlet/device level. This scrutiny gives the NOC support staff and providers time to avoid problems before they occur and helps ensure overall uptime.
You can see the network in action with free, engineer-led tours of the InteropNet throughout the Expo. There are also behind-the-scenes views on Wednesday, April 2 and Thursday, April 3 at 11:00 am, 1:00 pm and 3:00 pm starting at the InteropNet Network Operations Center (NOC).
Explore troubleshooting techniques on a live production network in the workshop Network Troubleshooting Techniques Using the InteropNet. Top-rated Interop instructor Mike Pennacchi will walk through instrumentation, problem isolation and more. Register here.
Calvin Nicholson is Server Technology's Senior Director of Software and Firmware Development. Server Technology Inc. designs and manufactures intelligent power distribution products for enterprise datacenters. He was previously the Director of Product Marketing with ... View Full Bio
We welcome your comments on this topic on our social media channels, or
[contact us directly]
with questions about the site.