InteropNet Visuals: Power Use & Performance
InteropNet providers TSO Logic and ThousandEyes share power and performance metrics from Interop Las Vegas 2014.
InteropNet providers TSO Logic and ThousandEyes weighed in on their experience helping to run InteropNet, the custom-built production network that provides connectivity and wireless for attendees, exhibitors and staff at Interop Las Vegas.
TSO Logic, which makes power management software, monitored power usage on the servers, network gear and wireless access points deployed in the InteropNet NOC and the conference venue. While InteropNet has always monitored power at the physical level, TSO Logic's participation provided a new degree of visibility into transaction-based power consumption.
According to a blog by TSO Logic, the average cost per wireless user was 2.30 cents, though that number jumped to as much as 40 cents per user during peak times.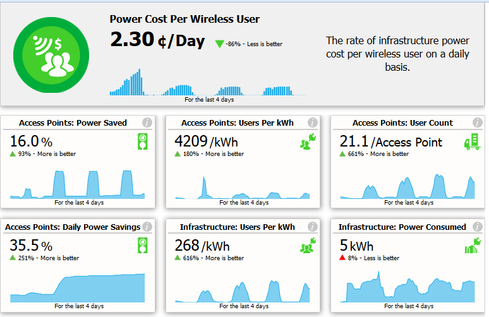 By using TSO Logic, InteropNet engineers also had the opportunity to save energy by powering down systems as usage dropped—and powering back up as necessary to meet demands.
Meanwhile, ThousandEyes pitched in on InteropNet to monitor performance and help troubleshoot performance problems. The company deployed six agents (running as virtual appliances) at key points in the network, including four VLANs for the exhibition space and conference rooms, and one each at InteropNet data centers in California and Las Vegas.
With agents in place, ThousandEyes ran a variety of tests to probe InteropNet services, including tests for the mobile app and registration servers. The company also monitored BGP routing.
One problem ThousandEyes noticed was a service interruption for Salesforce.com; during two separate periods, the site was unavailable from InteropNet. It turned out to be an issue at a peering point between CenturyLink, the InteropNet's ISP, and Comcast.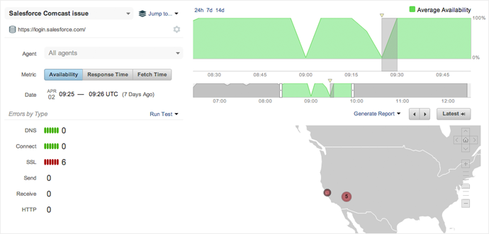 The InteropNet wouldn't exist without the support of our providers and volunteers. In addition to building and operating the network, our providers and volunteers also teach classes and provide NOC tours on site in Las Vegas. You can see the complete list of the 2014 providers here.
Drew is formerly editor of Network Computing and currently director of content and community for Interop. View Full Bio
We welcome your comments on this topic on our social media channels, or
[contact us directly]
with questions about the site.