NetBeez Monitors InteropNet Hot Stage
Get an inside look at InteropNet Hot Stage, where volunteers and partners such as NetBeez build Interop's production network.
InteropNet is the production network that provides wired and wireless connectivity for exhibitors and attendees at Interop Las Vegas.
The network is designed and built from scratch every year by volunteers and provider partners that contribute equipment and engineers.
A key part of the process is the Hot Stage, where all the parties involved gather at a warehouse to build out the racks, wire up the gear, and make sure all the hardware and software works together.
One of InteropNet's newest partners is NetBeez, a networking startup that collects network and application performance data.
Stefano Gridelli, cofounder and CEO of NetBeez, provided an insider's look at the Hot Stage phase:
NetBeez was selected to help monitor InteropNet's network from the user perspective. We gathered with other the engineers who built the InteropNet network in the San Francisco Bay area and spent nearly two weeks designing and building InteropNet.
This network that will support more than 1,500 production ports while assuring maximum uptime and reliability.
InteropNet brings a variety of vendors to work together. In this rack, you can see equipment such as Cisco's ISR and 6506 routers, Infoblox's Trinzic appliance for DHCP and DNS, a Ruckus Zone Director, and a UPS from Cyber Power.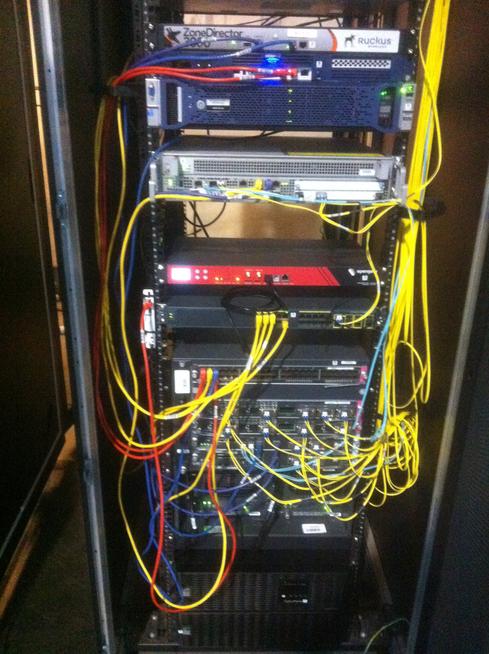 Interop's SDN Lab is also part of the InteropNet. Four racks of equipment are dedicated to the SDN Lab. Each rack is a proof-of-concept environment where partners showcase their SDN implementation. The four racks for the 2015 SDN Lab are:
HP
Cisco
NEC and Alcatel-Lucent
Arista, Big Switch, Netronome, and others
The photo below is the HP SDN Lab rack with four NetBeez hardware agents.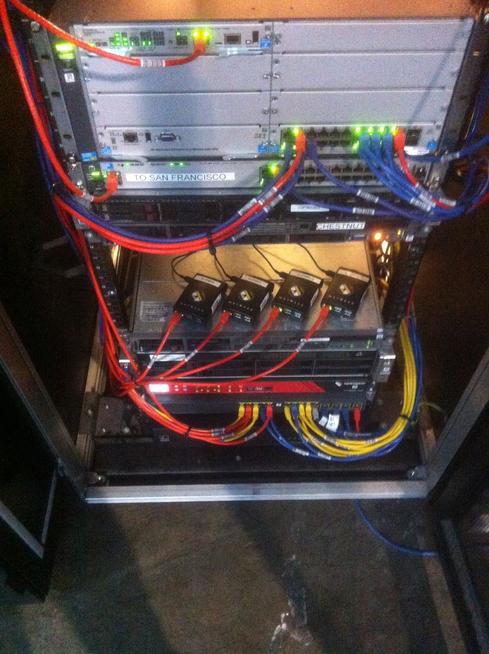 What does NetBeez bring to the table at InteropNet? We will help make sure the network provides good performance to exhibitors and attendees. We'll track metrics such as network round trip time, packet loss, DNS query time, and HTTP page load time.
We'll also monitor bandwidth from the access layer to the core, from the core to the remote colo sites, and within the access layer.
During Hot Stage, we performed a variety of tasks, including verifying user subnets were configured and ready to host DHCP hosts, monitoring WLAN performance, and measuring bandwidth between different network segments.
You can see NetBeez agents being used live in the InteropNet on the Expo floor and check out our class on distributed network monitoring on April 29 at Interop. NetBeez will also be at booth 2344 in the New Innovators Pavilion.
The NOC team at InteropNet and I are looking forward to telling you more about this cool network. If you have any ideas or suggestions we'd love to hear from you.
Interop Las Vegas is April 27 through May 1. Register now to learn the latest technology developments, accelerate your career, and network with your peers in the IT community.
Drew is formerly editor of Network Computing and currently director of content and community for Interop. View Full Bio
We welcome your comments on this topic on our social media channels, or
[contact us directly]
with questions about the site.