Top Eight Workshops From Interop Las Vegas
From IPv6 to network performance to creativity, these workshops earned the highest ratings from Interop attendees in Las Vegas.
Interop Las Vegas wrapped up on May 1. We asked attendees to provide feedback, including comments as well as numerical ratings on a 4.0 scale, on the workshops and sessions they participated in.
Here are eight workshops from Interop Las Vegas that earned the highest ratings from attendees. If you bought an Interop pass, you can download the workshop presentations; details are here.
11 Things You Can Do To Improve Network Performance (Score: 3.85)
Mike Pennacchi is the owner of Network Protocol Specialists. His network performance workshop was so popular we scheduled it for two days instead of one.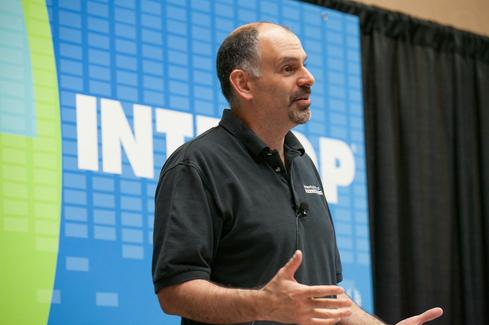 Attendees learned procedures for improving performance, got step-by-step troubleshooting examaples, and learned about free and open-source testing tools.
One attendee wrote in the evaluation "Excellent session, excellent content. I changed my plans for my afternoon just hear more."
Simplifying Application Workload Migration Between Data Centers (Score: 3.80)
Ivan Pepelnjak, a well-known authority on all things networking, tackled workload migration between data centers and between data centers and the public cloud. He took an application-centric view of the challenges associated with workload migration, analyzed requirements, and discussed potential bottlenecks. He also looked at SDN technologies, including overlays and network function virtualization to help attendees identify the optimal solution.
Deep Packet Inspection With Wireshark (Score: 3.78)
Mike Pennacchi makes his second appearance on this list with his Wireshark workshop, which covered advanced packet capture techniques and in-depth protocol analysis. He also shared tips on data interpretation and how to distinguish between proper and improper protocol behavior.
Creative Leadership (Score: 3.75)
Interop provides top-notch technical training, but it also delves into the human side of an IT career, including managing teams, IT leadership, and creativity. In particular, IT is under considerable pressure to deliver innovation and solve tough business problems.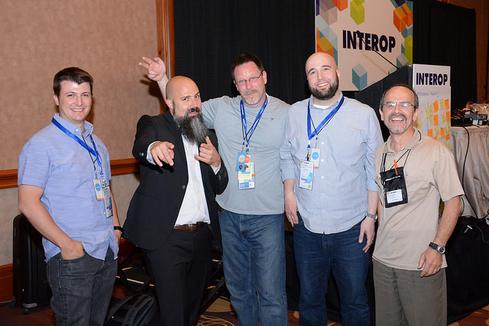 This workshop, by master leadership trainer Rob Cordova, provided practical techniques to help IT teams generate new ideas, challenge norms, identify new opportunities, and take risks.
An attendee noted "I have something I can apply immediately with my teams and I can teach other leaders what I've learned."
How To Get Up And Running With IPv6—Without Destroying Your IPv4 Network! (Score: 3.70)
Ed Horley is an IPv6 expert and advocate. While the tech community has been aware of IPv6 for many years, the response to Ed's workshop may indicate that IT pros are finally ready to grapple with implementation. The workshop provided practical insight on how to bring up IPv6 on an existing IPv4 network, and examined challenges such as setting the correct IPv6 Router Advertisement flags and DHCPv6 settings. He also reviewed tools to help IT understand how the protocol affects OS behavior.
Wrote one attendee, "I'm glad I took your session. I would have read a few configuration examples and turned it on only to hit all the issues I now know. Thank you."
The Hardware Behind The Software-Defined Data Center (Score: 3.69)
Greg Ferro is a network architect and co-host of the Packet Pushers podcast. His workshop took a deep dive into the silicon hardware of 1RU and chassis switches to help attendees understand how network silicon affect design and performance. He also examined at Ethernet fabric designs, including L2MP designs with TRILL and SPB, and L3 ECMP MLAG designs.
One attendee commented in the workshop survey "This speaker could easily expand the topic into two or three sessions over a couple of days. And I'd still have to attend two or three times to get it all in. But this is why I attend Interop."
Designing Infrastructure for Private Clouds (Score: 3.66)
Ivan also makes a second appearance on this list with his workshop on private cloud infrastructure.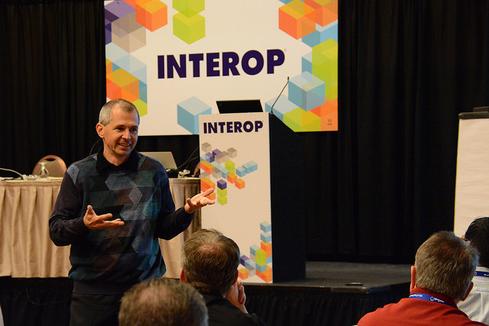 He outlined design principles for the private cloud—it's not just server virtualization—and explored issues around compute, storage, and network requirements, including physical and virtual network services, as well as the importance of orchestration software to link it all together.
Go Hack Yourself: Offensive Security Tools for Enterprise Defenders (Score: 3.56)
This new workshop, taught by security professional John Sawyer, explored the use of tools, including nmap, Metasploit, Arachni, recon-ng, and Phishing Frenzy, that enterprise defenders can use to identify weaknesses and vulnerabilities in their own networks. Participants received a virtual machine pre-loaded with the tools they used to work through exercises and instruction during the workshop.
Integrating Risk and Security Into Your Organization's DNA (Score: 3.56)
This is, technically, a ninth workshop, but it received the same rating as 'Go Hack Yourself', so I included it. Taught by security consultant and Interop track chair John Pironti, the workshop aimed to help attendees integrate risk and security practices into everyday business. John covered information risk profiles, threat and vulnerability analysis, and information supply chain security issues, and used case studies and discussions to illustrate his points.
Drew is formerly editor of Network Computing and currently director of content and community for Interop. View Full Bio
We welcome your comments on this topic on our social media channels, or
[contact us directly]
with questions about the site.