LAS VEGAS -- CES 2016 is shaping up to be a hotspot for connected car advancements and home automation technologies. While the show floor didn't officially open until Wednesday, companies including Samsung, LG, Qualcomm, and Ford kept things interesting with press conference announcements Tuesday.
It's almost impossible to corral all the CES announcements in a single wrap-up, but let's take a look at some of the key updates from Jan. 5.
Ford kicked things off by discussing its smart home integration plans and commitment to autonomous cars. It also issued the DJI Developer Challenge, which calls for developers to create software that can be used to autonomously deploy drones from a truck for the purpose of gathering data from disaster zones.
[CES 2016: What are the emerging trends?]
In 2016, the auto giant said it plans to expand its fleet of autonomous vehicles from 10 to 30, while continuing to test driverless vehicles. It will also connect smart devices (such as Amazon Echo and the Wink smart home platform) to cars supporting its SYNC technology, and enable consumers to connect to their homes while on the road.
We also learned Harman's plans to bring Microsoft's Office 365 suite to its in-car infotainment system so you can answer emails and access PowerPoint on the road. Microsoft also announced updates on its partnerships with IAV, Nissan, and Volvo that will enable users to control their vehicles by talking to the Microsoft Band 2.
Qualcomm announced a wealth of news, some of which was related to the auto space. As part of a collaboration with Audi, the Qualcomm Snapdragon 602A processors will be implemented in select 2017 Audi models to support infotainment features.
The company also debuted its new Snapdragon 820 Automotive chipset, a system-on-a-chip that can be updated as needed. The Snapdragon 820A is powered by a 64-bit CPU and has an integrated LTE modem. It also supports Qualcomm's Zeroth machine learning platform so cars can learn to classify surrounding objects as threats.
With respect to IoT, Qualcomm introduced the Smart Home Reference Platform based on its Snapdragon 212 processor, which supports connectivity, voice recognition, and other capabilities for home automation. Along with Tencent and Zerotech, it also demoed a commercial drone based on the Snapdragon Flight platform.
Samsung and LG both announced new TVs and smart refrigerators, both of which align with the core trend of IoT.
LG unveiled its new OLED G6 TV as part of its new LG Signature line. The device, which comes in 77-inch and 56-in models, has a panel-on-glass design that measures 2.57mm in thickness. It can be mounted on a table or wall and comes in flat and curved models.
LG also reaffirmed its commitment to connected car technology and the Internet of Things; it also unveiled washing machines and a smart refrigerator as part of the Signature line. Google and LG are teaming up to build secure smart objects, said Gayathri Rajan, Google's vice president of product management, at LG's press conference.
Samsung has eliminated the bezels in its new SUHD TV for a full edge-to-edge display. Users can access the Smart Hub to control Samsung's smart home gadgets and access favorite shows from the home screen.
We also got a look at Samsung's new smart refrigerator, which has a 21.5-inch touchscreen on the door. The connected refrigerator's cool features include an app built by MasterCard that enables users to buy groceries from the device, and the ability to play whatever content is on your Samsung Smart TV.
Additionally, it has a speaker and three built-in cameras, so you can view its contents when you arrive at the supermarket and can't remember how much butter you have. The screen also displays photos, weather, and shared calendars for the family -- all of which can be controlled by a mobile app.
In other Samsung updates, the company also plans to make its Galaxy Gear S2 smartwatch compatible with the iPhone later in 2016. The company will also release its Gear S2 in rose gold and platinum finishes.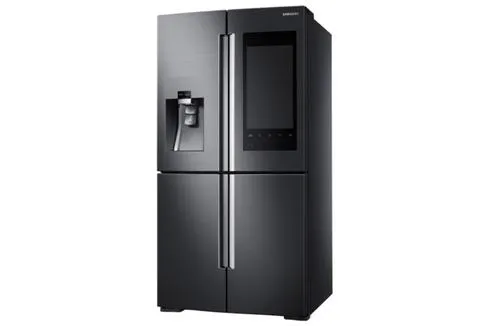 **Elite 100 2016: DEADLINE EXTENDED TO JAN. 15, 2016** There's still time to be a part of the prestigious InformationWeek Elite 100! Submit your company's application by Jan. 15, 2016. You'll find instructions and a submission form here: InformationWeek's Elite 100 2016.