Intel CEO Details Sensor-Packed Future At CES 2016
At CES 2016 in Las Vegas, Intel CEO Brian Krzanich described a future that included sensors implanted in nearly every device people touch or use. This smart, connected world will push computing beyond the limits of traditional silicon processors.
LAS VEGAS -- Brian Krzanich has seen the future, and it's covered in sensors. The Intel CEO gave his traditional opening keynote address at the 2016 CES expo in Las Vegas Jan. 5, and brought the sensor-laden vision to life with demonstrations, explanations, and enough airtime to start a small nation's air force.
A packed house of more than 3,000 attendees listened to Krzanich speak about the computing "experience" -- the theme he returned to throughout his speech is that users value experience over technology. He brought a series of partners and demonstrations to the stage to show how the Intel Curie module can bring sensor-based instrumentation to a wide variety of products, and why that instrumentation can have a significant impact on the ultimate user experience.
Krzanich laid out three trends he said are shaping and driving technology adoption:
The world is becoming smart and connected
Devices gain depth perception, which allows the computer to expand beyond the limits of silicon (Krzanich calls this the "sensification of computing")
Computing is becoming an extension of you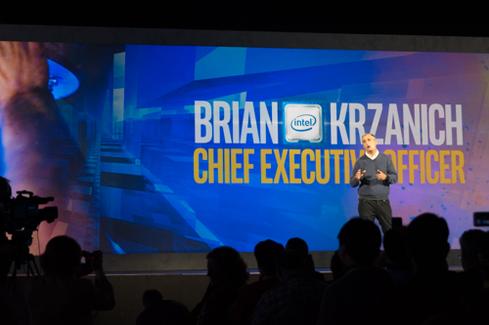 The Curie module is critical to this vision because it is a wearable-capable module -- very small and energy efficient -- that can serve as the hub for a network of sensors, collecting the data and sharing it with other computing systems through a wireless network. At the same time, the Curie module can receive instructions that are relayed out to a network of actuators and devices for control of physical factors from the trivial (LEDs) to the mission critical (motors and displays).
Curie was not the only Intel technology Krzanich showcased in his speech. In an early demonstration, professional e-gamer Stephanie Harvey took to the show floor to show how an Intel RealSense camera can capture an image of her face in real-time and add it to the video stream for her Twitch feed, allowing fans to see her deliver real-time commentary on her games.
In a continuation of the demo, Krzanich had his face scanned and the image applied to a game character in real-time. He spoke about the technology allowing the end of comic-book avatars in games and online communications, with players and participants' actual faces used, instead. The impressive piece of the demonstration was the speed with which the scan and application took place: Approximately 10 seconds from initial scan to Krzanich's face on a highly-armored character's body.
There were demonstrations from the world of real sports, as well.
John Skipper, president of ESPN, and Andreas Gall, CTO of Red Bull Media House, joined Krzanich for separate segments on how instrumentation on athletes can change the way that sports are viewed and coached. From a video presentation on snowboarders to on-stage demos featuring BMX bike riders and a free-runner, the instrumentation packages provided real-time statistics and data for viewers. Skipper promised that the upcoming Winter X-Games will feature this information as part of the television and online coverage.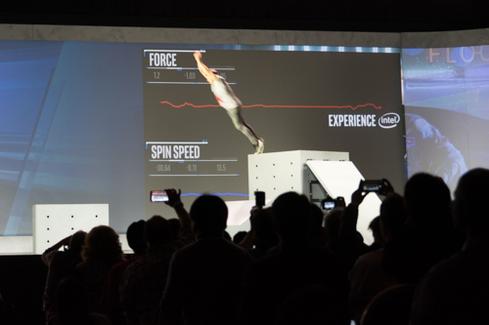 Demonstrations weren't limited to games and entertainment.
The Daqri Smart Helmet is a product designed to replace the current generation of industrial hard hats. In addition to head protection, the Smart Helmet features an augmented reality visor that provides the wearer with information ranging from schematic drawings and instructions for systems being repaired to infrared heat maps of the industrial environment. It is a heavily instrumented helmet that can provide protection of several sorts for the wearer.
[Read about some of the trends emerging from the 2016 CES expo.]
Announced at CES before Tuesday's keynote, the helmet will be available during the first quarter of 2016.
There was much more, of course, with demonstrations and videos that featured an obstacle-avoiding drone, a fleet of fireworks-imitating drones, fashion, music, visual arts, and more. Throughout the speech, Krzanich was frequently interrupted by applause from an audience eager to embrace a heavily instrumented future. The real question now is how businesses will take the flood of data coming from vast numbers of intelligence objects and turn it into usable, profitable information.
**Elite 100 2016: DEADLINE EXTENDED TO JAN. 15, 2016** There's still time to be a part of the prestigious InformationWeek Elite 100! Submit your company's application by Jan. 15, 2016. You'll find instructions and a submission form here: InformationWeek's Elite 100 2016.
Curtis Franklin Jr. is Senior Editor at Dark Reading. In this role he focuses on product and technology coverage for the publication. In addition he works on audio and video programming for Dark Reading and contributes to activities at Interop ITX, Black Hat, INsecurity, and ... View Full Bio
We welcome your comments on this topic on our social media channels, or
[contact us directly]
with questions about the site.