Niko Klansek came to the US from Slovenia to play high school basketball. In time, his attention shifted from ball to wheel. Two years ago in New York, he founded FlyKly through a Kickstarter campaign to fund the development of a pedal-assisted electric bicycle wheel, FlyKly's Smart Wheel. His goal was to make cycling an appealing transit option.
The campaign raised over $700,000, seven times more than its funding goal. According to Klansek, more than 3,000 people in 60 countries are now riding bikes with his company's Smart Wheel.
FlyKly has just launched its second Kickstarter campaign, this time for Smart Ped, a kick-assisted scooter.
Klansek, now based in Milan, Italy, where production and development takes place, stopped by InformationWeek's San Francisco office with a prototype for a demonstration.
Klansek said the Smart Wheel represented an effort to make cities more bike-friendly, a goal in a growing number of urban areas due to increasing population density. The plan for Smart Ped is similar. "City centers are now closing down for cars," he said, "and are becoming really a pedestrian area. Because of that, more and more people are using scooters to get to work. So we decided to focus on that last mile of the commute."
By "last mile," Klansek is referring to situations where walking might take too long, rather than a specific distance. Examples include a journey from a parking lot outside a city center or a transit station to an office many blocks away.
"The scooter is the perfect solution for that," said Klansek. "It's very portable. You can bring it to the train, the office, the post office. It can go everywhere with you. And also it can be folded."
The Smart Ped uses the force of the rider's kick to generate the power that helps keep the scooter moving at a constant speed. If you kick hard, it keeps you moving fast. A more gentle kick offers a correspondingly slower ride. It's a bit like being on ice skates. With a strong push, you can coast for long distances as the electric motor works to sustain your momentum. It's also rather fun.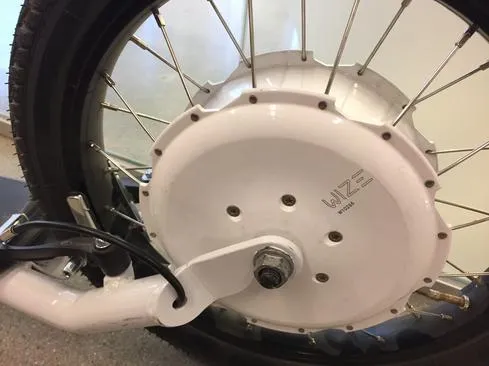 "With a regular scooter, maybe you have to kick every 10 feet to keep the same speed," Klansek explained. "With ours ... every two to three blocks you'd have to kick again."
Klansek acknowledges that the device has some limitations. Its motor isn't powerful enough to carry a rider up a series of steep San Francisco hills. "This is more of an assist," he said. "If you're strong enough to go [up a hill] with a regular scooter, this will just make it easier."
A hundred years ago, a similar, albeit bulkier, motorized scooter, the Autoped, was being used in New York City and elsewhere. "It was really popular with post officers," Klansek explained. "But it was also popular with [gangsters] because it was the perfect getaway vehicle at that time. So when we saw this, we said we need to make a 2015 version."
Those who cannot remember the past are condemned to repeat it. Those who can have the opportunity to improve the future.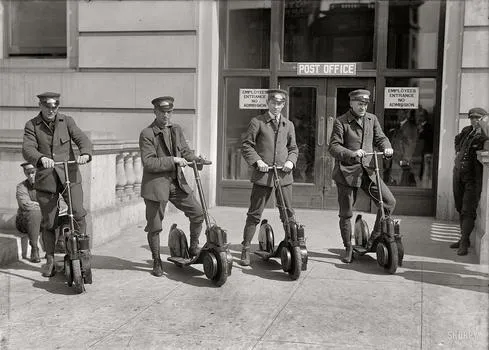 The Smart Ped works with BitRide app, which allows users to track their commutes. Klansek said his company is providing city officials and bike groups with anonymized travel data to improve urban planning.
The app also allows users to lock the Smart Ped's rear wheel with a PIN, a feature implemented in the company's Smart Wheel for bicycles as well.
In Milan recently, Klansek said, four Smart Wheel-equipped bikes were stolen and the thieves tried to unlock the wheels by guessing the codes. But after three incorrect guesses, the app sends an alert to FlyKly. "So we started figuring out who these people were and we were able to recover the bikes," said Klansek.
[Read about Daimler testing a self-driving truck on the Germany's Autobahn.]
Theft should be less of a problem with the Smart Ped, said Klansek, because it's portable enough to take anywhere.
Two Smart Ped models are planned, a basic model (€874/~$1,003 with shipping), slated for delivery in December, and a premium edition (€1,074/~$1,232 with shipping), slated for delivery in March. Both versions have a folding steering column. The premium model also has a folding running board, which makes its usable as a handcart.