11 Ways To Deck The Halls With Recycled Tech
Put your useless tech to good use this holiday season. Check out these projects.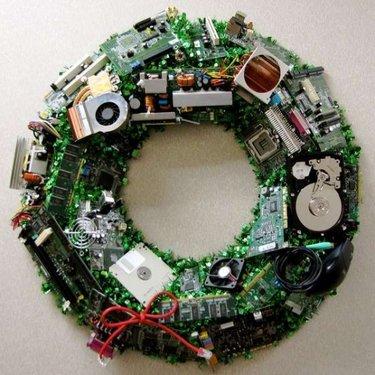 Deck the halls with drives and floppies. Falalalala-lalalala.
'Tis the season for paste and copy. Falalalala-lalalala.
DOS we love and still remember. Falalalala-lalalala.
Reuse computers this December. Falalalala-lalalala….
Please excuse me for breaking into song, but the holiday season is officially in swing in the US. Among all the great traditions, one of my favorites is the decorations. Sure, I'm up for plain old wreaths and lights and menorahs. But what I really like is when people get creative. I'm especially a fan of upcycling old technology for new purposes and especially of turning the office into a winter wonderland.
If you're like most InformationWeek readers, you've got a lot of old technology floating around. I must have four or five PCs lying around for no good reason, half a dozen old cellphones, countless hard drives, gaming consoles, CDs, thumb drives, and enough cable to circle the Earth. And most of us even have access to the old graveyards of our data center just chock full of stuff nobody wants but no one is throwing away. What to do with all of that junk?
Turn those pieces of technology into clever holiday decorations. Don't feel like the creative type? Only have visions of source code dancing in your head? I'm here to help. I've compiled some pictures of some really beautiful and jolly uses of old technology to make the season merry and bright. We've got everything from tiny ornaments to clever menorahs to giant Christmas trees.
I apologize for the lack of Kwanzaa decorations. I looked far and wide and found none. I'm guessing that has to do with Kwanzaa's origins in the harvest and its focus on family. We don't necessarily associate technology with those things. But personally, I'd like to change that. I can't think of a better use of technology than to use it to celebrate some of the Kwanzaa principles such as unity, creativity, and collective work. At any rate, if you know of someone who has incorporated technology into their Kwanzaa decorations, please share. Or, be the first and share your efforts here.
Also, if I missed your tradition or holiday, please feel free to add. Real ones are preferred, but I'll accept a Festivus pole made out of speakers if you're serious about it. Every tradition is welcome.
Click through our slideshow and tell us which decorations are your favorites. Share others you've seen. And enjoy the holidays no matter what you celebrate.
David has been writing on business and technology for over 10 years and was most recently Managing Editor at Enterpriseefficiency.com. Before that he was an Assistant Editor at MIT Sloan Management Review, where he covered a wide range of business topics including IT, ... View Full Bio
We welcome your comments on this topic on our social media channels, or
[contact us directly]
with questions about the site.