8 Classic Video Games Begging For Tablet Versions
Serious gamers have been left out of the casual-game tablet app market. These well-loved games deserve a reboot for the tablet.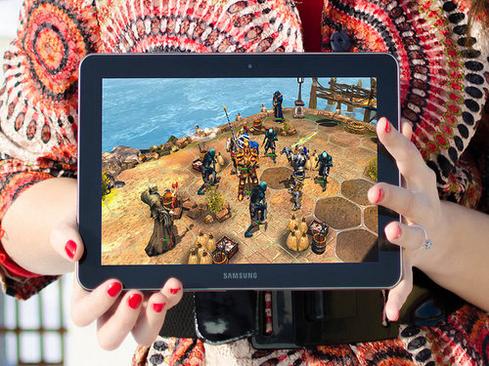 The tablet gaming market is expected to grow to $13.3 billion by 2019, even though tablet games mostly stink. Sure, there are some very successful casual games like Candy Crush (a blatant knockoff of three-in-a-row games from the last decade), and some progress has been made on action-oriented social games like Clash of Clans. But realistically, tablet games are stuck in the servant model with freemium games. Players are beholden to the games, farming in-game currency and resources or paying real cash in order to see the full game content.
Basically, there's a shortage of "real" games in the tablet market. Serious gamers are used to dropping $50-$60 on a game with a long and involved gameplay they can pick up and play as much as they want. Surely there's room for a $20-$30 tablet game that can engage a player for more than five-minute spurts until the player has enough "gold" to buy the latest widget and wait 24 hours for it to build.
Some ports of modern games like Civilization and The Sims have been tried to mixed success. Some reboots like Sid Meier's Pirates have been tried. But for the most part, we're lacking a good, in-depth, high-end gaming experience on the tablet.
Personally, I think the reboot is the way to fix this. Tablets have the computing power of desktops from a few years ago. They have unique and interesting interfaces that allow us to take a game that otherwise might look a little old and spruce it up with a new experience.
With that in mind, I went back to look at classic games for desktop PC and gaming consoles that I thought would make excellent reboots on tablets. There were some basic criteria I looked for in picking these games.
Of course, it had to be a good game.
A reboot should take advantage of something unique about the tablet or social gaming that was not available when the original was created.
I wanted there to be no chance of it being a freemium game. It needs to stand alone in gameplay as something people would return to like a console game or PC game.
Some of these are old enough that their original developers no longer exist. I'm not sure what that would mean for intellectual property (depends on the title, obviously), but I'd love to see whoever owns them think about reviving them. Check out the list, and add which games you'd like to see made for the tablet -- or at least rebooted.
(Image: Sergey Galyonkin)
David has been writing on business and technology for over 10 years and was most recently Managing Editor at Enterpriseefficiency.com. Before that he was an Assistant Editor at MIT Sloan Management Review, where he covered a wide range of business topics including IT, ... View Full Bio
We welcome your comments on this topic on our social media channels, or
[contact us directly]
with questions about the site.