8 iPhone Apps To Help Tackle Super Bowl 50
If you want to get more out of Super Bowl 50 on Sunday, Feb. 7, here's our list of eight different iPhone apps that will keep you covered all day long during the big game and America's unofficial holiday.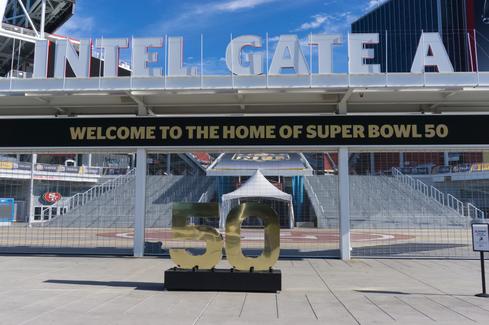 The Super Bowl hits the American cultural scene with all the force of a particularly brutal sacking of the quarterback -- an over-the-top smorgasbord of adrenaline, marketing, showmanship, production values, and yes, even sportsmanship buried in there somewhere.
Watched by tens of millions of viewers, the Super Bowl is also a great opportunity to gather friends, family, and maybe even some friendly rivals to watch men struggle and sweat to bring the pigskin into the end zone one way or another.
This year marks the 50th anniversary of the Super Bowl -- Super Bowl 50 -- where the Carolina Panthers will go head-to-head against the Denver Broncos at Levi's Stadium in Santa Clara, Calif.
Thanks to the explosion of mobile technology and the applications that go with it, watching the big game has become much more interactive than ever, with official team apps, loads of trivia challenges, mobile versions of your favorite video games, and many more items finding a home on smartphones and tablets.
[Check out these iPhone apps that can make you healthier, wealthier, and more productive.]
When it comes to apps, Apple's iPhone has your football ecosystem covered.
In addition to the more obvious sports-themed apps, there are applications that can add something extra to your Super Bowl party, like one that helps you make your backyard barbeque the envy of the neighborhood.
Best of all, the majority of these applications are free, which means you can spend that extra cash on other things that matter, like extra nacho cheese, face paint, or another cooler or three of beer.
Whoever you're rooting for in the big game -- in the interest of keeping our readers, we'll stay neutral -- this list of apps is sure to enhance your viewing and hosting experience. However, just try to keep your emotions in check during the big game, lest that brand new iPhone 6s get thrown through a window in a moment of overexcitement.
All of these iPhone apps are free unless noted.
(All images on the following pages via the Apple App Store)
Rising stars wanted. Are you an IT professional under age 30 who's making a major contribution to the field? Do you know someone who fits that description? Submit your entry now for InformationWeek's Pearl Award. Full details and a submission form can be found here.
Nathan Eddy is a freelance writer for InformationWeek. He has written for Popular Mechanics, Sales & Marketing Management Magazine, FierceMarkets, and CRN, among others. In 2012 he made his first documentary film, The Absent Column. He currently lives in Berlin. View Full Bio
We welcome your comments on this topic on our social media channels, or
[contact us directly]
with questions about the site.