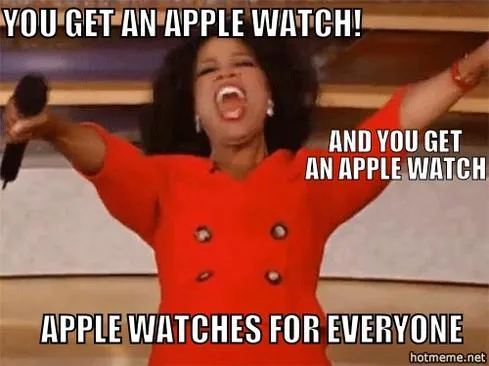 Apple Watch Alternatives: 10 Gadgets The Company Should Have Made
(Click image for larger view and slideshow.)
April Fools is here once again, which means you need to take care when roaming the Internet today. While legit stories are out there, plenty of companies enjoy producing fake news and other pranks in the spirit of the day. Google kicked off the fun -- or the silliness, depending on your point of view -- late Tuesday night and has already published a handful of clever gags.
Others were quick to follow Wednesday morning.
Google, more so than any other company, likes to have a good time on April 1. After all, when else could it announced self-browsing Chromebooks? These "new" computers can: "Plan your summer vacation to Qikiqtarjuaq; fall in love using your new automated online dating profile; write this blog post; earn high scores in every online game; post random status updates 24 hours a day, 7 days a week; manage your finances at whim; [and even] run for president."
If self-browsing computers aren't your thing, perhaps you'd like to make use of Google's new Smartbox by Inbox, which Google describes as "the mailbox of tomorrow, today." This contraption sits at the end of your driveway and sends the owner alerts when physical pieces of mail are placed inside by the US Postal Service. It protects against spam by shocking those attempting to stick unwanted flyers in the SmartBox, and even arranges mail into categorized folders. Be sure to watch the Kelsey Grammer-voiced promo video.
For enterprises, Google showed off the Google Actual Cloud Platform. Features include the ability to compute in the troposphere-1a and Stormboost for supercharging read/write cycles thanks to charges created by passing thunderstorms. Don't forget CloudDrops, which Google describes as "a new, game-changing content distribution system. CloudDrops can provide blazingly fast content delivery to all of your users using -- you guessed it -- raindrops." Google Actual Cloud Platform also includes weather dashboards for developer's consoles and bare-metal container support.
Last, but not least, Google is letting people turn their neighborhoods into actual, playable Pac-Man games thanks to the latest version of Google Maps.
Motorola has a high-class product on sale today called the Motorola Selfie Stick. These fine self-portrait aids are handcrafted from the finest woods and leathers. According to Motorola, an artist is only as good as his brush, hence a selfie can only be as good as the selfie stick. The accompanying video is likely to induce chuckles.
On a more serious note, Microsoft today re-launched efforts to turn-around its flagging Windows Phone platform. It is banking on the new MS-DOS Mobile to help revitalize interest in its smartphone platform. Daniel Glass, lead designer of MS-DOS for Mobile, said, "Turning our back on graphics was hugely liberating. We've dropped the resolution, and in doing so re-discovered our roots." The reintroduction of C:\ prompts is simply brilliant mobile computing. (In all seriousness, Microsoft actually released a fake MS-DOS for Windows app for Windows Phones. If you're using a Lumia smartphone, be sure to take it for a spin.)
T-Mobile is making waves with its latest Un-Carrier move: Pets Unleashed. Customers who take advantage of this program can add their pets to an existing Simple Choice plan for just $5 per month. The service includes a number of pet-friendly accessories, such as "Fit Pet" workout wheels for your hamster.
Have you seen any more tech-related April Fools gags? Be sure to share in the comments below.
Attend Interop Las Vegas, the leading independent technology conference and expo series designed to inspire, inform, and connect the world's IT community. In 2015, look for all new programs, networking opportunities, and classes that will help you set your organization's IT action plan. It happens April 27 to May 1. Register with Discount Code MPOIWK for $200 off Total Access & Conference Passes.