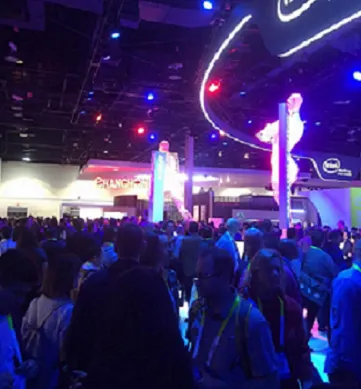 Huawei, Toshiba, ZTE Unleash Hot Smartphones, Tablets At CES 2016
(Click image for larger view and slideshow.)
CES has always had a special place in the tech landscape. Over the years, we got our first looks at technologies that have helped define and redefine the last three decades, including the VCR, the CD, DVD, Blu-ray, the original Nintendo Entertainment System, and the first Microsoft Xbox.
The event held every year in Las Vegas has always been a way for companies to show off toys that we ended up using in our daily lives. Unlike traditional computer shows, such as TCF, CES exhibitors have historically been given some license to show off their concepts and betaware without having a delivery date set in stone.
The early adopters roam the floors in force, looking for something that hasn't yet filtered down to the mass consumer. It's a willing collusion between these folks and the companies -- full of marketers glitzing out the promise of that unsullied and amazing product.
And market they did.
CES 2016 told us that the future will be full of drones and electric cars that can drive themselves. Drones of many types were all over the place.
Indeed, one drone shown was large enough to carry a 220-pound person over the stream of cabs going up the Las Vegas Strip -- and fly itself at the same time. Just put your destination into the app and sit back.
A China-based company named Ehang unveiled what could be the world's first autonomous flying taxi at CES. Ehang said that production models will not be available for at least a year, and the inevitable regulatory hurdles will come after that.
This is Jetsons territory, a real glimpse of the future.
The virtual reality (VR) headset wars broke out in full force at CES 2016, with Facebook's Oculus Rift finally making an appearance. However, there will be different ways to approach VR.
Rift wants you to have a super-duper gamer computer attached to it. But OSVR -- a project by gamer company Razer that partners with industry heavyweights Intel, Visionics, Unigine, and Leap Motion -- has an open source headset that costs half of the Rift headset. It can be tweaked to reflect the machine it is running on.
Even with the advent of these VR headsets, traditional display screens aren't going away anytime soon. In fact, displays are going to get a lot better very soon.
LG is getting much closer to production of its flexible OLED (organic light emitting diode) display, which would even further blur what a "wearable" means. (It's been a 10 year-long route to product.) OLEDs display light directly, rather than "twist" it as conventional LEDs do.
Samsung-made OLEDs also showed up in the rigid displays of several PCs, including the Alienware 13, Lenovo ThinkPad X1 Yoga, HP Spectre x360, and the company's own Galaxy Tab Pro S. However, the buyer should beware: These displays won't be cheap. Right now, the ThinkPad X1 Yoga is slated to retail for about $1,650, which is pricy for a notebook. I suspect that after a certain point, like all technologies, the prices for OLED displays will drop, which will then drive mainstream adoption.
For those paying attention on the show floor, one of the most significant things that happened was when US Marshals raided the booth of Changzhou First International Trade Co.
[Check out our list of the best enterprise tech at CES 2016.]
The China-based firm was showing a single-wheel hoverboard that was a direct rip-off of the one made by Future Motion, which holds both technology and design patents on the device. This was the first instance of an exhibitor at CES having been shut down like this. It signifies that the blatant copying of products won't be tolerated at the event.
CES is a time for companies to grab our attention by any means, hawking what they have and what's to come from them. CES 2016 was no exception, and we can't wait to see the promises realized.
**Elite 100 2016: DEADLINE EXTENDED TO JAN. 15, 2016** There's still time to be a part of the prestigious InformationWeek Elite 100! Submit your company's application by Jan. 15, 2016. You'll find instructions and a submission form here: InformationWeek's Elite 100 2016.