Facebook Tests High-Speed Laser Internet Access
Facebook wants to beam you onto the web, using laser light to carry information from point to point. However, the social networking company warns that the technology is still in its infancy.
Facebook is developing laser-powered internet connectivity technology that detects optical communication signals traveling through the air. The goal is to create a new type of high-speed internet access.
The development, announced on July 19 by the company's Connectivity Lab and published in The Optical Society, indicates there may be a future for license-free communications systems.
Light-based wireless communication uses laser light to carry information across the atmosphere and offers a promising way to bring the internet to areas where optical fibers and cell towers can be challenging to deploy in a cost-effective way.
However, the challenges has been how to precisely point a very small laser beam carrying the data at a tiny light detector that is some distance away -- something Facebook researchers demonstrated in their study.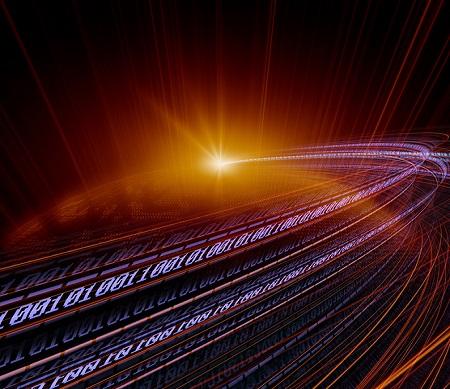 "We demonstrated the use of fluorescent optical fibers that absorb one color of light and emit another color," Tobias Tiecke, the leader of the research team, explained in a statement. "The optical fibers absorb light coming from any direction over a large area, and the emitted light travels inside the optical fiber, which funnels the light to a small, very fast photodetector."
The experiment offered data rates of more than 2 gigabits per second (Gbps), but Tiecke noted the new approach could theoretically allow free-space optical data rates of more than 10 Gbps if materials were developed that operate in the infrared part of the spectrum, which would be invisible to people.
The research team plans to move the technology out of the lab and into the real world through the development of a prototype that could eventually lead to a commercial product.
Tiecke expressed the team's desire to encourage other groups interested in developing materials that are tailored for communications applications, including the producers of luminescent concentrators, currently used for solar light harvesting.
"A large fraction of people don't connect to the internet because the wireless communications infrastructure is not available were they live, mostly in very rural areas of the world," Tiecke said. "We are developing communication technologies that are optimized for areas where people live far apart from each other."
[Read about Facebook's recent adoption of Office 365.]
Despite advances in expanding global internet connectivity, the number of people who are not connected to the internet still far outweighs the number of those who are, according to a Facebook report released in February.
While the number of people connected to the internet rose 6.7% to 3.2 billion worldwide in 2015, the majority of people across the globe are still not connected.
Hoping to fix this, Facebook is currently engaged in developing a number of solutions aimed at bringing the web to far-flung corners of the earth.
The company plans to widen the reach of the internet thanks to a pair of new WiFi initiatives under development -- Project ARIES and Terragraph -- that look to increase Internet access in hard-to-cover areas.
Terragraph is a 60GHz multi-node wireless system focused on bringing high-speed Internet connectivity to dense urban areas, while ARIES is a proof-of-concept effort to build a test platform for more efficient usage of spectrum and energy.
Nathan Eddy is a freelance writer for InformationWeek. He has written for Popular Mechanics, Sales & Marketing Management Magazine, FierceMarkets, and CRN, among others. In 2012 he made his first documentary film, The Absent Column. He currently lives in Berlin. View Full Bio
We welcome your comments on this topic on our social media channels, or
[contact us directly]
with questions about the site.