IoT, Fitness Trackers Powering Consumer Tech Market
Wearables, wireless audio, and the connected devices that are paving the way to the Internet of Things are driving spending in the consumer tech market in 2016, according to a report from the Consumer Technology Association.
Consumers are warming up to connected devices and Internet of Things (IoT) technology, according to a new report from the Consumer Technology Association (CTA).
Portable wireless speakers, wearable fitness activity trackers, and wireless headphones experiencing the largest increase in household ownership from 2015 to 2016, the report found.
Overall, nearly two-thirds (63%) of US households now own at least one pair of headphones, replacing digital cameras as the fifth-most owned tech device.
"Wireless technology has gained traction for many reasons, one of which being the proliferation of smartphones -- now owned in 74% of American households," Danielle Cassagnol, industry communications specialist at CTA, told InformationWeek. "They are the viewfinder to our digital life with the ability to communicate in new ways, capture memories, consume content, and control apps that improve our homes, health, and more. Improvements in battery life, average price, and connectivity speeds continue to develop rapidly."
Televisions are the most-owned tech devices in the US. There are now almost as many TVs owned (320 million installed base) as the US population (321 million) -- a whopping 96% of households.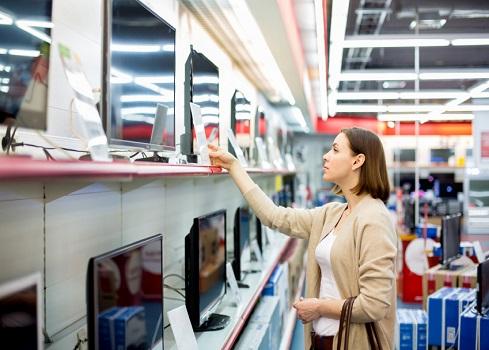 "Televisions are the most ubiquitous tech device in American history, with an average of 2.8 TVs per household thanks to the ability of the video industry to continue to innovate and reinvent over the years," Cassagnol said. "We went from black-and-white to color, to standard definition, to high definition. And now the next-generation is 4K ultra high-definition TVs."
She predicted that 2016 would be a phenomenal year for with sales of 4K UHD displays. Sales are projected to reach 13 million units -- an 83% increase -- according to other CTA research.
Smart TVs are also finding homes at a fast pace, with half of all US households now owning a connected set -- CTA also ranks it as one of the fastest growing tech products in 2016.

Are you prepared for a new world of enterprise mobility? Attend the Wireless & Mobility Track at Interop Las Vegas, May 2-6. Register now!
The trend towards ever more connected devices -- the sprawling IoT market -- continues to drive growth in emerging tech devices like wearable fitness devices.
About 15% of households now have smart home devices such as smart thermostats (consumers' top choice), lighting controls, and motion sensors.
Gadgets like the Fitbit, Jawbone, Misfit, and others are now in 20% of US households -- twice as many than last year.
Some 8% of households currently own a smartwatch, and another 8% are planning to buy one in the next year.
"The exponential growth of the IoT is one of the key reasons we'll see such strong growth across so many tech categories -- including devices that weren't typically a part of the tech ecosystem before, such as a smart crockpot, connected skis, or autonomous cars," Cassagnol said. "Sensor technology is becoming more advanced and affordable -- and being deployed across a vast array of products."
She also noted digitization is rapidly changing the landscape of our daily lives, and consumers are clearly choosing to infuse tech into all facets of their lives.
"IoT stands as the unifying theme in emerging tech such as wearables and smart home devices," he explained.

Nathan Eddy is a freelance writer for InformationWeek. He has written for Popular Mechanics, Sales & Marketing Management Magazine, FierceMarkets, and CRN, among others. In 2012 he made his first documentary film, The Absent Column. He currently lives in Berlin. View Full Bio
We welcome your comments on this topic on our social media channels, or
[contact us directly]
with questions about the site.