The Internet of Things is not just for connected cars anymore.
While Google, Audi, and other major tech and car companies have been busy putting their stamp on what connected cars mean to motorists, other connected vehicles have started to make their way into the market -- and onto the streets.
California-based Zero Motorcycles, a leader in high-performance electric motorcycles, produced its first prototype back in 2006 in a garage in Santa Cruz, Calif., selling its first bikes in 2008. The company is now looking to lead the pack in the connected motorcycle market, using IoT to help connect motorcycle, owner, and service shop.
Other major players, such as Harley-Davidson, a classic in the motorcycle business since the early 1900s, are also exploring IoT. Harley-Davidson, for instance, has incorporated IoT in its manufacturing process, but not yet in the bike itself. Harley's manufacturing plants can now complete a new motorcycle every 86 seconds. IoT sensors and other applications keep track of production on its manufacturing facility in York, Pa.
Connected motorcycles may sound cool, but researchers are delving into more serious aspects of them. Virginia Tech Transportation Institute research indicates that applications enabled by dedicated short-range communications (DSRC) may lead to improvements in public safety. This effort, already put into practice in four-wheeled connected vehicles, represents an opportunity to reduce fatalities and injuries caused by motorcycle crashes. The research on connected motorcycles emphasizes safety related to the interactions between rider, vehicle, and infrastructure. Connected motorcycles intend to improve transportation for all users and make roads much safer.
Zero Motorcycles is getting closer to this by adding connectivity to its lightweight electric bikes.
[For more on IoT and public safety, see RFID Chips In Windshields: Simple Way To Catch Bad Guys.]
According to Aaron Cheatham, director of customer experience at Zero Motorcycles, in 2013, the company delivered a mobile application that could communicate with the motorcycle via Bluetooth. If one of the company's motorcycles has a mechanical problem, the owner can tap a help button on the company's app, which works for iPhones and Android devices, and get service advice on the spot.
In addition, Zero can remotely access key data, immediately diagnose the issue, and schedule an appointment. In 2014, Zero added more automated functionality that enables users to quickly and easily send log files to Zero from their motorcycles, automatically create a technical case that includes those files, and share them with their preferred dealer, according to Cheatham.
"Our bikes' owners can communicate with us from anywhere in the world using our mobile application and its connection to our Salesforce-based Partner Community. They have the ability to pull the log files from many of the major components," Cheatham wrote in an email to InformationWeek.
"When they send them to us, a technical case is automatically created, and we ask for additional details," Cheatham said. "Meanwhile, a service technician can decode those files, review them, and send a response. All this information is immediately shared with the dealer from whom the customer purchased the motorcycle. The result is a 50% faster response than before for emergency service and a 25% reduction in support tickets. Our response time is definitely faster with this new approach."
According to Cheatham, previously it could take days for a customer to get a motorcycle to a dealer for diagnosis, and now that happens in a matter of seconds. Another advantage is that it can be done from anywhere in the world, wherever the rider is connected to a network.
There's more coming, Cheatham says. Soon, firmware updates, which are currently rolled out manually and require owners to bring their bikes into a dealer, will be pushed out and allow Zero to update every bike's software remotely.
Right now the company sells four different electric and connected bikes, including motorcycles specifically designed for military or law enforcement use.
With all this in mind, security remains a priority. To ensure customer and data privacy, access to the motorcycle is restricted by a short-range Bluetooth wireless connection.
"A user must have physical access to the motorcycle to pair the mobile device to the bike and enable the communication," Cheatham told InformationWeek. "Logs that are pulled from the motorcycle are sent in a proprietary format that requires a decoder to review."
Zero Motorcycles is not the only company in the electric bike market. However, the difference is that Zero Motorcycles' bikes have added connectivity features. In the future, others may use IoT to connect their bikes as well.
Meanwhile, Harley-Davidson unveiled its electric Live Wire concept bike, BMW has an electric scooter on the market, and KTM is selling an electric dirt bike. In addition, Yamaha plans to start production of two electric motorcycles by 2016. Raptor offers road-ready electric vehicles for law-enforcement use, which are ready to be connected to the cloud as soon as there is demand for it. While not all these bikes are connected, the trend is for all electric motorcycles to add connectivity, as Zero Motorcycle is doing.
Since 2013, BMW and Honda have been experimenting with adding vehicle-to-vehicle (V2V) automobile technology to their motorcycles, a feature already in use in autonomous cars. V2V communication is the wireless transmission of data between vehicles to allow them to "talk" to each other. The goal of V2V is to prevent accidents, and V2V technology may become mandatory by 2017.
The Dawn Of The Smart Helmet
What's a connected motorcycle without a smart helmet?
To improve the safety of riding, Skully developed the Skully AR-1 smart helmet. Skully was co-founded in 2013 by Marcus Weller, CEO and chairman, and Mitchell Weller, VP of business operations. After a successful crowdsourcing campaign generating almost $2.5 million, Skully AR-1 is taking pre-orders at $1,499, with an estimated delivery of December.
The smart helmet gives full situational awareness with GPS navigation, a blind-spot camera view, and transparent heads-up display (HUD). This allows the helmet to give the rider information right where he or she needs it the most, without interfering with the rider's attention on the road.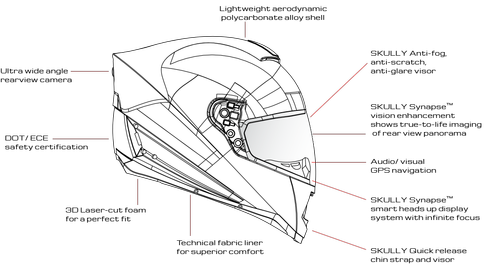 It features Telenav Scout SDK navigation features, which offer real-time, turn-by-turn navigation directly in the helmet. The helmet is fully connected with Bluetooth, Internet via smartphone, and automatic software updates. The AR-1 connects to motorcycles and other AR-1 helmets via Bluetooth.
"The helmet can be paired with up to 10 other AR-1s at a time," Marcus Weller told InformationWeek. "The AR-1 is fully compatible with the 2016 Aprilla RSV4 and the 2015 Aprilla Caponord, with more partnerships in the future. Knowing the capacity of the gas tank and MPG, a rider can program the fuel gauge into their AR-1 via the smartphone app. The AR-1 is capable of receiving software updates via the smartphone application," he said.