Meet Your IT Workers Of The Future
Digital natives are now raising the first generation of children who are using smartphones in the crib, and it will change everything for IT.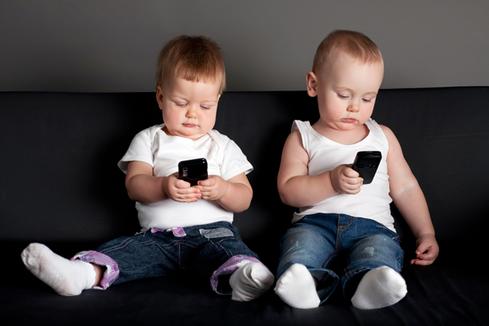 A study presented at the Pediatric Academic Societies annual meeting in San Diego last month shows that the first generation of digital natives are handing their children mobile devices as soon as they can hold the gadgets in their tiny hands. This is likely to have profound effects on the next generation of workers, who will be even more technologically demanding than their parents' generation.
The first generation of digital natives, also known as millennials, are those born between 1980 and 1995, according to TrendsActive, a trends analysis agency. They grew up amidst an explosion of technology and new media, and were the first to use social digital technologies, such as usenets and bulletin board systems. Yet, most digital natives grew up in the era of the PC, not the smartphone.
Anyone who has been around children these days has seen what we're talking about: They walk up to a television or a computer screen, and the first thing they try to do is touch it. They don't look for a mouse. They don't look for a remote. They certainly don't expect a keypad.
If you're lucky, you'll be retired before most of these kids hit the workplace.
TrendsActive identifies a generation of "digital teens," born 1995-2002, the eldest of whom are college-aged. But you've got at least a decade before these so-called "mobile natives" hit the workplace. Children whose first computer was a true smartphone (an early BlackBerry, iPhone, or Android device) or a tablet (like an iPad) aren't much older than 10 or 12. Nowadays, six-month-old babies are being handed computers to show them video, teach them to read or write, and even to soothe them for sleep.
On the plus side, the PAS study -- conducted at the Einstein Medical Center in Philadelphia -- may assuage concerns about a growing digital divide across socioeconomic or ethnic lines. The study researched the smartphone and tablet habits of low-income, minority children at a hospital-based clinic. The survey, conducted in October and November 2014, polled 370 parents about their children's habits from six months to four years of age. Nearly three quarters of respondents (74%) were African-American). The numbers are not too far off baselines established from other surveys that went into less detail.
The study reveals an astonishing level of smartphone literacy in children who can't even walk. One questions whether we shouldn't create a smartphone case that has a Binky on the end.
What does this mean for an IT department already under harshe pressure from the first generation of digital natives in the workplace? What will this next generation of mobile natives bring? Undoubtedly, even more change, and more demand for easier technology.
Check out what they're up to, and then tell us in the comments section below what you think this means for the future of your workplace.
David has been writing on business and technology for over 10 years and was most recently Managing Editor at Enterpriseefficiency.com. Before that he was an Assistant Editor at MIT Sloan Management Review, where he covered a wide range of business topics including IT, ... View Full Bio
We welcome your comments on this topic on our social media channels, or
[contact us directly]
with questions about the site.