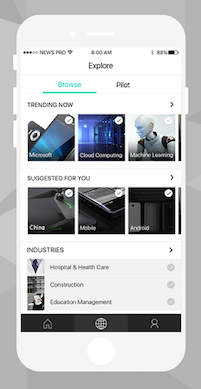 10 Cool Microsoft Garage Projects You Didn't Know About
(Click image for larger view and slideshow.)
Microsoft is exploring a new form of digital data storage -- synthetic DNA.
The company has ordered "10 million long oligonucleotides" from San Francisco-based Twist Bioscience, the latter announced in an April 27 statement.
Twist takes data that would normally be saved to a hard drive in Os and 1s and translates it into genetic code. Microsoft gives Twist a DNA sequence, and Twist makes the DNA from scratch. A gram of DNA can store nearly 1 trillion gigabytes.
Exactly what does Twist give back?
"We send them a tube with DNA in it," Twist Bioscience CEO Emily Leproust told InformationWeek in a phone interview. "It looks like nothing. It's so tiny; it looks like an empty tube. But when you put it in the [DNA sequencer], it's confirmed that it's there."
In addition to shrinking data's physical footprint, synthetic DNA offers a long-term solution.
"For a society that compulsively creates and stores huge amounts of data, our short-lived digital storage technologies don't satisfy their purpose as archives," Twist Bioscience explained in an April 27 blog post. "To bridge the gap between archival technologies we have today and the enduring digital repositories we need, the newest information technology is also the world's oldest -- DNA."
"There is wooly mammoth DNA that's 20,000 years old," Leproust said.
How will modern companies use DNA storage?
"Anything that is being stored on a tape today. Anything you think you're going to need in a year, or five, or ten, or twenty years from now," said Leproust. "There are lots of files that you need to keep for a very long time. Regulated industries like drug companies, banks, [and the aviation industry] -- they have [files] that are stored on tape. But the older the tape, the less likely you are to get your data back. … You have to recopy the tapes every few years, and you may even have to store the tapes in [cold storage]."
DNA takes up very little space, and it's very resilient. If you keep it cool, you could
"store it under your kitchen sink."
The future of data, she added, is cloud storage.
"It won't be tubes [of DNA] everywhere. I'm guessing it'll be a factory that makes DNA and a third-party will store it in a secure location and in the cloud. … If anything, it should make data safer, because it's a small volume and small physical quantity, which is much easier to secure."
Doug Carmean, a partner architect with Microsoft's Technology and Research organization, said in the statement that Redmond is still "years away from a commercially viable product."
In initial tests with Twist, Microsoft was able to decode 100% of the digital data stored to the silicon-based DNA.
Small, Long Lasting, and Locked up Tight
How DNA storage will play into the current debates over the ability for law enforcement to access readable data from encrypted technologies remains to be seen. Twist Bioscience, for example, doesn't know what information it's encoding. Only Microsoft can decode the data.
"These advancements trigger big questions about how this information should be safeguarded in a world where at least some government agencies feel no information should be beyond their reach," Jan Dawson, chief analyst with Jackdaw Research, told InformationWeek. "It should also make consumers think carefully about the places they want that information stored and whether it might be accessible to others.
Leproust believes it doesn't change the debate in any way, and that data should always be encrypted.
"People have lives that are enriched more and more with data. … There's nothing more crippling than losing your data," she said. "I don't want to lose my pictures, my music, my information. I think if we provide a solution where any data you have is more secure against the attack of time, it's good for everybody."