makes a few appearances, along with Puma shoes, a Nokia smartphone, and a gaggle of others. But in a movie with an almost satiric surfeit of product placement, nothing stands out as much as the virtual-reality version of the Xbox that appears early in the film.
The idea is kind of cool, but the execution isn't. The Xbox setup looks more like a shrine to its own brand than an actual product. It includes not only essential gaming hardware, but also a giant "Xbox" sign replete with neon green lasers that are probably visible from a mile away.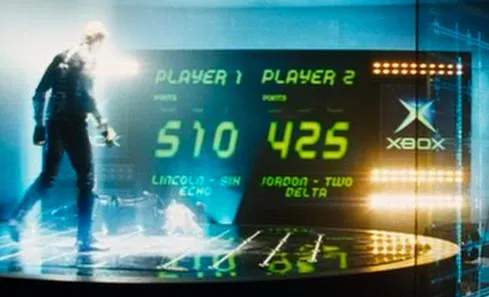 The scene also exposes holes in the film's internal logic. The characters using the Xbox are clones who've been misled to believe most of the world was contaminated in some kind of disaster. These clones are basically prisoners with no notion of commerce or popular products -- so to whom is all the branding within their facility supposed to appeal? The answer, of course, is that the product placement was supposed to appeal to us, the audience. It's debatable whether that happened. Despite being one of Bay's more coherent movies, The Island is also his biggest box office flop.
2. Elementary
Elementary is CBS's modernized take on Sherlock Holmes. Periodically, it also morphs into an ad for Microsoft's Surface tablets. In the clip below, for example, is there any narrative reason for the show to cut to a close-up as the hero snaps together his TypeCover and tablet? Or for the subsequent cut to another, even closer angle as Sherlock adjusts the device's kickstand? Nope, zero, zilch, none. The Surface is basically there to draw attention to itself, nothing more. The cameo lasts only a few seconds, but it's awkward enough to disrupt viewers' investment in the story -- one of the worst things product placement can do.
3. Suburgatory
Think the Surface spot in Elementary was blatant? Check out this one from recently canceled ABC sitcom Suburgatory. Following a temporary rift with friends, a teen turns to her shiny new Microsoft tablet for solace. "It's a really personal tablet, with a full-size USB port and an integrated kickstand," she says while trying to reconcile with one of her friends. The scene is almost cute, given that she rattles off specs in a feeble attempt to insinuate she doesn't need friends, because the tablet is good enough. Almost cute.
4. Hawaii Five-O
Remember when I asked if you'd ever heard someone suggest you "Bing it" instead of "Google it"? I have. But unfortunately for Microsoft, most of the people I hear saying it are making fun of this clip.
Notice that just like the Surface in the Elementary episode, each of Hawaii Five-O's shots of a Windows Phone device lasts a few seconds longer than it should -- just long enough to seem awkward, instead of like a part of the story.
If the world weren't changing, we might continue to view IT purely as a service organization, and ITSM might be the most important focus for IT leaders. But it's not, it isn't, and it won't be -- at least not in its present form. Get the Research: Beyond IT Service Management report today (free registration required).