Microsoft Product Placement: 4 Awkward Moments
Microsoft has spent a fortune on product placement, often with hilarious results.
To tech companies, product placement has become increasingly mandatory, especially as BYOD and other recent consumer-centric trends have begun to influence enterprise IT spending and policies. Unfortunately for Microsoft, Google, and most of the others, many of us roll our eyes when we see real-world products unabashedly touted in TV shows and movies.
But product placement has its virtues -- and some tech companies could learn from the positive examples. Suppose Microsoft were to work with a filmmaker who thinks advertising is a threat to artistic integrity. What better way to accommodate this challenge than to make fun of product placement itself? That's the approach Wayne's World and 30 Rock took, allowing creatives to skewer the capitalist hands that feed them while still offering positive placement of sponsors' products.
This sort of postmodern subversion doesn't fit all stories, of course, but there are other humorous tactics tech companies could follow. Remember Demolition Man, in which all future restaurants have become Taco Bells because it was the only chain to survive the "franchise wars"? Actually pretty funny. Microsoft's Internet Explorer team has shown a flare for this kind of humor, but unfortunately, they're not the ones running the company's product placement strategy.
If self-deprecation doesn't work, a handful of movies have managed to integrate product placement so gracefully the advertising disappears into the story but somehow retains lingering subliminal power when the show ends. For this group, 1982's E.T. might be the standard-bearer. After watching a boy and his alien bond over Reese's Pieces, audiences rushed out to buy the candy, sending sales up 65%.
Unfortunately, the above examples tend to be the exceptions, not the rule. How bad can product placement get? Just watch this clip.
Back to tech companies. Thankfully, none of them has promoted itself quite as shamelessly as McDonald's did in the above clip from 1988's Mac and Me, a film whose creative bankruptcy is so staggering, it makes Twilight seem like Shakespeare. But that doesn't mean tech product placements are particularly effective. Apple's a clear exception. Its iPhones are so ubiquitous in movies and TV, it feels weird when a character pulls out any other kind of smartphone. But Google's efforts are somewhat harder to praise. Did you see The Internship?
Then there's Microsoft, poor, hapless Microsoft. Over the last few years, the company has poured a fortune into product placement efforts. The result? Windows 8's reputation is still in the gutter, IE is still widely (if unfairly) seen as a malware-attracting mess, and almost no one is using Windows Phone. In fact, I can recall only one instance when peers responded positively to a Microsoft movie appearance -- and that's the scene in 1999's South Park: Bigger, Longer & Uncut in which an Army general, enraged over apparent bugs in Windows 98, summarily executes Bill Gates. Given Gates's subsequent philanthropic heroics, I doubt the scene would draw the same cheers if it were released today -- but as you can see, Microsoft has an image problem.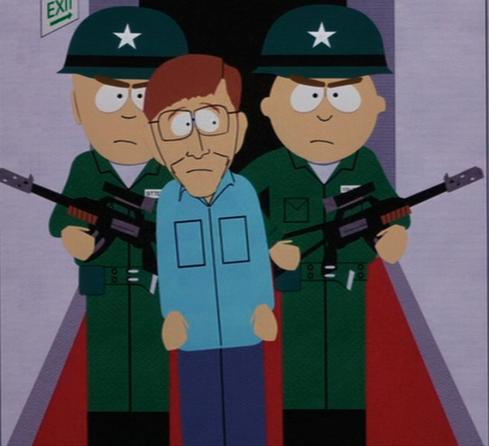 One of Microsoft's major struggles is simply that its product placement feels so forced. No one thinks of it as advertising when a character says, "Let's Google it," because, well, that's what people actually say in real life. But have you ever actually heard someone earnestly suggest, "Let's Bing it"?
Microsoft CEO Satya Nadella wants to recast Microsoft in the likeness of fast-moving cloud startups, which could help the company project some edge and cool. But until then, the company's TV and movie cameos need work. Here are four of Microsoft's most awkward product placement attempts. Let us know in the comments if we've missed any notable examples, and if you've noticed any other tech companies battling similar challenges.
1. The Island
Microsoft isn't the only company whose products show up in this 2005 sci-fi thriller -- far from it. At one point, director Michael Bay dollies in on a bottle of Michelob Light with the kind of fetishistic intensity that he otherwise lavishes only on star Scarlett Johansson. Apple's iMac also
makes a few appearances, along with Puma shoes, a Nokia smartphone, and a gaggle of others. But in a movie with an almost satiric surfeit of product placement, nothing stands out as much as the virtual-reality version of the Xbox that appears early in the film.
The idea is kind of cool, but the execution isn't. The Xbox setup looks more like a shrine to its own brand than an actual product. It includes not only essential gaming hardware, but also a giant "Xbox" sign replete with neon green lasers that are probably visible from a mile away.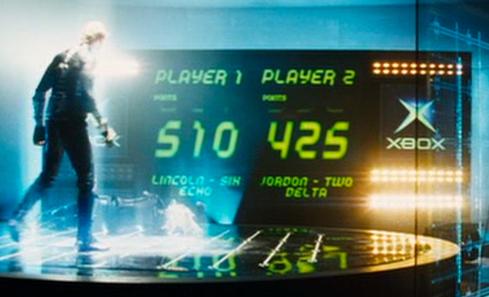 The scene also exposes holes in the film's internal logic. The characters using the Xbox are clones who've been misled to believe most of the world was contaminated in some kind of disaster. These clones are basically prisoners with no notion of commerce or popular products -- so to whom is all the branding within their facility supposed to appeal? The answer, of course, is that the product placement was supposed to appeal to us, the audience. It's debatable whether that happened. Despite being one of Bay's more coherent movies, The Island is also his biggest box office flop.
2. Elementary
Elementary is CBS's modernized take on Sherlock Holmes. Periodically, it also morphs into an ad for Microsoft's Surface tablets. In the clip below, for example, is there any narrative reason for the show to cut to a close-up as the hero snaps together his TypeCover and tablet? Or for the subsequent cut to another, even closer angle as Sherlock adjusts the device's kickstand? Nope, zero, zilch, none. The Surface is basically there to draw attention to itself, nothing more. The cameo lasts only a few seconds, but it's awkward enough to disrupt viewers' investment in the story -- one of the worst things product placement can do.
3. Suburgatory
Think the Surface spot in Elementary was blatant? Check out this one from recently canceled ABC sitcom Suburgatory. Following a temporary rift with friends, a teen turns to her shiny new Microsoft tablet for solace. "It's a really personal tablet, with a full-size USB port and an integrated kickstand," she says while trying to reconcile with one of her friends. The scene is almost cute, given that she rattles off specs in a feeble attempt to insinuate she doesn't need friends, because the tablet is good enough. Almost cute.
4. Hawaii Five-O
Remember when I asked if you'd ever heard someone suggest you "Bing it" instead of "Google it"? I have. But unfortunately for Microsoft, most of the people I hear saying it are making fun of this clip.
Notice that just like the Surface in the Elementary episode, each of Hawaii Five-O's shots of a Windows Phone device lasts a few seconds longer than it should -- just long enough to seem awkward, instead of like a part of the story.
If the world weren't changing, we might continue to view IT purely as a service organization, and ITSM might be the most important focus for IT leaders. But it's not, it isn't, and it won't be -- at least not in its present form. Get the Research: Beyond IT Service Management report today (free registration required).
Michael Endler joined InformationWeek as an associate editor in 2012. He previously worked in talent representation in the entertainment industry, as a freelance copywriter and photojournalist, and as a teacher. Michael earned a BA in English from Stanford University in 2005 ... View Full Bio
We welcome your comments on this topic on our social media channels, or
[contact us directly]
with questions about the site.