MWC 2016 Paves Path For Connected Cars
Autonomous and connected cars were spotlighted at this year's Mobile World Congress. With 44 million of these vehicles expected to hit the road by 2030, tech companies such as Nokia Networks and Qualcomm are joining car manufacturers to roll out state-of-the-art features.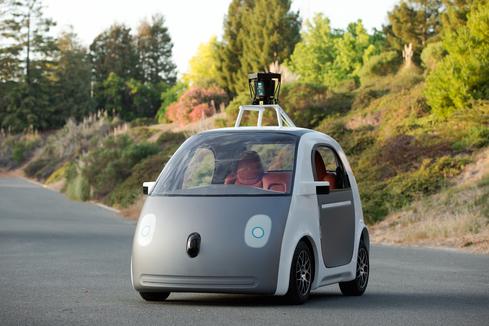 Google, Tesla And Apple Race For Electric, Autonomous Vehicle Talent
(Click image for larger view and slideshow.)
BARCELONA -- Mobile World Congress is widely regarded as the tech event where smartphone manufacturers and telecom carriers gather to show off the latest devices and innovations in networking, communications, and mobile hardware. This year, however, the connected car and all that comes with it made a significant splash at the show, with many people predicting that in less than 15 years, these vehicles will be commonplace.
By 2030 there could be as many as 44 million autonomous and connected cars on public streets and highways, according to GSMA, the group that organizes MWC. At the show this year, analysts predict that connected and automated vehicles will make a huge economic impact, with the market hitting its stride between 2030 and 2035.
However, signs of the future are already here. In Europe, for example, new laws are mandating connectivity in all new cars and light vans starting in March 2018. In addition, vehicles must be equipped with "eCall," an emergency notification system, which is part of a European Commission initiative. The goal is to help drivers, police, and emergency workers respond more rapidly to car accidents.
Additionally, the connected car is creating new jobs across the automotive industry. The vehicles promise social benefits, such as increased fuel-efficiency, lower environmental impact, a reduction in traffic congestion, and a higher level of comfort for drivers.
The Race for Connectivity
At MWC, carriers and car companies were eager to show off the future today.
Nokia Networks aims to enable autonomous driving through its 5G, ultra-low latency network. The technology offers connectivity for fast-moving autonomous systems, which require constant and virtually uninterrupted communication flow to improve road safety and reduce congestion.
"The network can guarantee that the traffic as a whole flows seamlessly; this is something you won't achieve if you put just sensors in the car," Volker Held, head of innovation marketing at Nokia Networks, told InformationWeek.
Recently, Nokia had a successful live trial of its 5G technology at the A9 high-speed motorway in Germany.
"The cloud server gets the position, direction, and speed of the cars. All the functions are virtualized using NFV technologies," said Rainer Liebhart, research project manager at Nokia Networks. Liebhart added that the autonomous driving low-latency application was developed with the help of two universities in Budapest and Dresden.
Fully Autonomous Car of the future
Qualcomm and Mercedes-Benz have partnered to bring life to the 2016 Mercedes F 015 self-driving car. A fully functional autonomous luxury car, this Mercedes could reach the market by 2017, but don't expect to see parking lots full of them until at least 2030.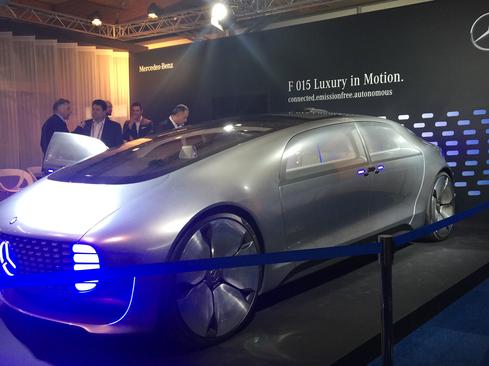 This masterpiece of engineering combines the best state-of-the-art technology with an impeccable stylish and classy aesthetic design.
The interior is a mixture of white Nappa natural leather, timber, glass, and metal. Six high-resolution display screens have been incorporated into the rear and side panels, which can be controlled through touch, gesture command, and eye tracking. Advertised by the German automaker as "The best, or nothing," this is the best autonomous car at MWC, without a doubt.
Accelerating the Future
"The car of the future will be always connected," said Derek Aberle, president of Qualcomm Inc., during his keynote on autonomous cars at MWC. He was later joined by Lewis Hamilton, driver at Mercedes AMG Petronas, and Paddy Lowe, technical executive director at Mercedes AMG Petronas, for a panel discussion about the future of connected cars.
[Read more about connected cars.]
About two-thirds of the cars sold in 2015 have Bluetooth inside, said Aberle. "A cellular LTE connectivity is becoming more and more prevalent, WiFi within the car has been embedded like mobile hot-spots within the vehicle, 3D navigation, real-time traffic, things like remote diagnostic and self-diagnostic, LTE is already enabling connections from the cloud to the vehicle, and Bluetooth allows your car to interact with your devices in the car," said Aberle. "In the future, the car is going to be connected to everything."
Indeed, cars will be able to communicate with other cars, with pedestrians, and with the infrastructure. "The car will become a mobile platform," said Aberle.
Formula One
Qualcomm's technology partnership with the Mercedes Formula 1 team aims at testing the chipmaker's new technologies for autonomous cars, while at the same time making F1 race cars even faster. "One of the first technologies that we are testing is a high-speed wireless access to get important data off the vehicle quickly so the team can evaluate data in real-time," said Aberle.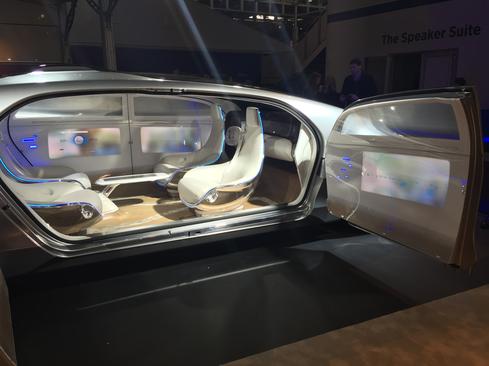 Since driverless technologies are invading the F1 space, some may wonder if Hamilton might be out of a job soon enough. Hamilton said no.
[Read more about the 2016 Mobile World Congress.]
"I don't think they are going to replace us in the racing cars, which is a good thing, but in the road car? Yes, I think it's exciting," said Hamilton, adding he's not a huge fan of driving on the road. "I can't stand traffic."
Already Here
AT&T has partnered with several automakers to add next-generation technology to their connected services. This includes the Audi R8 V10 Plus 2017 with 4G LTE connectivity, WiFi capability, and Google Earth for the navigation system. This vehicle is already available in the US and Canada.
In addition, AT&T and Porsche have entered a multi-year connected car agreement.
In Europe, the Opel 2016 4G LTE system is already available, and includes eCall, auto-crash detectors, vehicle diagnosis, and voice activation to get directions which will appear on the screen panel with a number of different language options.
Munich-based BMW is preparing its 5 Series self-driving prototype. However, the German automaker's next generation of smart vehicles will not appear until 2020. The Jaguar F Pace is also joining the connected cars race by sporting Intel under the hood.
With so much on the horizon, this year's MWC could only really offer a glimpse of what's to come with connected cars. Fasten your seat belts and get ready for a one-of-a-kind ride toward the near future of driverless cars.
Rising stars wanted. Are you an IT professional under age 30 who's making a major contribution to the field? Do you know someone who fits that description? Submit your entry now for InformationWeek's Pearl Award. Full details and a submission form can be found here.
Susan Fourtané is a Science & Technology journalist, writer, and philosopher with a life-long interest in science and technology -- and all things interesting. She has been a technology journalist for nearly 10 years writing and reporting for global print and online ... View Full Bio
We welcome your comments on this topic on our social media channels, or
[contact us directly]
with questions about the site.