Phoning Home From Mars On Christmas Eve
For six simulated space explorers, practicing for a Mars mission means never having a real-time conversation with anyone "back on Earth."
On Christmas Eve, my phone chirped, and I saw it was a message from Mars.
All right, not Mars exactly, but a message from a crew of three men and three women in the midst of an eight-month stay in a simulated Mars habitat on the slopes of the Mauna Loa volcano in Hawaii. The mission, which began in October, will be the longest Mars simulation conducted by the U.S. (the Russians have done longer ones). More than anything else, the goal is to study the social dynamics of what it would be like to live in a pressurized dome, isolated from the rest of society, and cooped up in tight quarters with five other people -- unable to go outside except in the confines of a "spacesuit."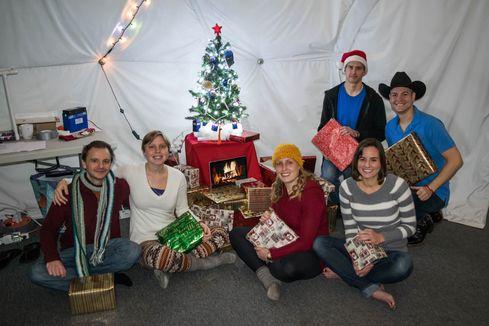 One piece of that experiment is an Android app on my phone that simulates the asynchronous pace of voice communications over distances where the speed of light imposes a delay on every transmission, making normal conversation impossible. Every voice transmission, text, and email is queued and held for 20 minutes prior to delivery to approximate the one-way transmission lag for a signal to pass between Earth and Mars (the actual delay varies based on the relative positions of the planets). The delay means that any back-and-forth exchange takes at least 40 minutes.
I pressed play and heard from Martha Lenio, mission commander of the Hawaii Space Exploration Analog and Simulation (HI-SEAS) Project run by NASA and the University of Hawaii. She was getting back to me a few hours after I messaged her (working around earthly time zones, as well). First question: How realistic is this simulation of living on Mars?
"I think it's fairly realistic for voice messaging because of the delay," she said.
Yet the experience also suggests that voice will not be the most appropriate mode for a lot of communications with ground control. "The voice part is good for talking to family and friends but not so good for talking to mission support people -- just because we want to have a written record of it," said Zak Wilson, another crew member joining in the call. Lenio agreed that email was often better, because it was searchable and easy to scan quickly.
There are exceptions. While working on some technical troubleshooting tasks, Wilson said, he found himself talking through his questions for the support team, because it was faster than typing or texting them.
For voice communications, HI-SEAS worked with Voxer, which makes an app that functions in walkie-talkie mode for communication between members of a team but switches to asynchronous messaging mode if the other person is not online to take the call. The same app supports texting, so you can have a threaded conversation that mixes voice and text messages. The enterprise version of the Voxer app works with an intranet server, and prime customers are government agencies that want to maintain private communication channels. NASA customized the server to work with the delayed voice loop. It was Voxer that reached out to me, wanting to talk about its role in allowing the HI-SEAS participants to talk with their families at Christmas.
I wrote a very similar story a couple of years ago about NASA's simulation of the communication and training challenges of an asteroid mission through NEEMO, an underwater space simulation environment off Key Largo, Fla. Voxer participated in the most recent NEEMO exercise, as well, according to president Irv Remedios. Under Earth conditions, Voxer's asynchronous messaging is about allowing messages to go through even
David F. Carr oversees InformationWeek's coverage of government and healthcare IT. He previously led coverage of social business and education technologies and continues to contribute in those areas. He is the editor of Social Collaboration for Dummies (Wiley, Oct. 2013) and ... View Full Bio
We welcome your comments on this topic on our social media channels, or
[contact us directly]
with questions about the site.