Robots: We Love The Crazy Things They Do
In the past year, we've made robots do some pretty crazy things. These are our favorites.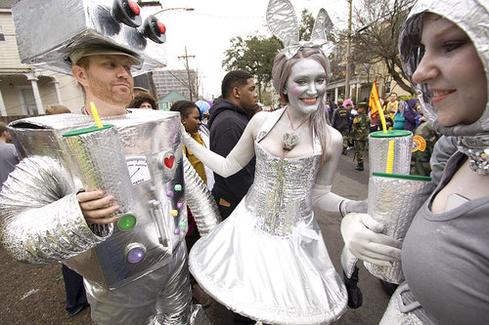 From now until Valentine's Day, InformationWeek will be doing lists of things we love, including everything from mobile devices to enterprise software and all things in between. Today, we're looking at some of the craziest things we've taught robots to do in the last year. Robots are serious business. We find them in the military, manufacturing, healthcare, and increasingly in other enterprise settings.
The interesting thing about robots is that most are still very specialized, and they need to be that way because we're still trying to figure out how to replicate many human tasks. Not everyone necessarily wants to create a perfectly human android. But nearly all robotic tasks are designed to replicate something that is either too dangerous, too tedious, or too expensive for a human to do. Even without trying to make an artificial life form, the key to making better robots it to figure out how to teach them to do everything a human can do.
That's everything. Even crazy things. You must have seen this vomiting robot from a few years ago, vomiting Larry:
Larry is designed to help understand contamination issues, especially around Norovirus. And realistically, we're probably not going to need to make a robot throw up for any reason in the future, but waiting for humans to throw up to run a test (or inducing them to do so) doesn't make sense either.
In the past, we've also had robots learn to catch, play ping-pong (mostly), and run. These were clearly designed around helping robots move and have coordination that's more like humans. And yet the catalog of human endeavor has barely been scratched.
One wonders how long it will be until we start putting the catching robot together with the running robot and the ping-pong playing robot to make an athlete that rivals Olympians. When will we take the vomiting robot and attach it to other medical training robots to make a patient that med students can work on and get a real-life experience? We're getting close.
Miniaturizing everything and supplying the computing power is still hard. But as you can see this most recent crop of crazy robots is showing promise. The tasks are more complicated and they are doing them faster and with more practical value (well, some). The "real" androids may not be far behind.
Check out the crazy things we're doing now, and tell us your favorites in the comments section below.
David has been writing on business and technology for over 10 years and was most recently Managing Editor at Enterpriseefficiency.com. Before that he was an Assistant Editor at MIT Sloan Management Review, where he covered a wide range of business topics including IT, ... View Full Bio
We welcome your comments on this topic on our social media channels, or
[contact us directly]
with questions about the site.