Samsung showed off a new smartwatch this week that will see the company go head-to-head with the Apple Watch in the wearable space. The device, code-named Project Orbis, is a more refined timepiece expected to reach consumers in the fall.
Samsung is taking a chance, however, by using its own operating system instead of Google's Android Wear.
Samsung didn't fully announce Project Orbis. Instead, it released an SDK for wearables that contained the dirty details.
The chief feature of the new wearable is that it will be round, rather than square like Samsung's first half-dozen smartwatches. Project Orbis -- likely to be called the Gear A when it hits store shelves -- has a 1.18-inch screen with 360 x 360 pixels, giving it a high pixel density compared to many other smartwatch screens.
However, there are plenty of other round smartwatches.
What sets the Orbis apart is the circular bezel surrounding the screen used to navigate through the user interface. Owners of the watch can spin the bezel left and right -- sort of like spinning the crown on the Apple Watch -- to sort through different functions of the device. This will be unique to the Orbis when it reaches stores. The spinning bezel-and-UI trick is a clear shot at Apple and its hard-to-get wearable.
Samsung shared few other details about the hardware. It will have a standard list of sensors, including accelerometer, compass, gyroscope, heart-rate monitor, and pressure sensors. On-board radios will include WiFi, GPS, and some form of cellular connectivity. Samsung already offers at least one cellular-connected smartwatch, which is able to make calls and surf the Web all on its own.
Project Orbis will run Samsung's Tizen platform and not Android Wear. This is a bit of a calculated risk. Samsung has at least three Tizen-based wearables available in addition to an Android Wear device.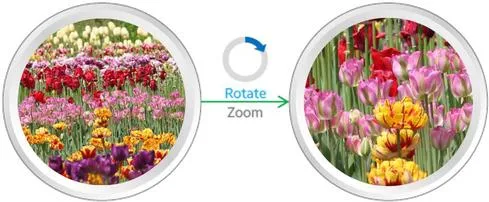 Performance of the watch software isn't the issue; apps are the issue.
Google says there are thousands of apps available to Android Wear devices in the Play Store. Samsung has not said how many apps are available to its Tizen devices. Surely there are some, but the numbers can't be as high as those for Google's platform. The point of this week's announcement was to get the proper tools into developers' hands in the form on a new SDK. The SDK will help app writers create apps for the Tizen watch.
[Read more about the best smartwatches.]
Will developers write for Tizen? It's third on the list, says IHS. "Going on their own path means they have to get developers on board in large numbers to make apps for Tizen," Ian Fogg, head of mobile at IHS, told CNBC. "If a developer has a choice between Apple Watch, Android, and Tizen, I can't see it being more than a third smartwatch platform to target."
Consumers probably won't much care what platform Project Orbis runs, but they will want apps. Without apps, Tizen and Project Orbis have a cloudy future at best.
[Did you miss any of the InformationWeek Conference in Las Vegas last month? Don't worry: We have you covered. Check out what our speakers had to say and see tweets from the show. Let's keep the conversation going.]