Empathy. It's not a word that comes up in most discussions of enterprise software. And simplicity? Not a quality generally associated with SAP implementations. But in the opening keynote address at SAP's SapphireNow conference, CEO Bill McDermott used both words to describe his vision for the software giant's future.
In a speech punctuated by guest videos from executives at SAP partners and customers, McDermott invoked human-to-human trust as the key component in business currency. He set the stage for upcoming talks that will detail how SAP's technology can increase the level of trust between consumer and business. That word order -- consumer-to-business -- was one McDermott used intentionally. He explained to an audience of thousands that consumers now drive business transaction through a business network that can level the playing field between large and small companies, if the companies can properly understand the data flowing through the physical and digital infrastructure.
McDermott told the audience that the digital divide -- differences in access to technology -- has effectively been bridged. The current chasm, he said, is a data divide marked by differences in how companies can turn the data flooding into business systems into useful information. As important, he said, is how (and how quickly) that useful information is presented.
"We don't want you studying what happened yesterday. We want you studying what's happening today, in real time," McDermott said. He said that the shift from SAP R/3 to SAP S/4HANA represented a move from SAP as a tool of history and archival data into a tool for predictive analytics. Such analytics are based on structured and unstructured data derived from traditional sources, social media, and the devices that make up the Internet of Things.
[ How is the world's largest retailer using analytics? Read Wal-Mart CIO Karenann Terrell: Data Analysis Key To Customer Insights. ]
The keynote began with a slide featuring a quote from noted biologist E.O. Wilson: "We are drowning in information, while starving for wisdom." While words like wisdom, empathy, trust, and simplicity were threads weaving through the speech, McDermott brought the crowd back to hard reality when he reminded them that business metrics are the basis on which any software must be judged: If a system doesn't increase productivity and, ultimately, profit, then it can't be justified by a business.
Among the industries McDermott used to illustrate his points on business justification were finance, healthcare, and professional sports. Sporting leagues around the world, including those for cricket, basketball, and hockey, use SAP software to provide fans with both rich historical data and up-to-the-minute statistics, leading to more passionate fans and enhanced sports revenue.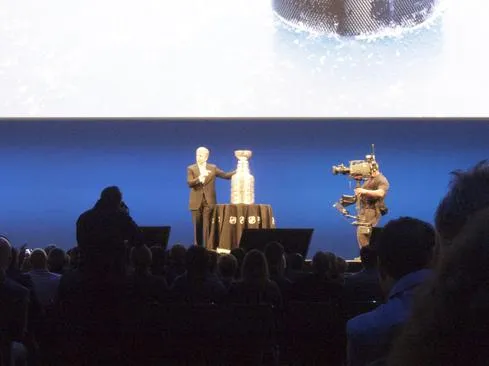 Tuesday's keynote was the introduction and warmup to SapphireNow 2015, taking place in Orlando through May 7. Tomorrow will be all about new products and technology, when SAP's Bernd Leukert takes the stage, and Thursday's keynote will bring a view of SAP's philosophy and future with Hasso Plattner. In between, Orlando's Orange County Convention Center will thrum with the sound of business and IT executives working to figure out how to make their enterprise software installations empathetic, productive, and simple.