Super Bowl City is part of the festivities going on in the San Francisco Bay area for Super Bowl 50 this week, and a major part of the exhibition is an SAP-sponsored area called the Fan Energy Zone, which features multiple games using motion capture and VR.
Not only does the Fan Energy Zone offers some free fun for fans and families, it also serves as a showcase for SAP's data visualization and emphasis on user experience. SAP says it hopes to take the experience it gains from the exhibit and take it right back to its enterprise products.
The two highlights of the Fan Energy Zone are Amp It Up and Quarterback Challenge. Amp It Up is a motion capture game similar to Fruit Ninja or dancing games like Dance Dance Revolution. Your job is to pump up the virtual crowd by making the right dance moves in time with the game. Here is a quick video of Ward Bullard, SAP's vice president of products and innovation, playing the game.
Quarterback Challenge uses the Oculus Rift VR system to allow you to see what the QB sees inside the helmet. You can turn your head and use your eyes to aim your virtual throws. The game was lots of fun and showed off the visual depth and surround sound capabilities of the Oculus Rift. It didn't hurt the experience that I was able to win the Super Bowl on the last play of the game.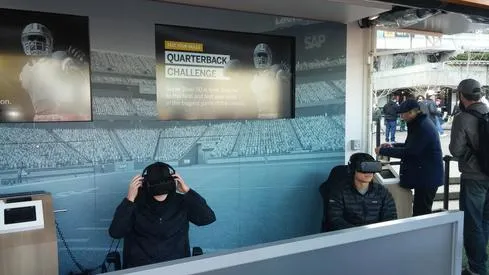 Of course, SAP isn't a gaming company, and the goal of the Fan Energy Zone isn't merely to showcase the games or the hardware. SAP is connecting the data from the games in real-time through social media and the Road to 50 mobile app, designed to help visitors to the Super Bowl navigate the fun.
Players who register receive a QR code that can be used to track their scores in real-time while they play the games. SAP will also post the data on a giant 50-foot-wide video social hub in the center of Super Bowl City. Best of all, SAP will send you your data via an app and allow you to drill into the data, not only to see how you and your family and friends do, but also to compare your scores to other groups -- including fans of your favorite team.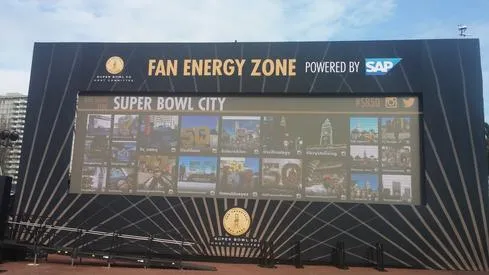 Bullard says that SAP will take the user experience at Super Bowl City and apply it to its enterprise products. "Our goal for Fan Energy Zone," Bullard said, "Was to bring together a series of existing partners and to highlight our longstanding presence in the Bay Area, to do something consumer-facing. But it also has high business value to better understand the user journey with data and to understand how they can be connected to a richer experience."
While the fans play the games, SAP's Hana processes the data and produces a "player card" for fans to visualize the data (in this case, their scores) in clear and easy ways from multiple perspectives. While player gaming data is not necessarily as complex as some enterprise data, it is clear that learning how to collect data and display it in multiple contexts could be applied to an enterprise application.
"There is definitely an appeal to take the learnings from this project and put them in different industry contexts. Whether this comes from the Fan Energy Zone or a retail or healthcare setting, the goal is to give people an experience, and within seconds they can see it manifest as a digital piece of content," Bullard said.
[This is only part of what SAP says is its commitment to user experience. Read SAP S/4Hana: Big Bet on 'Simplified' ERP.]
Because the user experience was such a key to the success of the Fan Energy Zone, designers were brought in much sooner they would have been in a typical enterprise project, Bullard said. He added that the ratio of designers to developers used was about to 1 to 1, whereas in normal projects, developers usually vastly outnumber designers. That approach, he said, created a richer user experience and got the project done much faster.
Bullard referred to this approach as "radical collaboration," and he thinks it will be increasingly necessary in enterprise apps. "When people are making buying decisions, the user is speaking more loudly on experience," Bullard said. "Ensuring the tech they look at for eight hours a day is as delightful as what they see on their phones and at home is increasingly important [to them]."
This type of project is helping Bullard and his team rethink UX. "A 50-foot by 15-foot fan wall is not our usual medium to work with."
Nonetheless, it gives SAP a chance to stretch the way it perceives data visualization, and it could lead to new ways of thinking about and presenting data. In the meantime, it was a lot of fun. Hopefully, all the fun going down at Super Bowl City will make the enterprise apps and environments SAP creates for its clients a lot more fun and useful, too.
Rising stars wanted. Are you an IT professional under age 30 who's making a major contribution to the field? Do you know someone who fits that description? Submit your entry now for InformationWeek's Pearl Award. Full details and a submission form can be found here.